Letter from the Executive Director | Interview with an Acorn Artist | Staff Spotlight | Acorn News | Acorn Updates
---
Letter from the Executive Director
Beth Kaskel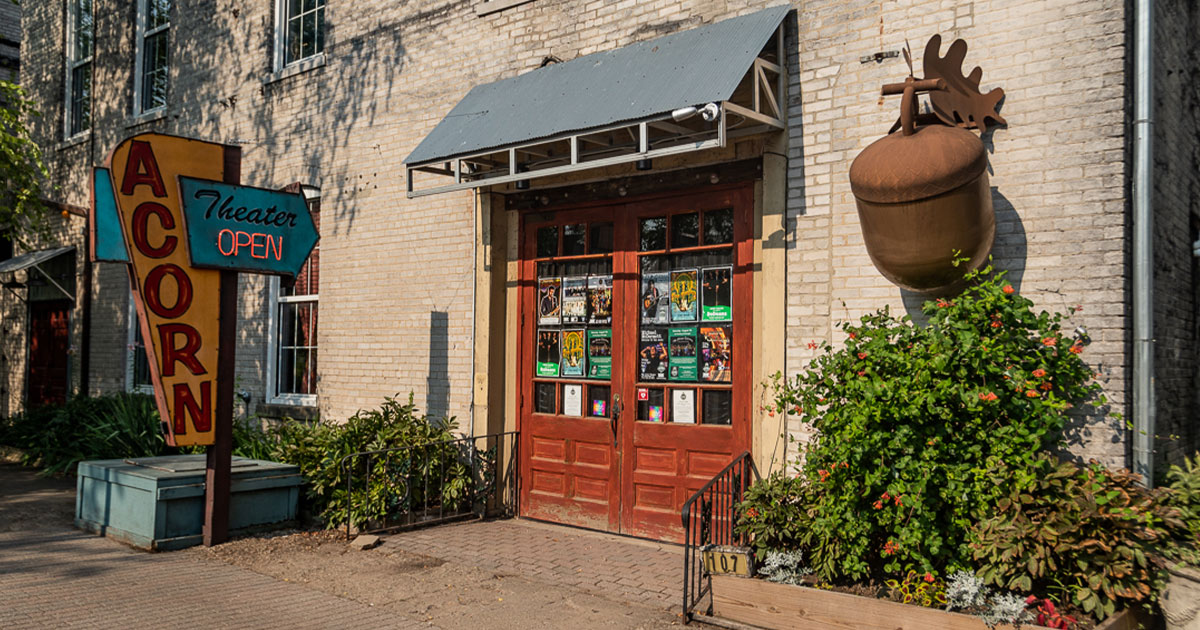 Photo courtesy of Phillip Solomonson.
When I began as Executive Director of The Acorn one year ago, we were in the midst of the pandemic, only able to produce outdoors, and uncertain about our ability to program our theater to full capacity. But together we have persevered!
In this Spring season of rebirth and renewal, I am overjoyed that now we can welcome you safely back inside, we've become the proud owners of our building, we have 50+ shows currently on sale, are growing our bar, and have restoration plans for the building and adjacent apartment. We have also added amazing talent to our staff, which will help us continue to provide the best entertainment in Harbor Country.
Three weeks ago we shared with you that we have officially purchased The Acorn building at 107 Generations Drive in Three Oaks! We wanted you to be the first to know. We are so grateful for the outpouring of well-wishes and support from our community as we take this momentous step in the history of our nonprofit organization together.
It is my pleasure to use this opportunity to reflect on where we've come from and envision our future together.
We look back on our history and have a lot of people to thank. Beginning with the founders of the Acorn Theater, David Fink and Kim Clark, and the numerous individuals who have worked tirelessly as staff and Board of Directors for The Acorn Center for the Performing Arts since becoming a nonprofit in 2015. Read more in the "Acorn News" section about the March 20 Open House thanking David for his passion and vision.
We also use this opportunity to look forward, and envision what's to come. We have engaged an architectural firm to conduct an assessment and are busy planning restoration to our building. We will have a full announcement shortly. But don't worry, The Acorn will retain the wonderful vibe we all know and love.
There are also extensive and exciting programming offerings to share for this Summer and beyond! We currently have 50+ shows on sale on The Turner Stage at The Acorn as well as around Harbor Country, and will be announcing more in the coming weeks. Some highlights include:
Next month we launch a brand-new summer concert series Midwest Made! Each Wednesday for 10 weeks from mid-June to mid-August we will spotlight a diverse, eclectic, and energizing midwestern artist. Tickets are only $15 or you can get a pack of all 10 for $100. Come join us for one or all!
Back by popular demand, Acorn Anywhere! returns this summer. We will have outdoor performances at La Lumiere in La Porte, IN, Fernwood Botanical Garden in Niles and The Common in Buchanan. Visit our website @ Acornlive.org and keep reading below for more details.
Finally, we have new team members to introduce since our last newsletter. Donnie Biggins, Talent Buyer, and Michael Bond, Box Office Coordinator. As we transition from tenant to owner of our building, we also assume two new lines of business: the rental apartment above the theater and the bar. Longtime regulars will recognize Leigh Ann Gilpin-Murray and Carrie Bronner as bar staff. Next time you're at the theater extend a warm welcome to them as they have officially joined The Acorn's team!
See you at the theater!
Warmly,


Beth Kaskel
---
Interview with an Acorn Artist
Jillian Speece of The Bergamot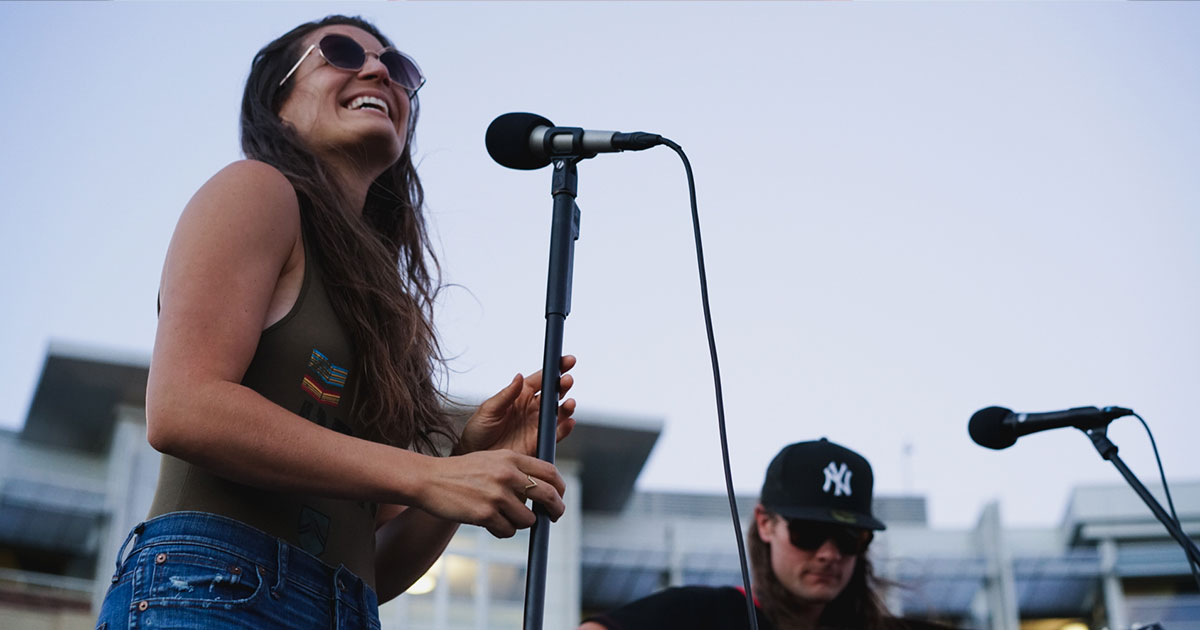 Q: How long have you and your husband Nathaniel Paul Hoff been The Bergamot? When did the two of you meet and when did you start making music together?
A: Nathaniel and I met in High School when I was 15 and he was 17 years old. Actually it was our art teacher Kitty Gunty who saw that there was an opportunity for us to songwrite together. She encouraged us to write a song and enter it into a state wide competition called Project XL to represent our school. Our song made it through all three judging levels and we had the opportunity to perform it at the state finals. We were so nervous but it allowed us to get comfortable performing together on stage which was such a great experience.
A few years later when we were in college we decided to make our band official by naming ourselves The Bergamot. Our name came to Nathaniel after he bought a small bottle of bergamot essential oil from the local co-op up the street.
The name came to him after he read on the bottle that bergamot was used to uplift one's spirit, reduce anxiety and stress. In that moment he realized we wanted to uplift people through our music and after all these years the name has grown on us even more.
Q: Who is your favorite musician to listen to when you're not making music of your own?
A: Oh such a tough question! I would say my favorite musicians to listen to currently would be Florence + the Machine, Feist, Frédéric Chopin, Kings of Convenience and Arcade Fire.
Q: Who or what influences you the most in your songwriting? Do you have a favorite Bergamot song?
A: I am most influenced by my touring experiences and being fully immersed in nature. I find that when I write that I love writing from personal experiences and when I am alone in nature I tend to write the most as it is very natural for me to be in wonder and awe in nature. From this place I am able to really connect deeper to my soul and from that place I am able to write and create the lyrics and melodies. On the other hand, Nathaniel's songwriting is most influenced by personal experiences taken from the world we live in. For him it is all about the experiences of everyday life, from the humans he interacts with to his personal process as we all make our way across this planet.
My favorite Bergamot song is a toss-up between P.D.R and School Notes.
I love P.D.R. for its lush soundscape, catchy melody and harmonic depth. P.D.R. is a real uplifting groove as it invites the listener to be immersed in the California coast line while lyrical concepts of "letting go of things that are holding one back" swirl around the guitar swells.
On the other hand, School Notes is a deep introspective track about love and loss in the era of this technological revolution. My favorite lyric in that song is "we get away for just a minute to see the stars and watch the infinite, oh God awake these feelings inside of me." It is warm, insightful and inviting like your favorite cardigan on a cool spring morning.
Q: Tell us about The Unity Collective Tour, whose mission has been described as 'spreading a message of unity and peace through music, community and collaboration.' The Acorn is thrilled to share the film that was created as a result, State of the Unity, in a Fan First Premiere Event on July 14! Tell us how it all started? Why did you decide to take a station wagon on tour and have fans sign it?
A: The Unity Collective Tour was a peace tour we embarked on in 2016. Our goal was to seek unity in a world that is incredibly divided. Through music, community and collaboration we wanted to tour to all 50 states during the election to spread love and facilitate deep connection around unity! Nathaniel came up with this idea in our station wagon (that had 264,000 miles on it when we started the tour.)
The concept came to Nathaniel the day before his grandfather's funeral. We had driven from Brooklyn, NY to South Bend, IN to say our final goodbyes to his grandfather who was very dear to us and we were sitting in our station wagon and it was like Nathaniel was hit by lightning when this idea came forth. It was a very divine moment when he told me that we needed to tour to unite people across America and I instantly got chills.
It was very divine timing because the Divine was prompting us to go immediately and seek unity, spreading love through our music and by inviting all to sign their message of Unity on our station wagon. This journey across America transformed our hearts and changed our lives. It was of course beautiful and very challenging as we had very little to work with financially and had many setbacks along the way. Yet, our love for the divine, each other and for all those we met kept us going. We started to understand how important a conversation around unity is in our country and in the world. For when we forget about cultivating love, peace and unity then we forget the true essence of what it is to be human… and we cannot lose that human part of ourselves through indulging in hate. Out on the road we learned that unity starts with you in the mirror, at your kitchen table, on your street with your neighbors, in your community, state, country and in the world. But we learned that each of us play a big role in the choices we make everyday both consciously and unconsciously. It is more important than ever to make choices that promote love, beauty and unity. For we can only love others as much as we love ourselves and we saw a lot of people in pain, living with regrets and hate towards themselves. So ultimately we must learn to forgive ourselves and love ourselves in a non-selfish way first before we can love our neighbors. Through this love we can cultivate unity in our community.
Q: Can you describe a favorite memory of yours from the The Unity Collective 50 State Tour? What has the response been to the documentary State of the Unity?
A: One of my favorite memories from The Unity Collective 50 State Tour happened when we went to Baton Rouge in July after the wake of the shooting of Alton Sterlin and then the ambush Police officer shooting. The city was very, very raw when we arrived and a local group of women called the Red Stick Moms were assembling at the local library to host a open panel discussion about the tragedy that just occured between the black community and white community and how both groups could come together to seek a solution for themselves and their children. We got a phone call about this even and they invited us to speak at it and perform for the Moms in attendance. It was a very powerful moment on the tour because we saw active Moms in the local community coming together peacefully to discuss healing amidst great differences. I learned that it is possible for healing to happen when both parties choose love over hate and when both parties choose to listen with an open heart.
The response to our documentary "State of the Unity" has been so overwhelming. We have people writing to us and coming to us with tears in their eyes and a new perspective on how to build unity. That is the highest compliment we can get. It is very humbling and pushes us to get this message and film out into the world to touch more people. Right now we are preparing to go to the Atlanta Docufest this month, Richmond International Film Festival next month and then we are elated to bring this documentary to the Acorn on July 14th!
Our hope for "State of the Unity" is for the message to inspire those who watch it to start creating unity within themselves and their neighborhood. For us it is very special to share this six and half year journey of love, unity and peace with everyone who is open to learning about this message.
Q: Did you always want to be a musician? What advice would you give to young artists?
A: Since I was old enough to talk I wanted to be a musician. I would always sing songs from morning to night and I remember imagining myself performing on stages across the world. So it's a thrill to be living this dream out in a beautiful and unconventional way. The best advice I could give to young artists would be to give yourself the opportunity to fail forward, because that is where you learn the most. Failure is your friend and you can use it as a catalyst to propel you forward and become more of who you are meant to become.
The second thing I would say is, true originality is a treasure. It is great to get inspired by other artists but don't be afraid to bury your head in the sand and create from your soul. True artistry comes from the soul not from fleeting trends so be sure to give yourself time and space to dig deep and never be afraid to fail forward.
Shine ON
Jillian Speece / one half of The Bergamot
---
Staff Spotlight
Bill Lindblom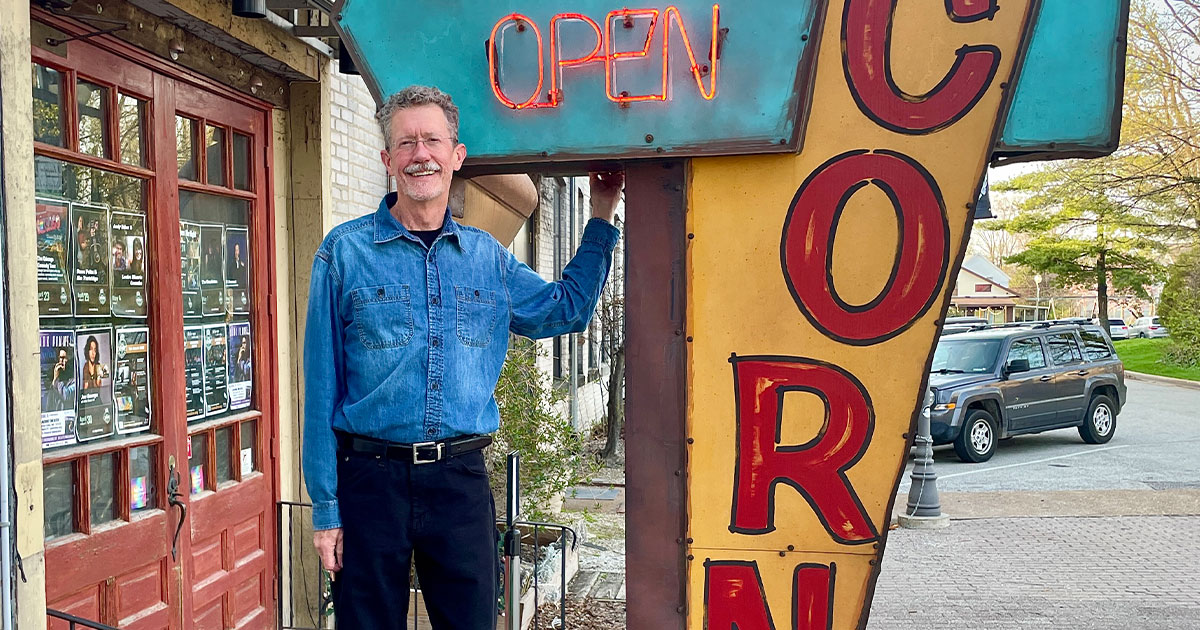 On any given night if you are attending an event at The Acorn, you're likely to be greeted by the smiling face of Bill Lindblom. (On any given night if you happen to be working an event at The Acorn, you're likely to hear multiple delighted exclamations of "Bill!" from entering patrons.)
Bill joined The Acorn Staff a year ago. As someone who loves theater buildings and describes theaters as being the "closest thing to heaven here on earth," Bill was drawn to his role at The Acorn. He says he is honored to be part of the Acorn team and "be a part of the energy that thrives here."
Bill illuminates his connection to the 'sacred space' of a theater with a recounting of his recent visit to the Michigan Theatre in Ann Arbor: "It's a grand movie palace that was somehow spared by the wrecking ball. Being one of the country's premier Film Centers, I had heard about it for years, and finally got to visit it for the first time. Almost immediately upon entering the auditorium, I was overwhelmed by the sacred space and burst into tears. I was literally sobbing in the aisle, and there was nothing up on the screen!"
When Bill isn't working, his garden is his passion. He also describes his favorite way to spend a day off this way: "Making a real connection with someone, or something, or some place. It's not so easy to do."
Q: How would you describe your role at The Acorn to someone you were meeting for the first time?
A: I welcome the audience, and with a lot of help, usher them in, get them situated, make them comfortable, get them focused, and prepare them for the music and the entertainment that they have imagined.
Q: What is a 'fun fact' about you or something people might be surprised to know about you?
A: In my younger days, I delivered Singing Balloon-o-Grams for a living in San Francisco. I also created party decor, chiefly with balloons. I was also a professional mime. No kidding!
Q: Are you a bookworm? Who is your favorite author and/or what is your favorite book?
A: Bookworm, not really....I read a little bit to go to sleep (unless I don't get home from The Acorn until midnight). Currently on my nightstand: "The Hidden Life Of Trees" by Peter Wohlleben and "Full Service - My Adventures In Hollywood And The Secret Sex Lives Of The Stars" by Scotty Bowers (totally salacious), and for reference "Dirr's Encyclopedia of Trees and Shrubs."
Q: How do you define success?
A: Finding out what you were meant to do, and then doing it.
---
Acorn News
Summer Brings the Return of Acorn Anywhere! and the Start of Our New Midwest Made Concert Series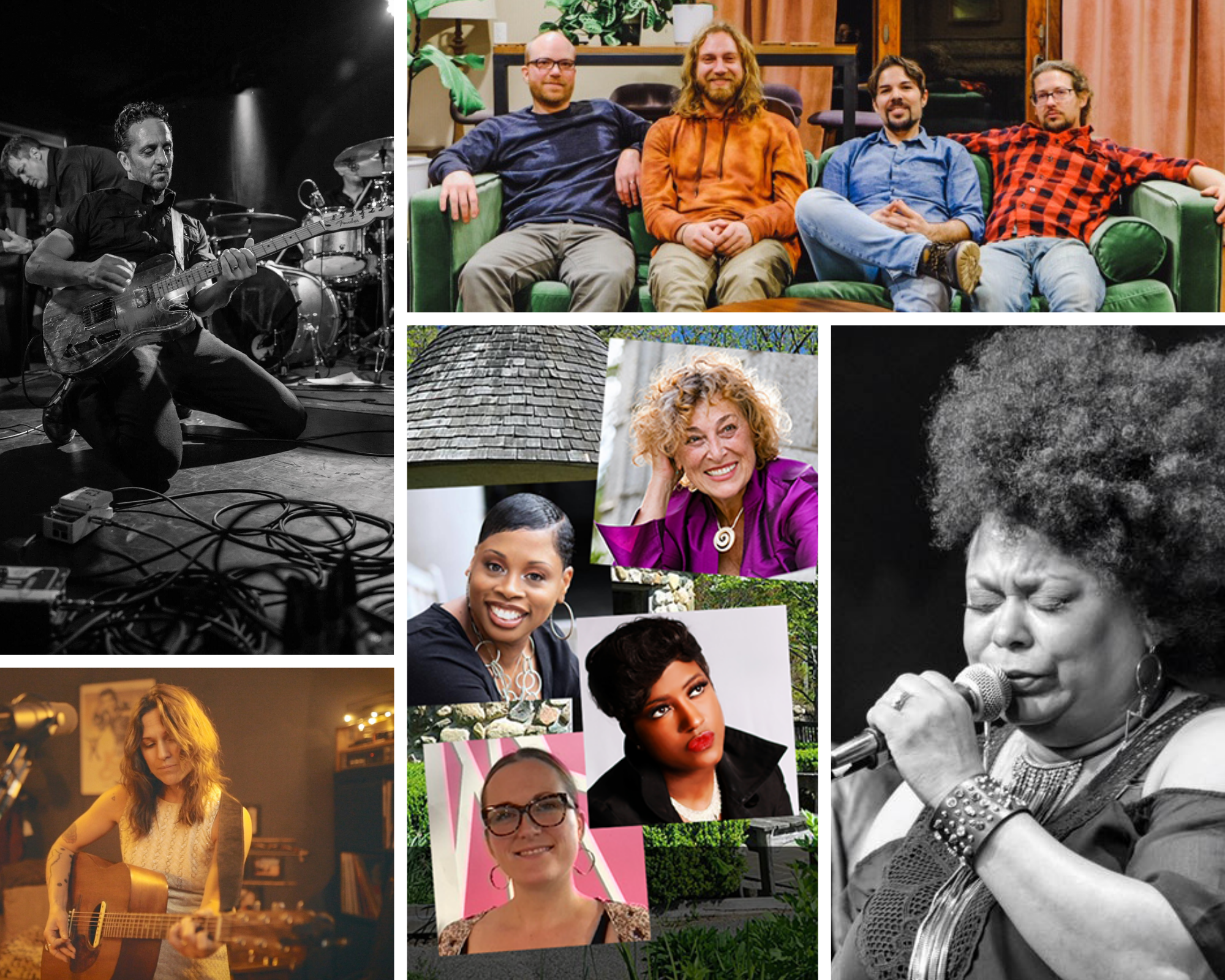 Back by popular demand, Acorn Anywhere! returns this summer, along with the launch of a new summer concert series – Midwest Made!
Acorn Anywhere! is taking us to La Lumiere in La Porte, IN, Fernwood Botanical Garden in Niles and The Common in Buchanan. Join us for an Acorn Anywhere! – or all three!
June 11 – Ike Reilly Assassination at La Lumiere
The "King of Music Row" Ike Reilly and his band bring their gritty and hard-driving music to Acorn Anywhere!. The New York Times called the band one of the best live bands in America.
July 30 – The Music of Ella & Billie at Fernwood
In an Acorn Anywhere! reprisal of our March hit, The Acorn proudly presents an all-star cast honoring jazz legends Ella Fitzgerald and Billie Holiday. Featured are Patti Shaffner, Char Jones, Lauren Dukes and Meredith George.
August 20 – Best of Acorn Open Mic w/ Joe Bisceglia at The Common
Joe Bisceglia hosts this special Acorn Anywhere! event at The Common in Buchanan, MI., featuring some of The Acorn's favorite local artists.
A new series premieres on June 15! It's Midwest Made at The Acorn, a summer concert series putting the spotlight on regional talent in a diverse array of genres. Each Wednesday night, you'll want to find yourself at The Acorn for shows that will not disappoint! Packages are available to purchase tickets for the entire series.
We kick off on June 15 with the jazz trio Buddy Pearson 3, followed by the bluegrass/Americana group The Water Street Wranglers. The series also features Abbie Thomas Band, Kaitlin Rose & The Band of Thorns, Mike Struwin Band and much more! Among the local first-timers to The Acorn is Benton Harbor's Sankofa, an eclectic genre-bending band leaning on funk, jazz and hip hop influences. The series concludes with Chicago Farmer & The Fieldnotes, The Backups & The Get Downs and one of the premier big bands in the Midwest – Lake Effect Jazz Big Band.
The Acorn Center for the Performing Arts Proudly Announces Purchase of The Acorn Theater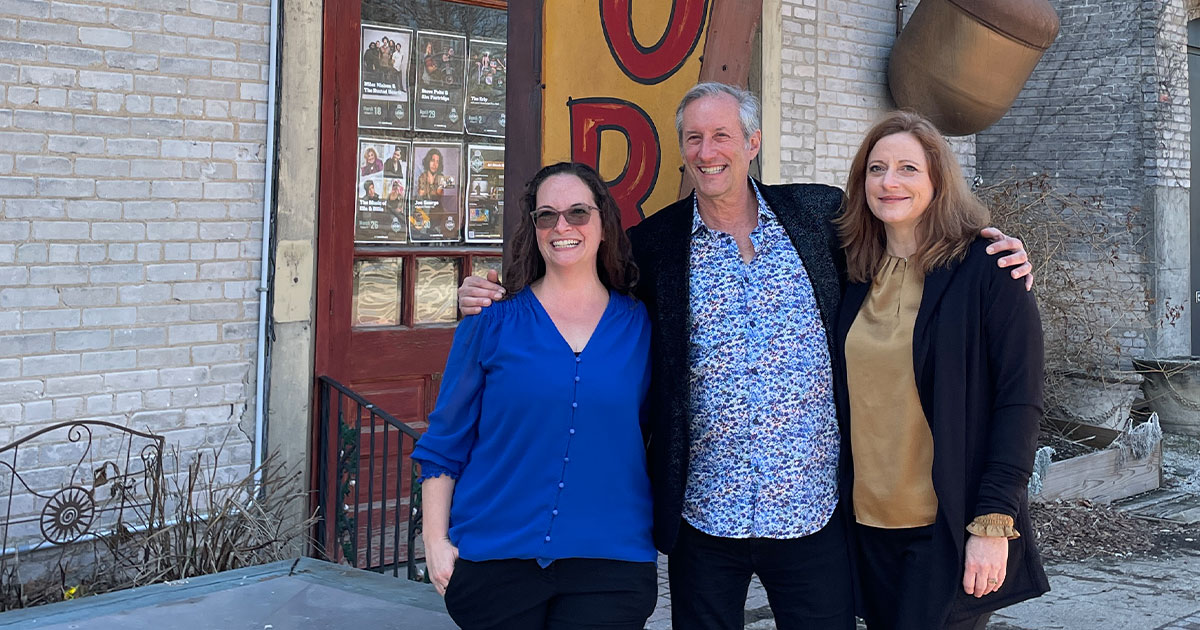 Executive Director Beth Kaskel, Acorn Staff and Board Members, along with community supporters gathered to honor David Fink's vision and dedication to The Acorn on March 20. In a speech given to the crowd of supporters celebrating the sale of the theater to the Acorn Center for the Performing Arts, Board Member Jen Shoup reflected, "We gather to honor David Fink and the late Kim Clark for their vision, hard work and passion that came to be The Acorn… On behalf of the ACPA Board, Staff, and Volunteers, we thank David. We know in the days, years, decades to come, the best way to show our gratitude is to keep the theater filled with artists and patrons experiencing this gem to Three Oaks, Michigan. This is our commitment."
.
An Inspiring Art Attack Weekend at The Acorn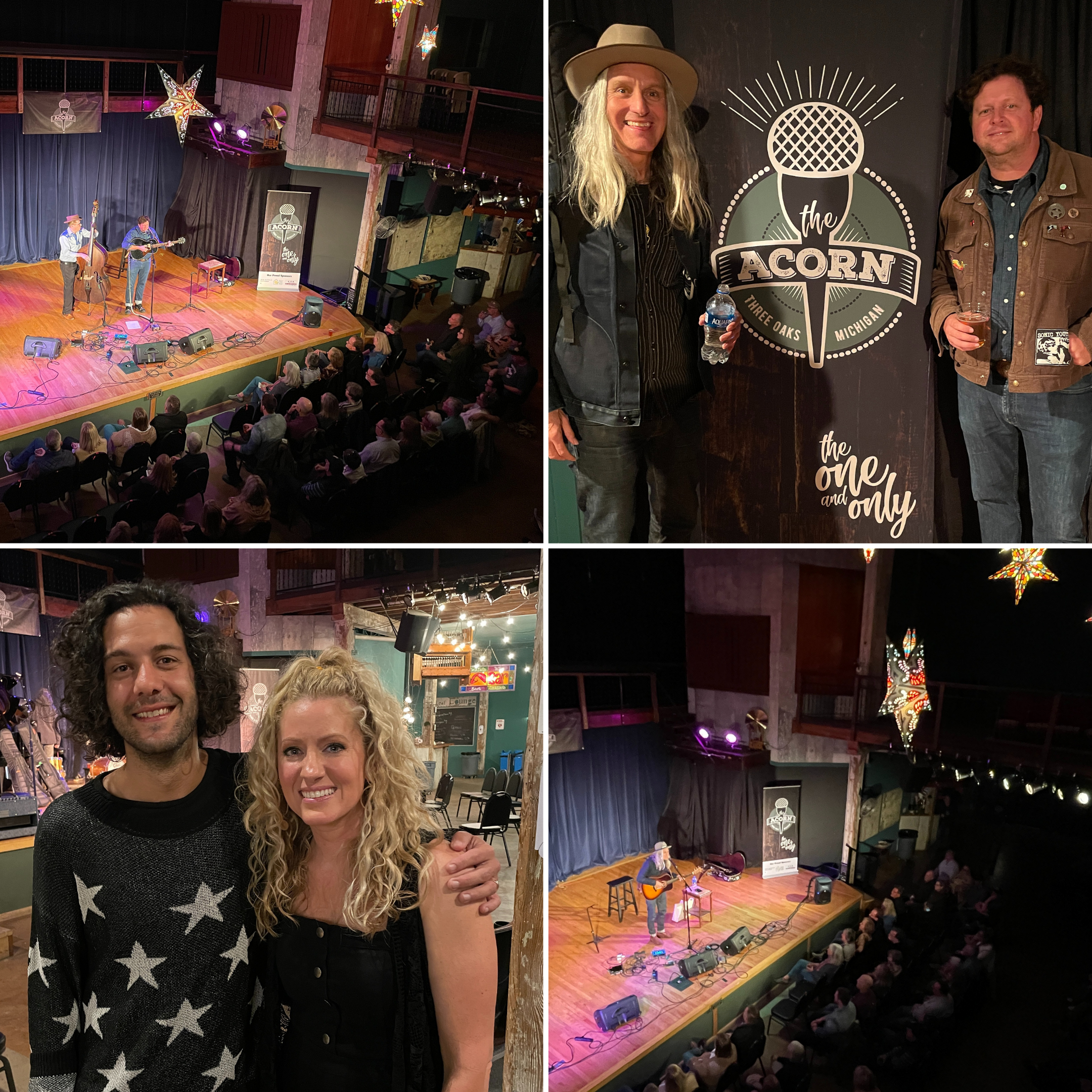 The Acorn was a proud participant in Art Attack 2022, with three visual artists and a weekend of special events and live music.
We kicked the weekend off with a Launch Party and film screening of Rothko: Pictures Must Be Miraculous. Janet Davies led a discussion with Allen Turner, former Chairman of The Museum of Contemporary Art in Chicago.
The artwork of Elizabeth Coyne, Susan Henshaw and Abe Partridge delighted visitors throughout the weekend. Live music filled the stage – Steve Poltz, Abe Partridge, Joe George, Abbie Thomas Trio and Mark Hummel all performed.
Harbor Country Pride and The Acorn – A Proud Partnership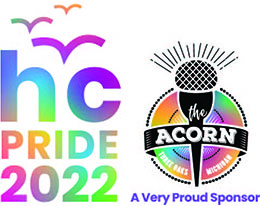 The Acorn is proud to be a premier sponsor of Harbor Country Pride 2022 and host to several special events throughout Harbor Country Pride Week.
Wednesday, June 1 - Bev Rage & the Drinks with opener Lady Stardust
Harbor Country Pride kicks off at The Acorn! Bev Rage & the Drinks are a loud, fast, and brash queer garage-pop band from Chicago. Plus, Lady Stardust invites audiences to sing along and re-imagine Bowie's iconic music through a unique acoustic lens.
Saturday, June 4 - "Club Rainbow" at The Acorn
MUSIC + DRINKS + DRAG + A WHOLE LOTTA LOVE! A Saturday Night Celebration through dance and divas with Harbor Country's LGBTQIA+ Community. This is a 21+ event.
Monday, June 6 - Movie Night + Wrap Party
Harbor Country Pride and The Acorn present a Pride Week Wrap Party and screening of the 2001 musical comedy-drama Hedwig and the Angry Inch!
Tuesday, June 7 - Pride Open Mic Night
In collaboration with The OutCenter of Southwest Michigan, The Acorn presents a very special Acorn Open Mic Night, showcasing LGBTQIA+ performers. Hosted by the 2020 winner of The Acorn's Singer-Songwriter Competition, Dylan Reed Leavitt.
---
Acorn Updates
Highlights
Check out some of these recent moments at The Acorn.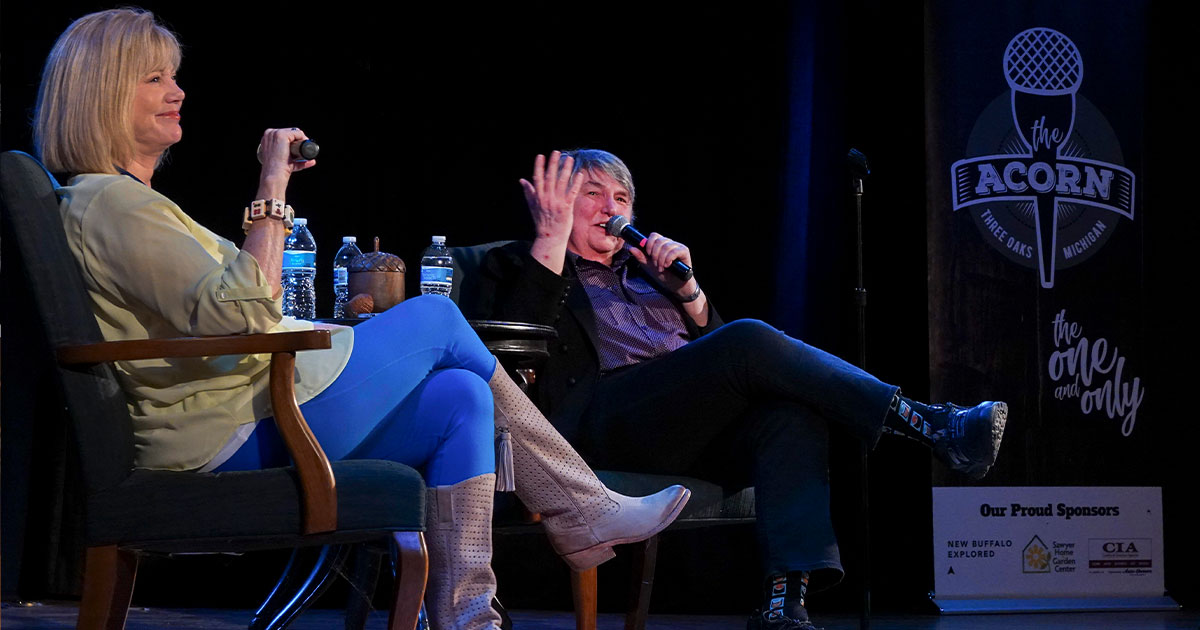 In the inaugural An Acorn Evening with… event on March 5, Janet Davies led a fascinating conversation with Terri Hemmert. Next in the discussion series will be An Acorn Evening with Mark Giangreco on Saturday, August 13.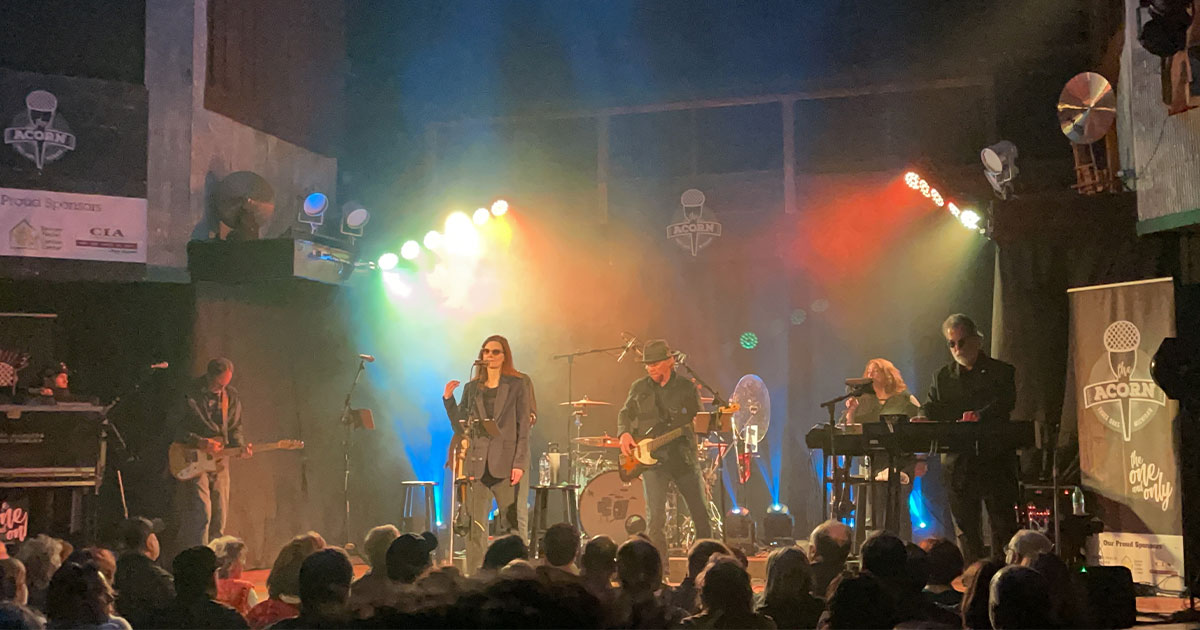 10,000 Maniacs featuring Mary Ramsey captivated a sold out crowd throughout their 40th Anniversary performance at The Acorn on March 19.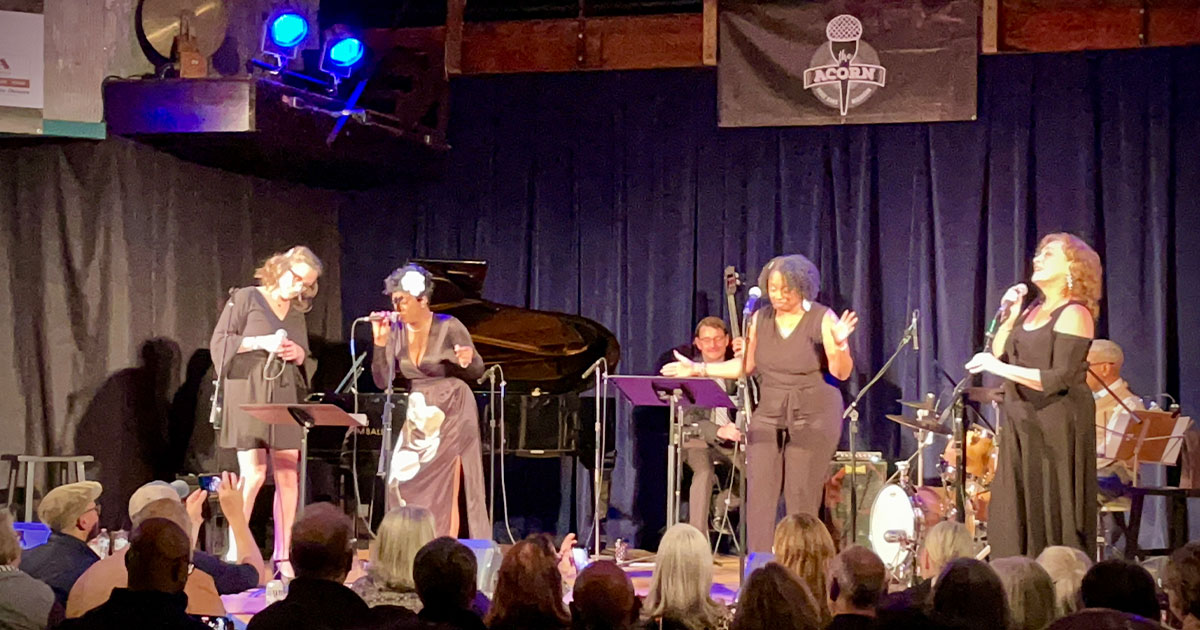 March 26 brought a celebration of The Music of Ella & Billie to our stage, featuring Meredith George, Lauren Dukes, Char Jones and Patti Shaffner, who charmed a packed house. The vocalists were accompanied by the fabulous jazz trio of Leandro Lopez Varaday, Buddy Pearson and Lannie Turner. The show will be reprised on Saturday, July 30 at Fernwood Botanical Gardens as part of our 2022 Acorn Anywhere! season.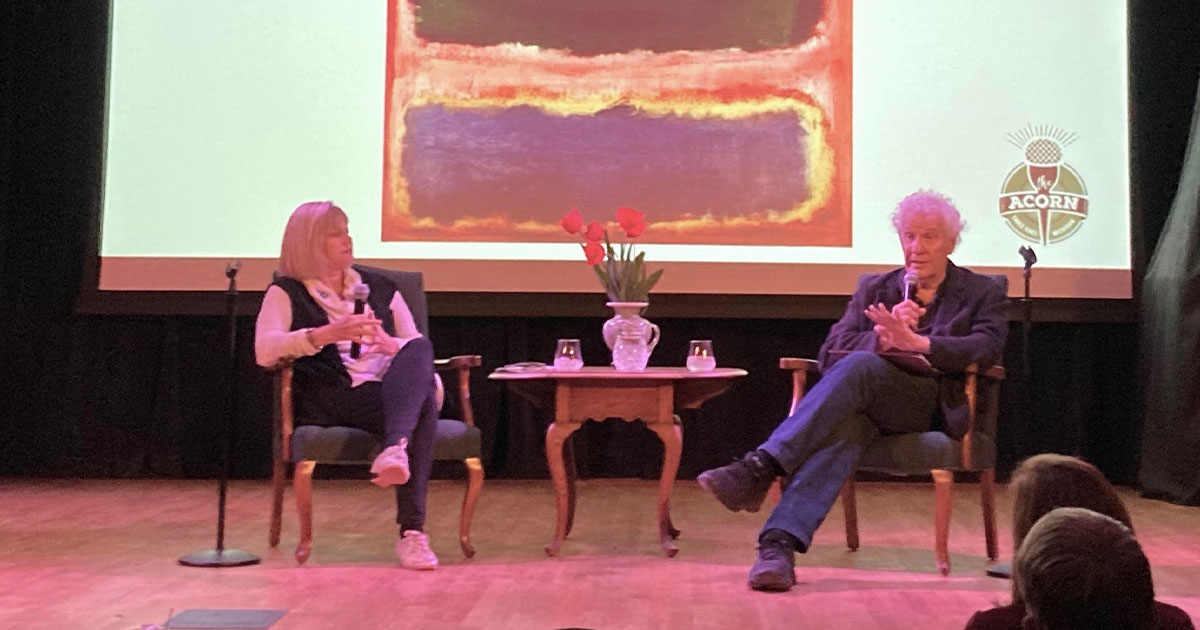 A full house gathered to celebrate the launch of Art Attack 2022 at The Acorn on April 28, 2022. After an amazing reception, the film Rothko: Pictures Must Be Miraculous was screened, followed by a discussion with Allen Turner, former Chairman of The Museum of Contemporary Art in Chicago, led by Janet Davies.
---
What's Next
Wednesday, June 1
Bev Rage & the Drinks with opener Lady Stardust
Friday, June 3
Paws for Humanity Benefit Concert
Saturday, June 4
"Club Rainbow" at The Acorn with The Kunty Kittens
Monday, June 6
Movie Night + Wrap Party - Harbor Country Pride
Tuesday, June 7
Pride Open Mic Night w/ host Dylan Reed Leavitt
Friday, June 10
Cash Box Kings
Saturday, June 11
Ike Reilly Assassination at La Lumiere – Acorn Anywhere!
Wednesday, June 15
Buddy Pearson 3 – Midwest Made
Friday, June 17
Robbie Fulks
Saturday, June 18
Cathy Richardson
Wednesday, June 22
Water Street Wranglers – Midwest Made
Thursday, June 23
Cracker
Friday, June 24
The Newports' Last Dance
Saturday, June 25
GhostLight Theatre presents Significant Other
Wednesday, June 29
Abbie Thomas Band – Midwest Made
Thursday, June 30
Modern English
Friday, July 1
Kurt Elling
Saturday, July 2
Joe Pug w/ Esther Rose
Sunday, July 3
Marshall Crenshaw
Wednesday, July 6
Open Mic Night w/ The Edgar Willbury Experience – Midwest Made
Thursday, July 7
Marcia Ball
Friday, July 8
Heartache Tonight - A Tribute to the Eagles
Saturday, July 9
Mike Dawes w/ Trevor Gordon Hall
Wednesday, July 13
Kaitlin Rose & The Band of Thorns – Midwest Made
Thursday, July 14
State of the Unity Fan First Premiere with The Bergamot
Saturday, July 16
The Brit Pack
Wednesday, July 20
Mike Struwin Band – Midwest Made
Thursday, July 21
2022 Singer-Songwriter Competition Finals – 10th Annual Celebration
Friday, July 22
Michael McDermott
Saturday, July 23
Luke Winslow-King
Wednesday, July 27
Sankofa – Midwest Made
Friday, July 29
Acorn SSC Alumni Showcase: Scott & Lila w/ James Neary, Emma Hamel & more!
Saturday, July 30
The Music of Ella & Billie at Fernwood – Acorn Anywhere!
Sunday, July 31
Simply Barbra
Wednesday, August 3
Chicago Farmer & The Fieldnotes – Midwest Made
Friday, August 5
Billy Gilman
Saturday, August 6
The Chicago Experience
Tuesday, August 9
Tab Benoit
Wednesday, August 10
The Backups & The Get Downs – Midwest Made
Thursday, August 11
PettyBreakers
Saturday, August 13
An Acorn Evening with Mark Giangreco: Hosted by Janet Davies
Wednesday, August 17
Lake Effect Jazz Big Band – Midwest Made
Thursday, August 18
Second Hand News: A Tribute to Fleetwood Mac
Saturday, August 20
Best of Acorn Open Mic at The Common – Acorn Anywhere!
Friday, August 26
Crystal Bowersox
Saturday, August 27
The Milk Carton Kids
Wednesday, August 31
Neighbor by Neighbor Benefit featuring PureSoul Presents
Friday, September 16
Al Stewart with his band The Empty Pockets
Saturday, October 22
Alejandro Escovedo
COMING SOON!
Labor Day Weekend entertainment
Fall Show Announcements