An Acorn Evening with Mark Giangreco: Hosted by Janet Davies
Saturday, Aug. 13 | 8:00pm ET
(7:00pm CT)
In the next installment of our new series – "An Acorn Evening with…" – Janet Davies will serve as the guide for a fascinating conversation with Mark Giangreco.
About Featured Guest:
In Mark's own words: "It all started at a small 5,000 watt station in Dayton, Ohio. A young kid and a crazy dream."
Mark Giangreco is a native of Buffalo, New York, a 1970 graduate of Canisius High School and class of 1974 from the University of Dayton. His loves include old school R & B and classic muscle cars.
Mark has an esteemed resume spanning close to fifty years:
WING Radio Dayton news & sports anchor 1972-77
WDTN TV2 Dayton weekend sports anchor/ reporter 1976-77
WLKY TV32 Louisville Sports Director / primary sports anchor 1978-82
WMAQ TV5 Chicago weekend sports anchor/ reporter 1982-83, Sports director/primary anchor 1983-94
WLS TV7 Chicago Sports director / primary anchor 1994-2021
ESPN radio Chicago contributor 2010-21
About the Host:
Janet Davies was the entertainment reporter for Chicago's ABC 7 for over 30 years. She was also the host and executive producer of 190 North, a multiple Emmy award-winning Chicago-based entertainment and lifestyle program. Janet has received numerous awards, including 18 Emmy awards for hosting, producing, writing, and reporting.
A pre-show video will begin at 7:45pm ET.
---
Your pre-show email may contain important information about Covid protocols for your event. Click here to learn more about Acorn Covid-19 Policy.
---
RESERVED SEATING DONATION option includes a $25 tax-deductible donation to The Acorn and guarantees you a seat with optimal sightlines. $25 Donation per ticket holder in your group.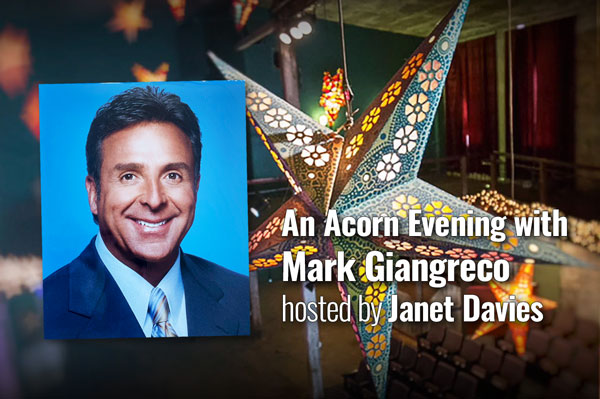 Box Office opens at 4:00pm ET
Starts 8:00pm, doors open 7:00pm