Letter from The Acorn Board Chair | Interview with an Acorn Artist | Board Spotlight | Acorn News | Acorn Updates
---
Letter from The Board Chair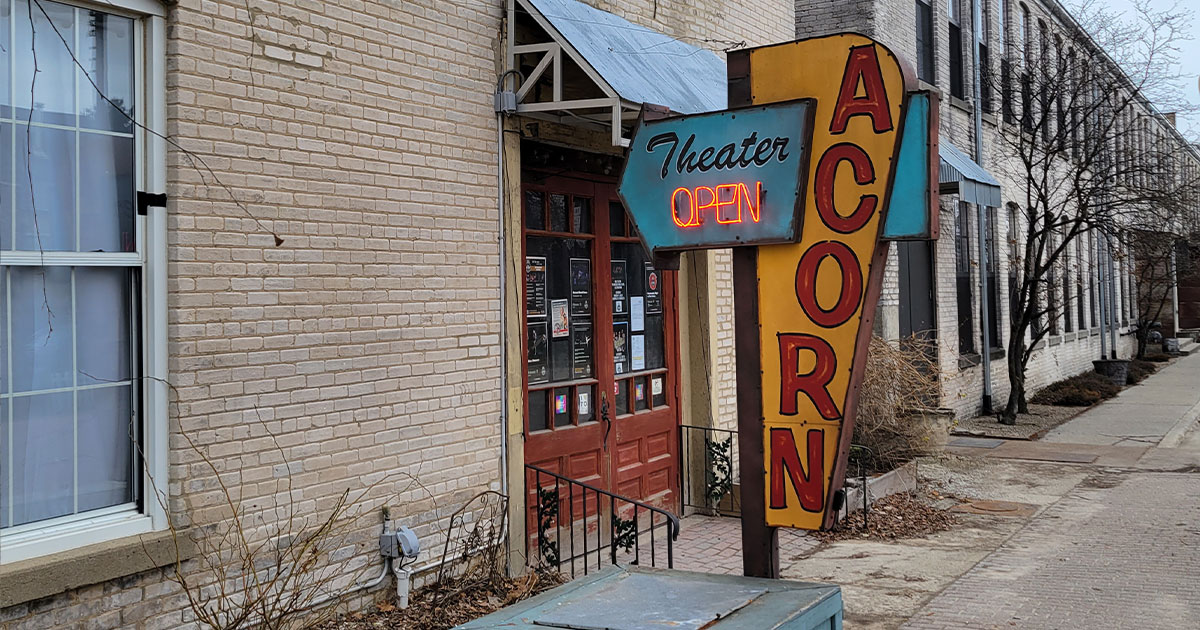 Hello Acorn friends!
As we assemble the stories for our winter newsletter, it appears that winter is largely passing us by this year - the snowy part of it anyway. But regardless of the weather outside, we are lighting it up and keeping it warm inside our theater on these cold afternoons and evenings. More about our exciting programming in a minute, but let me not bury the lede ~
We have hired a new Executive Director to lead The Acorn Center for the Performing Arts through the next chapters of our history! After a thorough search that spanned multiple states and tapped scores of arts professionals and various other organization leaders, a Search Committee consisting of six ACPA Board members narrowed a large field of candidates down to a select few. We were thrilled with the high caliber of applicants that came forth, but through a series of interviews and meetings, the full board was unanimous on our hiring choice. We are going to let our new leader introduce herself to you in just a couple of weeks, so stay tuned for our big announcement and introduction - we truly couldn't be more excited about The Acorn's future with this next leader at our helm.
That tease aside, let's turn back to the new and unique offerings we are presenting on The Turner Stage in 2023. Below you will read more details about our first-ever Acorn Music Festival (June 16-18), the second summer of our Midwest Made series (June 25 - August 27), our 11th Annual Singer-Songwriter competition (July 21), and our new Dance Showcase series which has wildly exceeded our expectations - you can still catch the last performance on February 26. We are still keeping a few more surprises close to the vest (shh - theater!) - you'll read about those soon. This all is in addition to a music line up that promises to be first-rate all year long. Keep reading our eBlasts and checking our website often - you won't want to be disappointed to learn your favorite band has sold out!
As we continue to expand and grow The Acorn, our mission and strategic plan guide us. As we all know, The Arts foster community. With this in mind, we will continue to co-promote and support Art Attack in April and Harbor Country PRIDE week in June. We are now in the rotation with the American Red Cross to host regularly-scheduled blood drives. We have hosted numerous community events and functions, providing our amazing space to fellow non-profit organizations that aim to do good work in our communities. Neighbor by Neighbor, the Rotary Club of Harbor Country, the Three Oaks Makers and Merchants Alliance, plus several other community organizations have hosted their events - both public and private - in our venue and we welcome others in our community to do the same. If you are interested in hosting something at the theater, email us at info@acornlive.org.
Finally, as funding permits, we will continue to make improvements to our building which has survived the seasons for well over a century. The exterior of our treasured old theater has been mostly shored up - tuckpointing, gutters, and a new roof were the major projects we completed in 2022. The last piece of our "seal the envelope" phase will be to replace 20-some rotting old windows. We estimate the cost of this to be around $100,000, so if you are inspired by what is happening in and around The Acorn, we never turn down donations to further the work at our beloved non-profit theater! You can CLICK HERE to help The Acorn keep growing.
Are you excited yet? We sure are! Progress and plans such as we have are what keep our board, our staff, and our volunteers energized for all that is to come at The Acorn ~ our community place that is truly like no other.
On behalf of our entire Board of Directors, we are grateful for your continued support. We look forward to seeing you at the theater!

Laura Madsen Jolly
---
Interview with an Acorn Artist
Sarah Lee Guthrie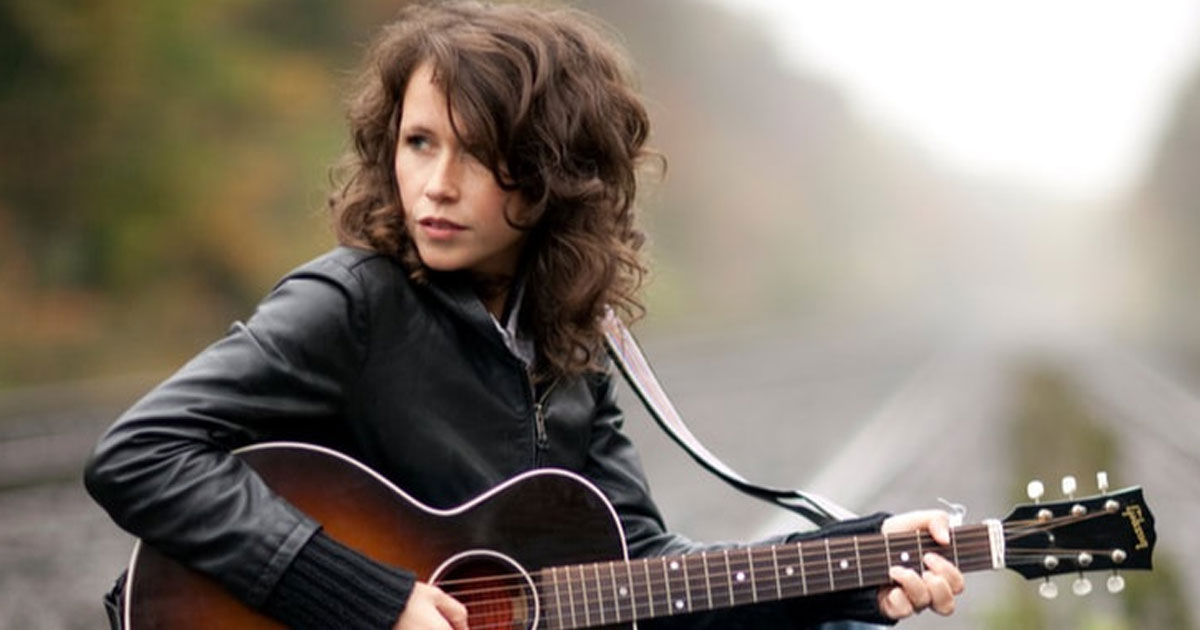 Sarah Lee Guthrie's lineage is undeniable. She is, after all, the daughter of folk artist Arlo Guthrie and the granddaughter of the legendary Woody Guthrie. But if you close your eyes and forget that her last name is synonymous with the river-legacy of a widening current of American folk music, you'd still be drawn to the clarity and soul behind Sarah's voice. There is a gentle urgency to her interpretations of the songs she sings and the classic music of her heritage. It flows from the continuity of her family, her vital artistic life today and the river of songs that have guided her to where she now stands.
Witness the growth of one of America's finest young singers when Sarah comes to The Acorn on Thursday, March 2nd, but before you do, get to know a bit more about Sarah, her background, and her music.
Q: Who is your favorite musician to listen to when you're not making music of your own?
A: I love listening to Arthur Rubinstein play the piano… I am also a big fan of Roger Miller. Oh and that one album that Linda Martell made. Always in the mood for a little JJ Cale. Love me some Melissa Carper. But honestly, living in Austin… I am lucky enough to have live music every night which takes the cake for favorite listening experiences. Have you heard of Cactus Lee? Rattlesnake Milk? Ramsay Midwood? Theo Lawrence? (I stole his guitar player 😉 Jenn and the Corn Ponies? The Mellows? Sentimental Family Band? Just some of my local favorites 🙂

Q: What advice would you give to young artists?
A: Be you… even if it's not good at first… there is a possibility that it is great and people just don't get it yet.
Q: How has your music changed in recent years?
A: Other than I've hopefully gotten better… (and I don't play with my ex anymore) I'm not sure my music has changed all that much, what has changed is my perspective on music. For many years, I took things a little too seriously… Now I'm just having fun.
Q: What is the most surprising memory you have from a performance?
A: The time that Jeff Tweedy showed up at The Acorn theater in Three Oaks, Michigan and said that he loved the performance and agreed to produce the next album 😉
Q: What can our audience expect from you when you play at The Acorn on March 2nd?
A: I am coming with a great guitar player who really supports me and the songs beautifully. I've been singing a lot of my own songs that I've written over the years, but a few new ones too… I've got a little bit of a country honky tonk thing going which is really fun… will definitely throw in some "legacy" songs and older ones that I love to sing… And the rest of the time I'm, oh ya know… talking, telling stories… being myself and having a blast doing it. Hopefully it's as contagious as I think it is. Hahaha
Q: Anything else you think our Acorn audience would like to know about?
A: We're going to have a really good time. It's a very honest show… kinda just like hangin' out with me and then I'll sing some too… we'll laugh, cry, all the good stuff… Tbo will play some great guitar… I think you'll like it 😉
Many thanks to Sarah from The Acorn for taking time out of her schedule to answer our questions!
---
Volunteer Spotlight
Rodney Mills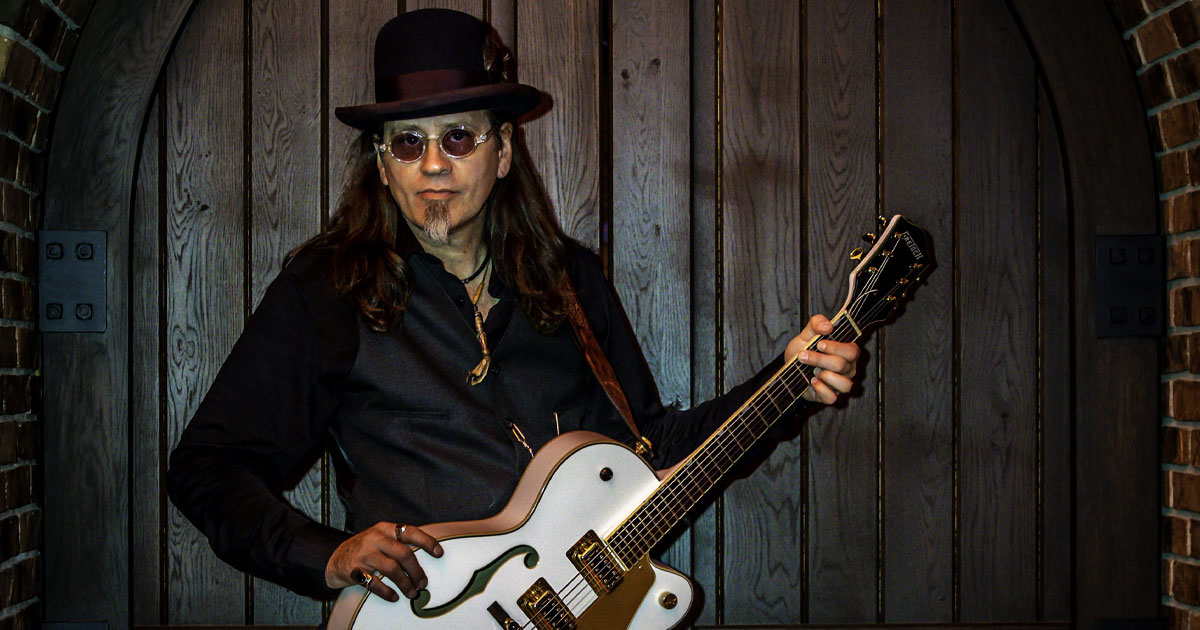 Rodney Mills is not only an Acorn volunteer, but he's a musician that you'll see gracing our stage from time to time as well! With his band the Resurrection Blues Band, Rodney has opened for Bruce Katz Band and The Erly at The Acorn this April and his band is playing in our Midwest Made series this summer. We are so grateful for the work that Rodney and his wife, Kelly, do to support us here at The Acorn!
Rodney (and Kelly) first started volunteering at The Acorn about a year ago. Rodney would sign up to help at an event on a night when he didn't have a gig of his own. In describing why he wanted to volunteer at The Acorn, Rodney had this to say: "In the beginning [I did this to] to get to know more people in the community and industry to help with my musical journey but since I have been here volunteering, The Acorn has been a school for life beyond music."
By day Rodney is a transportation worker for MDOT Sawyer. His favorite pleasures in life include performing with his band or solo and attending live music performances.
As much as we appreciate Rodney, it seems that Rodney appreciates The Acorn and our patrons just as much. He says, "I am very inspired by the kindness of everyone that walks through those doors. Every show is about the entertainers. It's an honor to greet everyone that attends."
Rodney and Resurrection Blues Band will be opening for Bruce Katz Band on Saturday, April 15 at The Acorn. Get tickets today!
Q: Who is your favorite musician you've seen perform at The Acorn?
A: So many to choose from. Tab Benoit and Toronzo Cannon are tops.
Q: What is your favorite memory from volunteering?
A: Every event is a new memory. Maybe the one that comes to mind is while volunteering one night for an Open Mic, an artist didn't make it so I was asked to perform. And I just happened to have a guitar with me.
Q: What is something people might be surprised to know about you?
A: I used to have anxiety in crowds or being the center of attention. I still do, just not to the degree I once did.
Q: How do you define success?
A: Knowing people, strangers, friends and family like my music and are excited to see and hear what comes next. I would love to make it into the big blues festivals and Chicago clubs someday. I hope to put out an album with a producer and a direction to capture my vision.
Q: Who inspires you?
A: My wife Kelly. She helped me to believe in myself.
---
Acorn News
The Inaugural Acorn Music Festival Is Coming this June!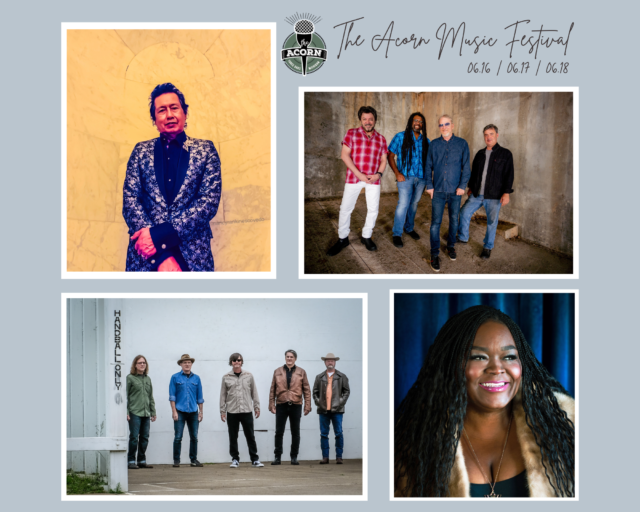 Acorn Music Festival headliners Alejandro Escovedo, Cracker, Son Volt and Shemekia Copeland will be joined by 20+ artists in our first-ever Music Festival.
Coming to Three Oaks, Michigan in June 2023, it's The Acorn's first-ever summer music festival! A full weekend of music will hit our stage June 16 through 18 with more than 20 amazing artists! We're thrilled to welcome our headliners – Alejandro Escovedo, Shemekia Copeland, Cracker and Son Volt!
Friday, June 16 - Alejandro Escovedo and Shemekia Copeland
DAY ONE features headliners Alejandro Escovedo and Shemekia Copeland. Escovedo has crossed borders, jumped barriers, taken risks, and bet it all in his lifelong search for the heart of rock and roll. Copeland possesses one of the most instantly recognizable and deeply soulful roots music voices of our time. Friday's first show starts at 5pm ET, with multiple performances leading up to Shemekia and Alejandro's headlining shows.
Saturday, June 17 - Cracker
DAY TWO features headliner Cracker! Cracker has been described as a lot of things over the years: alt-rock, Americana, insurgent-country, and have even had the terms punk and classic-rock thrown at them. Saturday's first show starts at 2pm ET, with eight performances leading up to Cracker's headlining show.
Sunday, June 18 - Son Volt
DAY THREE features headliner Son Volt! Jay Farrar founded Son Volt in 1995 after leaving the seminal group Uncle Tupelo. Son Volt's Electro Melodier offers up a unique blend of folk, country, blues, soul and rock – an electric troubadour with melodies that hit and stick.Sunday's first show starts at 2pm ET, with eight performances leading up to Son Volt's headlining show.
The full Festival lineup will be announced March 7th. In the meantime, hurry and get your tickets while they last! Weekend and one-day passes are available for purchase. Get all the information.
Second Season of Midwest Made Summer Concert Series Is On Sale Now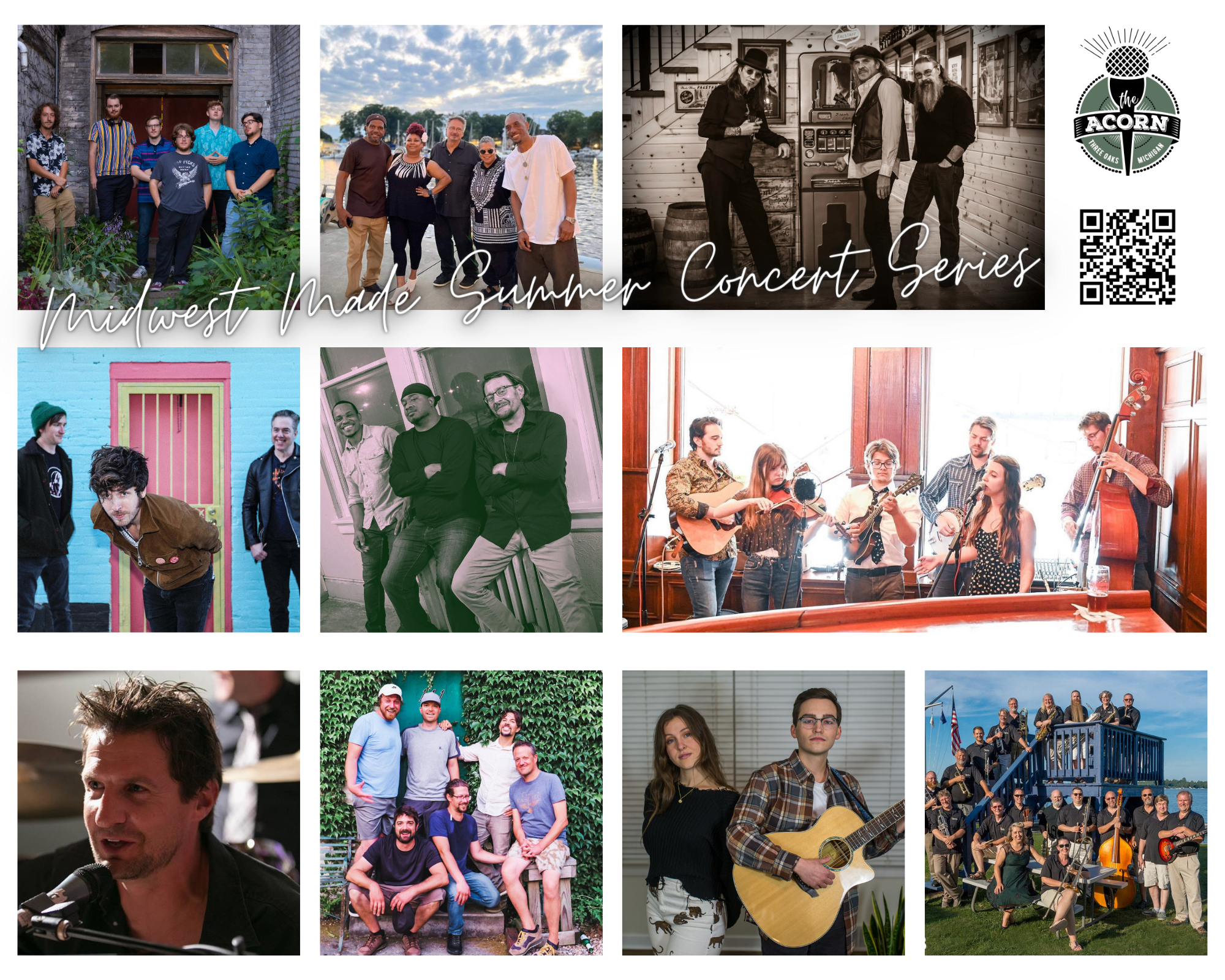 Five returning artists will join with five new-to-the-series artists to comprise our 2023 Midwest Made Summer Concert Series lineup.
Kicking off Sunday, June 25th – it's the second season of our Midwest Made Summer Concert Series! The full artist lineup was recently announced for our concert series which focuses on local and regional artists to help support their growth and celebrate their artistry.
Returning artists include some definite fan favorites from our first season – Buddy Pearson 3's jazz trio with a stunning featured guest vocalist, The Water Street Wranglers and their new interpretations of traditional Americana and Bluegrass, Sankofa's eclectic soul music, Lake Effect Jazz Big Band, and Mike Struwin Band, who is described as 'Pure Michigan' music through and through.
Rounding out the second season are five artists new to Midwest Made. PlayHouse brings an enthusiastic mix of funk, jazz, and rock and serves as our kickoff event. In July, the heavy blues of Resurrection Blues Band and '90s alternative revivalists Newski will delight. In August, Mark Ficks & The Significant Others take influences from rock, pop and country, while Drew Stolz & Priscilla Sabourin bring that singer-songwriter vibe at its best.
Season tickets are available for both general admission and reserved seating.
Announcing the 11th Annual Acorn Singer-Songwriter Competition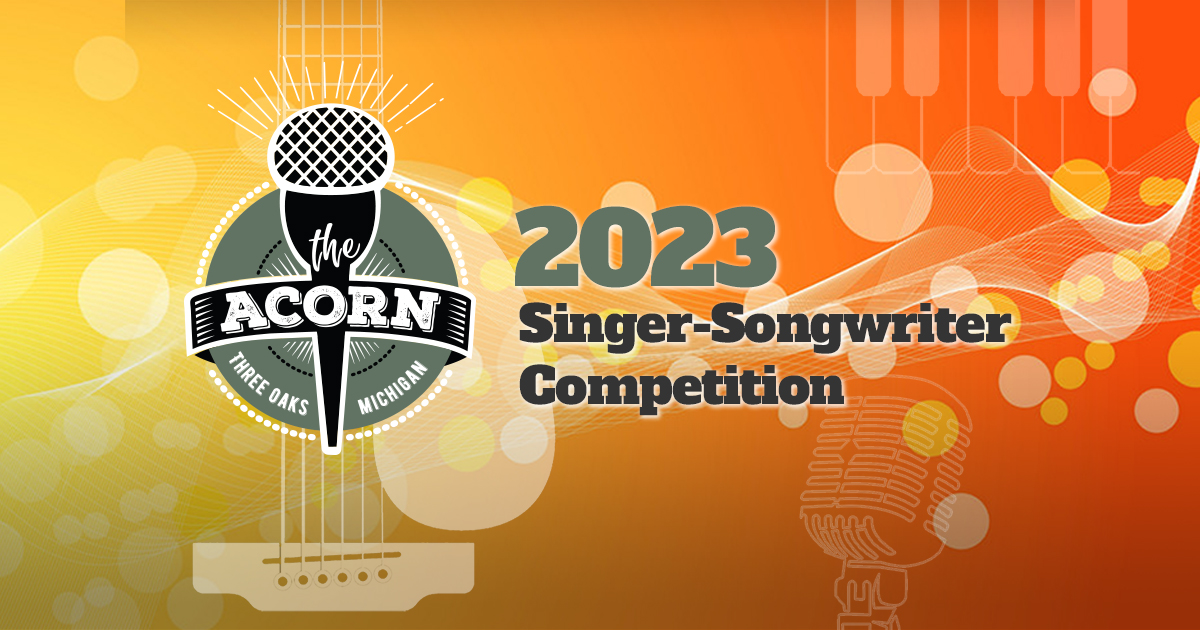 Calling all singer-songwriters! Our 11th Annual Acorn Singer-Songwriter Competition will be opening for submissions on Thursday, March 2nd! Get those creative juices flowing. All the information on how to enter our competition will be coming soon.
Six singer-songwriters will be selected as Finalists to perform on Friday, July 21. During the Finals, the top three Finalists will be chosen by a panel of judges and will then perform a second original song of their choice. The audience votes on the winner and runner-up. Finalists are considered for other Acorn shows and recommended for other area events. Cash prizes will be awarded.
Past winners include Kray Van Kirk (2022) and Priscilla Sabourin (2019) – both of whom will be back at The Acorn this spring and summer. Kray's Live Album Recording Concert on Saturday, May 20th is on sale now and is sure to be a truly unique concert experience. Priscilla will be joined by guitarist Drew Stoltz for our Midwest Made concert series on August 20th.
American Red Cross Blood Drive – A Community Partnership with Heart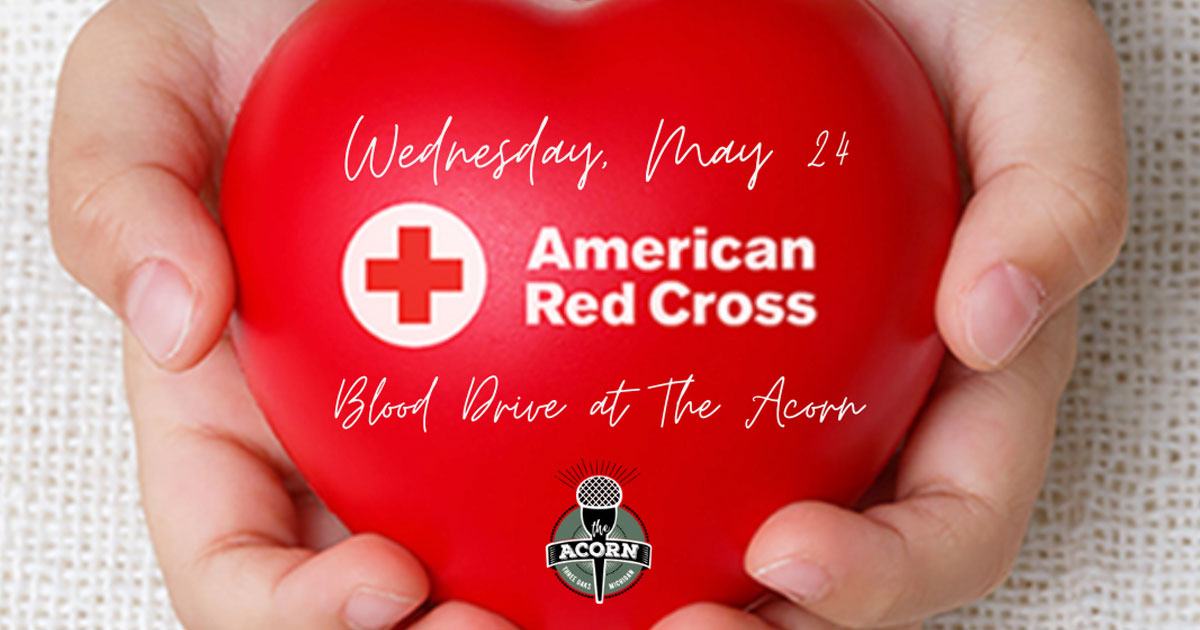 We would like to express a heartfelt thank you to all who came out, rolled up their sleeves, and donated blood at our January Blood Drive in partnership with the American Red Cross Michigan Region.
Our goal was 16 donors. We are happy to report that not only did we exceed that with 25 donors, but 20 of them were first-time donors!
We look forward to welcoming another group of donors at our next Blood Drive on Wednesday, May 24th at The Acorn in Three Oaks. More details to come closer to that date. In the meantime, again, we say thank you!
For information about the Red Cross or other donation opportunities, please visit the Michigan Region website.
---
Program Recap
Highlights
Check out some of these recent moments at The Acorn.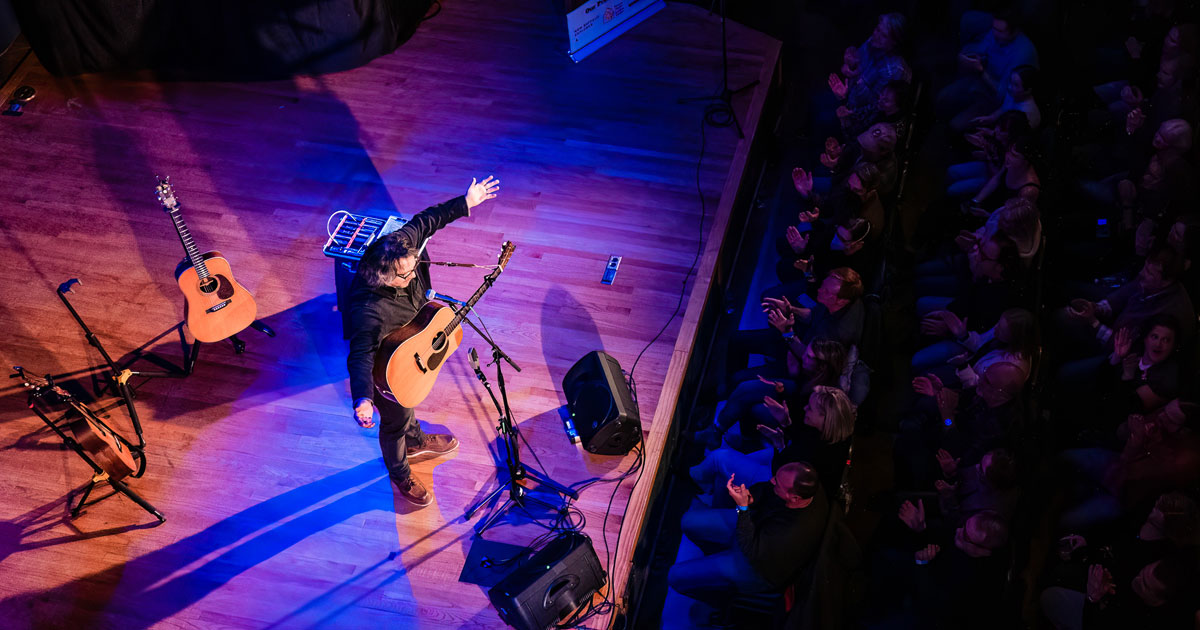 The legendary Jeff Tweedy delighted our sold out audience for an intimate performance on Friday, December 2nd. As the founding member and leader of the Grammy Award winning American rock band Wilco, and before that the cofounder of the alt‐country band Uncle Tupelo, Jeff Tweedy is one of contemporary music's most accomplished songwriters, musicians, and performers. Image courtesy of Akash Wadhwani.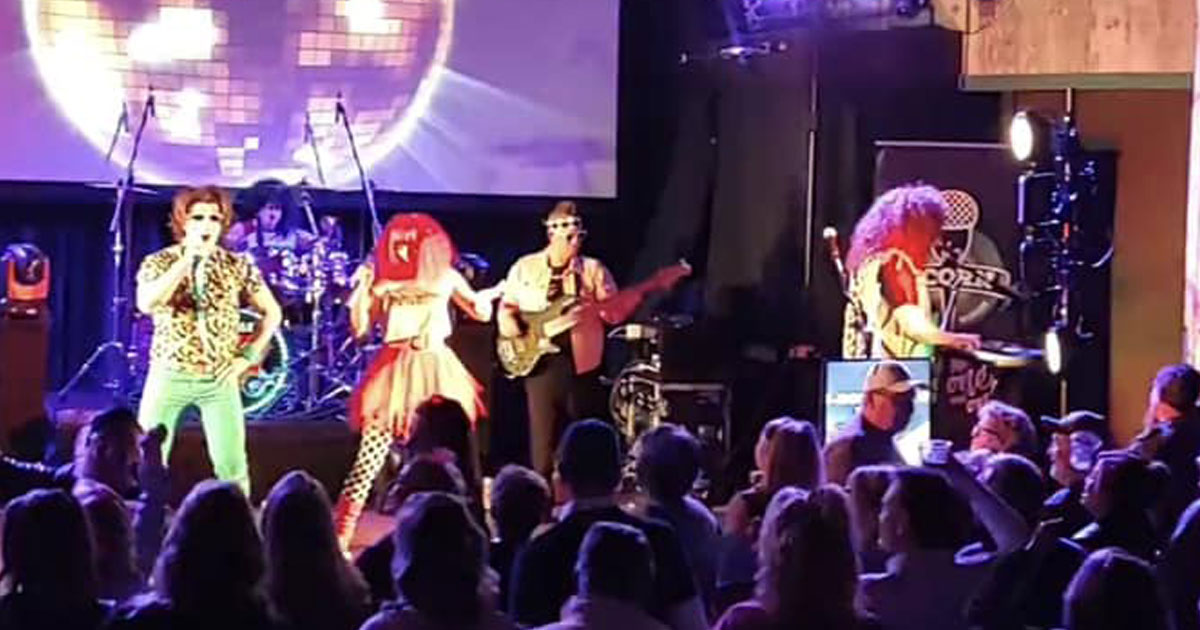 The 1985 brought the 1980s dance party vibe to The Acorn Saturday, January 14th! Our sold out audience was on their feet for the best of '80s rock, pop, new wave, rap and metal, with music from artists like Prince, Journey, Madonna, Poison, Michael Jackson, Bon Jovi, Joan Jett, Def Leppard, Blondie and more. We're bringing more dance parties your way in 2023 with new "Club Acorn" events like this one – so watch our website for those announcements!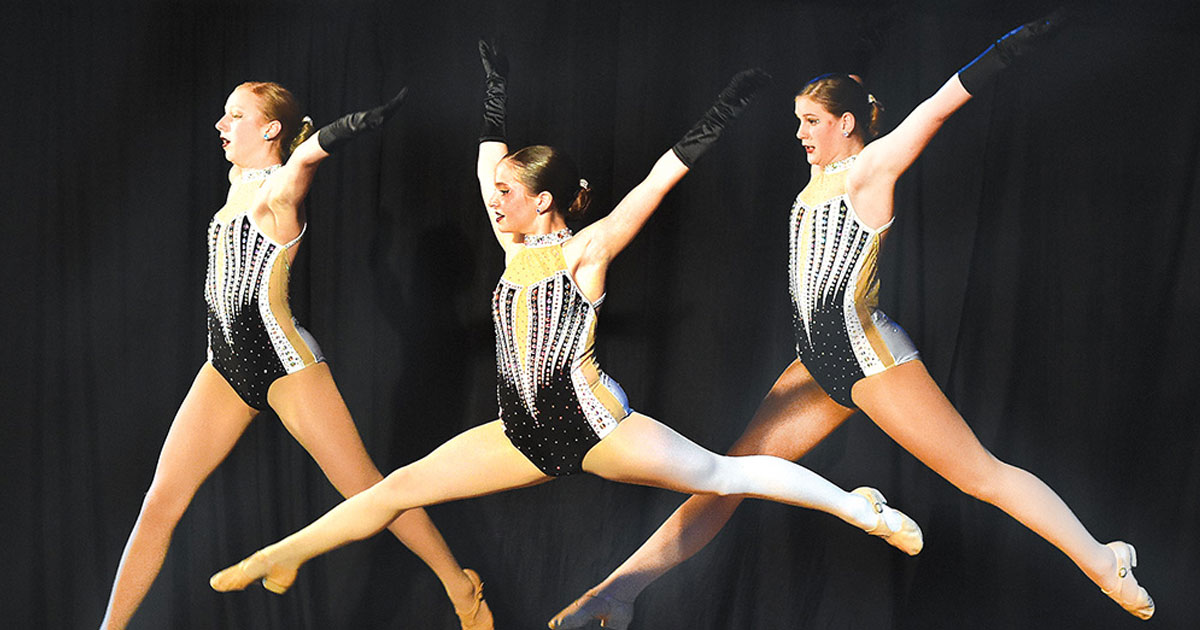 The inaugural season of our Acorn Dance Showcase series delighted audiences with performances from five local dance studios – Sawyer Dance Academy, Fusion Center for Dance, CC Dance, Diamond Dance Academy and the Citadel Dance & Music Center. Pictured: Sawyer Dance Academy dancers Harlow Allee, Tori Boughner, Kynzi Brooks; image courtesy of David Johnson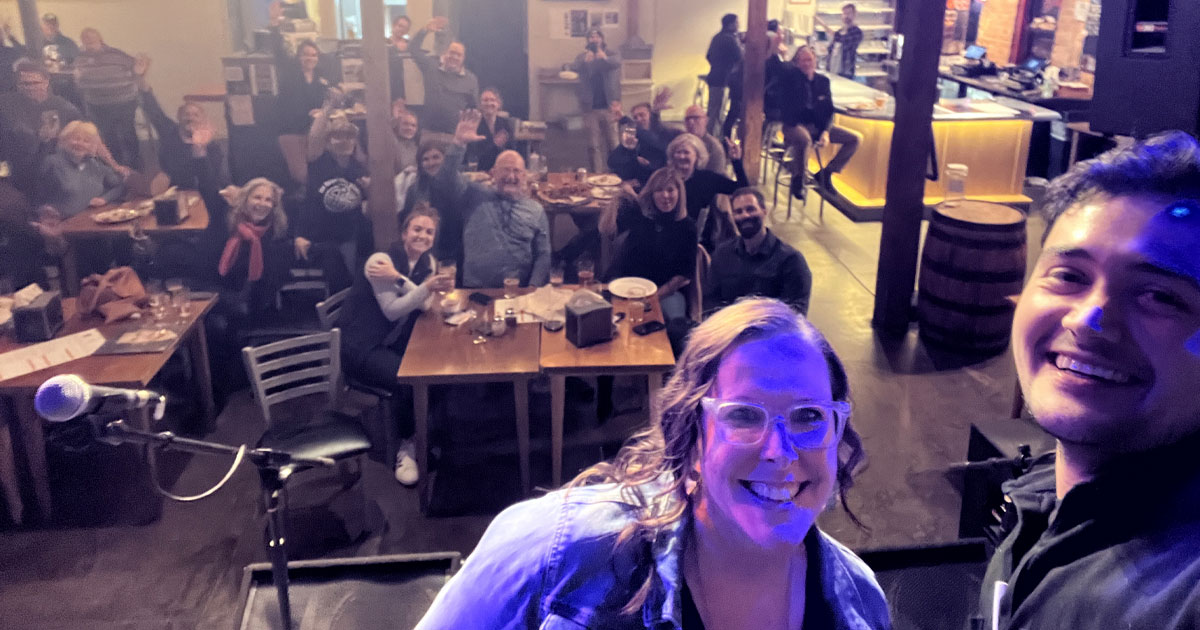 Our friends at The Livery in Benton Harbor welcomed us for a Community Night to benefit The Acorn on February 16, 2023. Acorn performers took the stage including Larry Zenk, Dan Moser, Brian Kanyer, Down Home, D. Anson Brody, James Neary, and our own Nikki Gauthier. It was a wonderful night of "collaboration over competition" and we're grateful to The Livery for the hospitality!
---
What's Next
Saturday, February 25
Second Hand News: A Tribute to Fleetwood Mac - SOLD OUT!
Sunday, February 26
The Acorn's Dance Showcase featuring Citadel Dance & Music Center
Thursday, March 2
Sarah Lee Guthrie
Friday, March 3
Miles Nielsen & The Rusted Hearts
Saturday, March 4
Paws for Humanity Spring "Kickoff" Benefit
Thursday, March 9
The Acorn Mardi Gras Celebration Featuring Dirty Dozen Brass Band
Saturday, March 11
Billy Elton
Sunday, March 12
Coastline Children's Film Festival presents I Was Born, But
Wednesday, March 15
Open Mic Night featuring The Sand Rabbits
Friday, March 17
The Acorn St. Patrick's Day Celebration Featuring The Ike Reilly Assassination
Saturday, March 18
Letters from Home: The 50 States Tour
Friday, March 24
Paul Thorn
Wednesday, March 29
Tommy Castro & The Painkillers
Thursday, March 30
Jim Messina
Friday, March 31
Beth Nielsen Chapman
Saturday, April 1
The Furious Bongos play Zappa
Sunday, April 2
Flag Day Prince + Princess Pageant
Friday, April 7
Both Sides of Joni
Saturday, April 8
The Ron Burgundy's – A Club Acorn Show
Friday, April 14
The Arcadian Wild
Saturday, April 15
Bruce Katz Band with Resurrection Blues Band
Sunday, April 16
Bruce In The USA
Thursday, April 20
The Linda Ronstadt Experience
Friday, April 21
Expo '76
Saturday, April 22
The Ides of March
Sunday, April 23
Open Mic Night Featuring Jen Lawson
Friday, April 28
An Evening with Patricia Barber
Saturday, April 29
The Music of Pat Benatar
Sunday, April 30
Immersive Dance, Art and Music Fusion
Saturday, May 6
The Fortunate Sons: A Tribute To Creedence Clearwater Revival
Sunday, May 7
An Evening with Richard Thompson
Friday, May 12
Cowboy Junkies
Saturday, May 13
Abe Partridge w/ D. Anson Brody
Wednesday, May 17
Open Mic Night Featuring Jack Whittle
Saturday, May 20
Kray Van Kirk - Live Album Recording Concert
Friday, May 26
The Brit Pack
Saturday, May 27
Mr. Blotto
Sunday, May 28
Real Pretenders + Naomi Ashley Band
Friday, June 16
Acorn Music Festival DAY ONE featuring headliner Alejandro Escovedo and Shemekia Copeland
Saturday, June 17
Acorn Music Festival DAY TWO featuring headliner Cracker
Sunday, June 18
Acorn Music Festival DAY THREE featuring headliner Son Volt
Sunday, June 25
PlayHouse – Midwest Made
Sunday, July 2
Sankofa – Midwest Made
Sunday, July 9
Resurrection Blues Band – Midwest Made
Sunday, July 16
Newski – Midwest Made
Sunday, July 23
Buddy Pearson 3 – Midwest Made
Sunday, July 30
Water Street Wranglers – Midwest Made
Sunday, August 6
Mark Ficks & The Significant Others –Midwest Made
Sunday, August 13
Mike Struwin Band –Midwest Made
Sunday, August 20
Drew Stolz & Priscilla Sabourin –Midwest Made
Sunday, August 27
Lake Effect Jazz Big Band – Midwest Made
---
COMING SOON!
Details about the Art Attack Launch Party on April 27th
Acorn Tree House Series – Family Fun!
Our first ever Dramatic Arts Camp is coming in June 2023!
Summer shows on sale