The Acorn's Dance Showcase - Citadel Dance & Music Center
Sunday, Feb. 26 | 3:00pm ET
(2:00pm CT)
The Acorn proudly presents a series of Dance Showcase events in January and February, featuring five local dance studios.
The Acorn Dance Showcase
Tickets: $10 General Admission, Kids 12 and under free
Package rates are available for general admission and reserved seating.
This activity is supported in part by the Michigan Council for Arts and Cultural Affairs.
Citadel Dance & Music Center
The Citadel Dance Center was founded by Eileen Cropley in 1998. The old Salvation Army building at 91 Hinkley Street in Benton Harbor was renovated to become the Citadel Dance Center. The Center was dedicated to providing excellent dance training for the residents of Benton Harbor. The vision was to provide a Center which would draw students and teachers from all over and would instill a sense of excitement, curiosity, and the discipline of dance as an art form and a way of life.
For more information, please visit https://www.citadeldmc.org
---
Click here to learn more about Acorn Covid-19 Policy.
---
RESERVED SEATING DONATION option includes a $25 tax-deductible donation to The Acorn and guarantees you a seat with optimal sightlines. $25 Donation per ticket holder in your group.
The Loft at The Acorn offers a truly one-of-a-kind experience – rent our spacious, industrial-chic apartment above The Acorn theater and enjoy sound from the performance below! Click here for information and booking.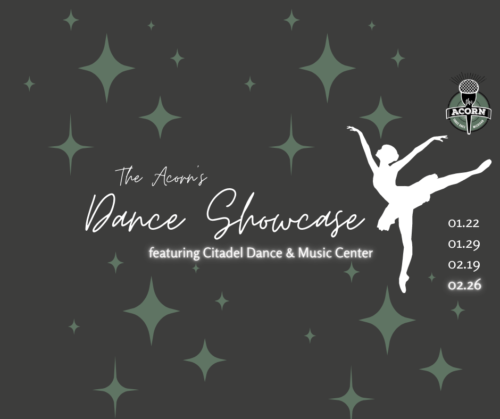 Box Office opens at 2pm ET
Starts 3:00pm, doors open 2:00pm