Midwest Made – Sankofa
Sunday, Jul. 02 | 7:00pm ET
(6:00pm CT)
Eclectic soul band Sankofa returns to our Midwest Made summer concert series.
About the Artists:
Sankofa- Sankofa is an eclectic soul band that formed in Benton Harbor, Michigan nearly ten years ago whose members are passionate about creating and performing good music. They play a mix of music genres – funk, jazz, hip hop, blues, rock and beyond!
Beth Haire-Lewis – lead vocalist and group manager
Beth is an Early Intervention Specialist for Community AIDS Resources and Education Services (CARES), where she works with individuals who were recently diagnosed with HIV. Beth worked in management at a prominent Jazz club in Long Beach, California before making her way back to her home state.
Steve Parker – keyboards, vocals, songwriter, and the group band director
Steve has played with a multitude of recording artists from around the country. He studied Entertainment Management at the Music Business Institute, in Atlanta Georgia and was a Promotions Specialist with A&M Records.
Audrey Peeples – drummer/percussionist and vocals
Audy has played the drums for decades. She was classically trained on the drums and percussion at an early age. She is owner of Souls Ground Foods and Natural Healing, and Chef/Owner of Souls Ground Café in Benton Harbor, MI.
Falconetti Petty – rapper/lyricist
Falcon has performed on many stages and writes his own original content. He's also the GM and Marketing Assistant for Malone Records and studied Audio Engineering at the Conservatory of Recording Arts and Sciences in Gilbert, AZ.
Skip Birdsong – guitarist and vocals
Skip is a long-time performer who joined Sankofa a couple of years ago as a guest guitarist and has continued to play with the band since. He has played with a multitude of Blues bands around the country including his own. He is the owner/operator of an auto service shop and auto sale lot.
---
With our gratitude to The Frederick S. Upton Foundation for being a Series Sponsor of The Acorn Midwest Made summer concert series.
RESERVED SEATING DONATION option includes a $25 tax-deductible donation to The Acorn and guarantees you a seat with optimal sightlines. $25 Donation per ticket holder in your group.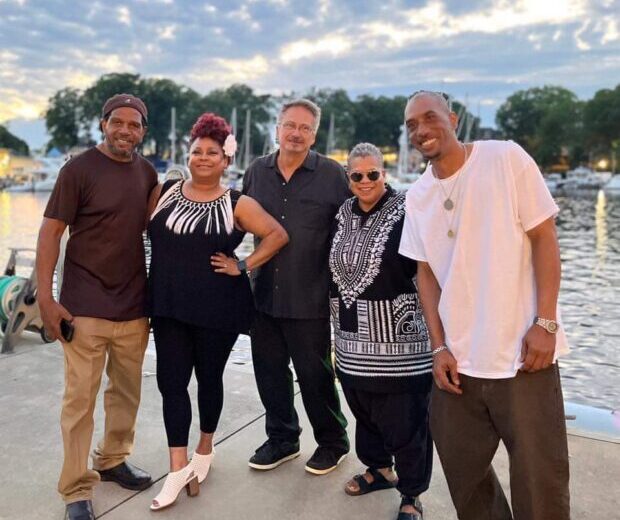 Box Office opens at 4pm ET
Starts 7:00pm, doors open 6:00pm