Midwest Made – The Water Street Wranglers
Sunday, Jul. 30 | 7:00pm ET
(6:00pm CT)
The up and coming Acoustic Americana band The Water Street Wranglers make their return to our Midwest Made summer concert series. Band members Aiden Schnell, Wes Shuck and Caleb Kibby are Southwest Michigan natives who connected with the other three members of the band – Max Petersen, Chandler Harris and Alayna Whitkanack – at Berklee College of Music in Boston.
About the Artists:
The Water Street Wranglers is an Acoustic Americana Band out of Boston Massachusetts established in 2021. The band's sound is inspired by traditional and contemporary Bluegrass and Folk music. The band consists of 6 members made up of multi-instrumentalists, vocalists and songwriters from different corners of the country brought together at the Berklee College of Music.
Max Petersen on the 5 String Banjo, Chandler Harris on Lead Vocals, Aiden Schnell on Guitar and Vocals, Wes Shuck on Bass and the one string Yo-Yo, Alayna Whitkanack on Fiddle and Vocals, and Caleb Kibby on Mandolin and Vocals.
---
With our gratitude to The Frederick S. Upton Foundation for being a Series Sponsor of The Acorn Midwest Made summer concert series.
RESERVED SEATING DONATION option includes a $25 tax-deductible donation to The Acorn and guarantees you a seat with optimal sightlines. $25 Donation per ticket holder in your group.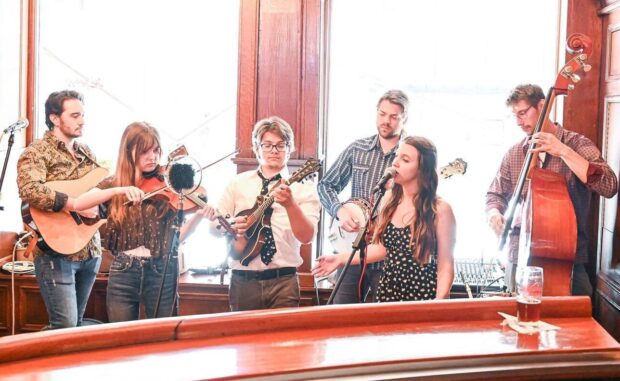 Box Office opens at 4pm ET
Starts 7:00pm, doors open 6:00pm