Midwest Made – Lake Effect Jazz Big Band
Sunday, Aug. 27 | 7:00pm ET
(6:00pm CT)
Our 2023 Midwest Made summer concert series conclude with the Midwest's premier big band – Lake Effect Jazz Big Band!
About the Artists:
The Lake Effect Jazz Big Band continues to be one of the premier big bands in the Midwest. Specializing in new arrangements of classic standards, new compositions for contemporary big bands, and golden oldies, the band performs music from the libraries of Stan Kenton, Frank Sinatra, Ella Fitzgerald, Count Basie, Chuck Mangione and others. The Lake Effect Jazz Big Band is committed to preserving the uniquely American art form of big band jazz in concert and jazz festival settings across Southwest Michigan.
The band is led by Steven L. Reed, retired instrumental music teacher for the St. Joseph Public Schools, where he taught jazz ensemble, orchestra, and band for 35 years. Several members of the Lake Effect Jazz Big Band are current or retired music educators and jazz education is a priority for the LEJBB.
The band performs between twelve and fifteen concerts each summer including Jazz Festivals and full length concerts. Featured artists that have performed with the Lake Effect Jazz Big Band include vocalists Rebecca Derbas-Selvidge, Michelle Bythrow, Paul Mow, Katie Rohrer, Lisa Dabrowski, Andrew Fisher and Chicago jazz vocalist Tammy McCann. Instrumental soloists have included local trombonist Ed Bagatini, Chicago vibraphonist Jim Cooper, Ann Arbor alto saxophonist Doug Horn, and Grand Rapids area percussionist Kevin "Bujo" Jones.
---
With our gratitude to The Frederick S. Upton Foundation for being a Series Sponsor of The Acorn Midwest Made summer concert series.
RESERVED SEATING DONATION option includes a $25 tax-deductible donation to The Acorn and guarantees you a seat with optimal sightlines. $25 Donation per ticket holder in your group.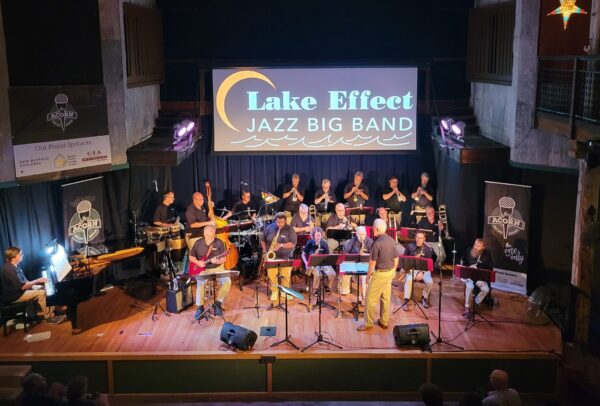 Box Office opens at 4pm ET
Starts 7:00pm, doors open 6:00pm