Letter from the Board Chair | Interview with an Acorn Artist | Staff Spotlight | Acorn News | Acorn Updates
---
Letter from The Acorn Board Chair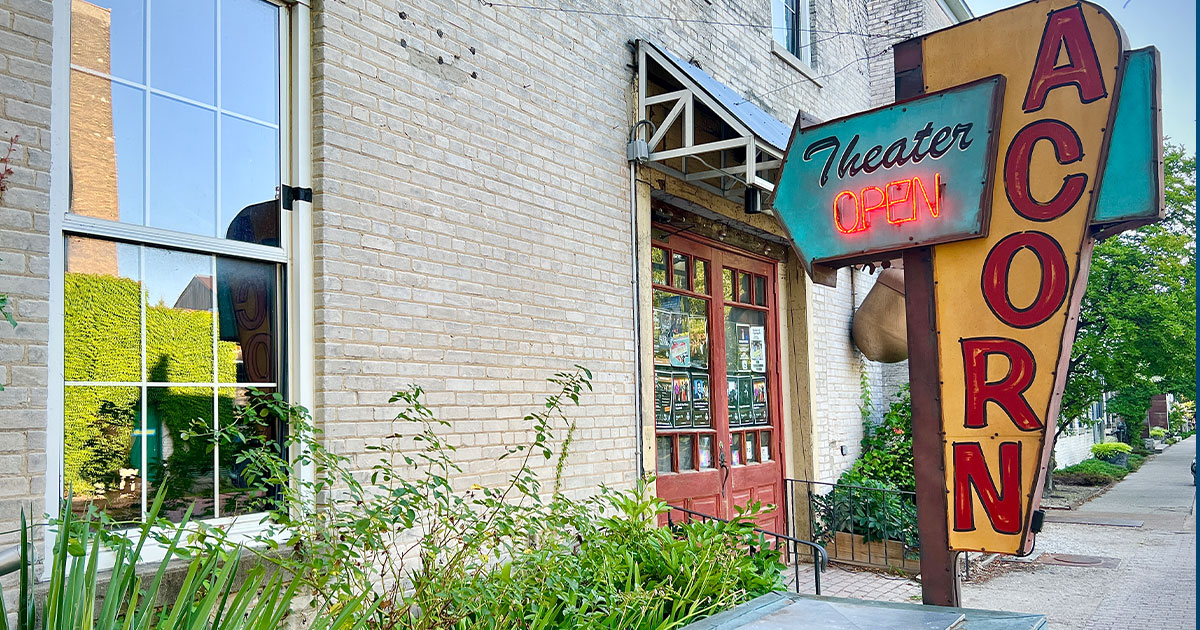 Hello Acorn friends!
First and foremost ~ thank you! If you are reading this newsletter, you are an Acorn friend and fan and we thank you for your support. It is no exaggeration that The Acorn as we know it would not have survived the challenges and financial strains of the global pandemic without your support.
As you all know and experience every time you come to see a show, our incredible staff and our amazing volunteers are the people that run our beloved theater. The Board of Directors generally prefers to remain behind the scenes, quietly setting the strategic direction for the non-profit organization [The Acorn Center for the Performing Arts; ACPA, for short] behind it.
For the past several years, it has been a goal of the Board to purchase our theater building so we could give The Acorn a permanent home in Three Oaks. Despite all the obstacles that came our way over the last two years, we managed to make building ownership a reality this past spring. Now we are moving on with more big dreams and grand plans so that we can continue to grow our musical acts and add theatrical events to our stage. Please allow me, ACPA's current Board Chair, to share some of what we, the Board, have been working on:
We are wrapping up a new three-year strategic plan that includes the two businesses - an apartment and a bar - that came along with the building purchase.
We have completed a comprehensive facility assessment which shows us what we have and what we need to repair.
We have hired an architectural firm that has presented us with some exciting options for envisioning new parts of the building that are now ours.
We have nearly finished converting the upstairs apartment into an exciting new space - The Loft @ The Acorn - to be used for rental space, parties, and other exciting special events.
We are planning for the transformation of an overgrown backyard into an exciting new outdoor performance space.
We are prioritizing items on our wish list including the installation of an energy-efficient rooftop HVAC system.
We are designing and planning for other artist and patron comfort and safety amenities.
We are looking out at longer-term additions such as an ADA-compliant elevator and stage lift.
I wanted you to see what we have been working on and what is coming down the road. Be confident that the Board and I are moving thoughtfully and strategically throughout this planning process to ensure that our beloved Acorn keeps what we all love about the theater while repairing old infrastructure, expanding into new spaces, and boldly envisioning new offerings in the years to come.
As you might imagine, these exciting future plans come with a hefty price tag and the need for some very ambitious fundraising activities over the next several years. This is why we need to make a special request at this time.
We have been awarded two grants from the Michigan Arts and Culture Council totaling $75,000 - that's right, $75,000! But they require a dollar-for-dollar match. We can do this, Acorn friends. By collecting $75,000 between now and the end of September – and we are well on our way to this goal – we will have $75,000 in additional funds to embark upon much-needed masonry tuckpointing and roof repairs that are critical first steps in protecting our old, historic building – work we will begin in the month of September.
Every person who enjoys a show at The Acorn knows how important it is to keep supporting non-profit, mission-driven performing arts theaters like ours. My ACPA board colleagues and I are leading The Acorn into the future with some very audacious plans. Your donation at this time will help us obtain these grant dollars and address some neglected maintenance on the exterior of our building before the end of the year. Thank you for considering making a special gift to The Acorn before September 30th. You may do so by clicking HERE to donate or by doing so on our website's home screen.
On behalf of our entire Board of Directors, we thank you for your support. We look forward to seeing you at the theater!


Laura Madsen Jolly
---
Interview with an Acorn Artist
Miles Nielsen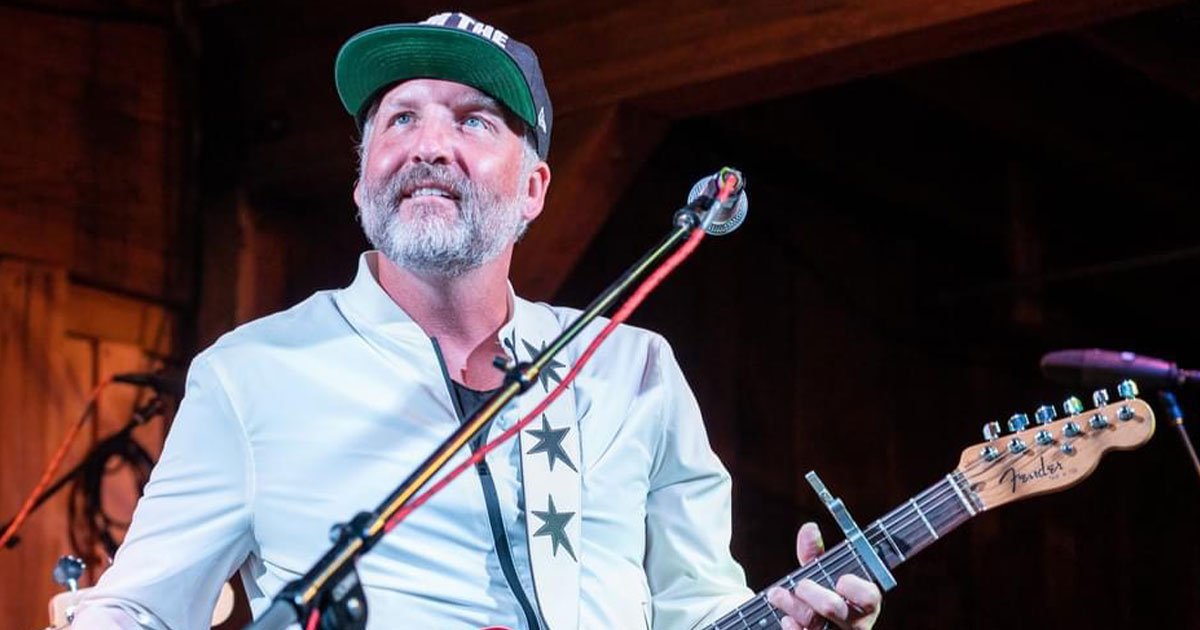 Q: You are no stranger to The Acorn stage. In fact, you have a bit of a cult following here. How long have you been playing at The Acorn? Do you have a favorite Acorn memory from your times playing here?
A: I think around 9 years, first with the BoDeans, then with Cracker, after that we started headlining The Acorn. We've had some great shows – the theater just inspires me. I have so many great memories , but I'm most fond of our winter 5 day writing retreat that we did in January a handful of years ago. The last day we invited friends from our nights at Nelsons to just come by and see the band "rehearse." It was special indeed.
Q: Who and what are your biggest musical influences?
A: My dad, and really all the guys in Cheap Trick, I know – shocker… But really, they are like family and I've always looked up to them and their work ethic.
Q: You're playing The Acorn again on Sunday, September 4th. What can fans expect from the band for this show? Any new music or favorite songs we can expect to hear?
A: One thing I love about our band is that no show is alike, I'm a very 'in the moment' performer and I love the audience to be a part of that freedom and immediacy. All I know is we will give it our all and the band has never sounded better.
Q: Who is your favorite musician to listen to when you're not making music of your own?
A: That's a tough one, mood dictates my listening palate. So on any given day it can go from Jazz, to classical, to Rage Against The Machine.
Q: Did you always want to be a musician? What advice would you give to young artists?
A: Always! Advice? – There's no substitute for hard work.
Q: Anything else you think our Acorn audience would like to know about?
A: I love Jen Shoup's cooking. There I said it.
The Acorn wishes to thank Miles for taking the time out of his busy touring schedule to answer these questions for us! Miles – we're looking forward to seeing you back at the theater on September 4th! Until then, safe travels and rock on!
---
Staff Spotlight
Donnie Biggins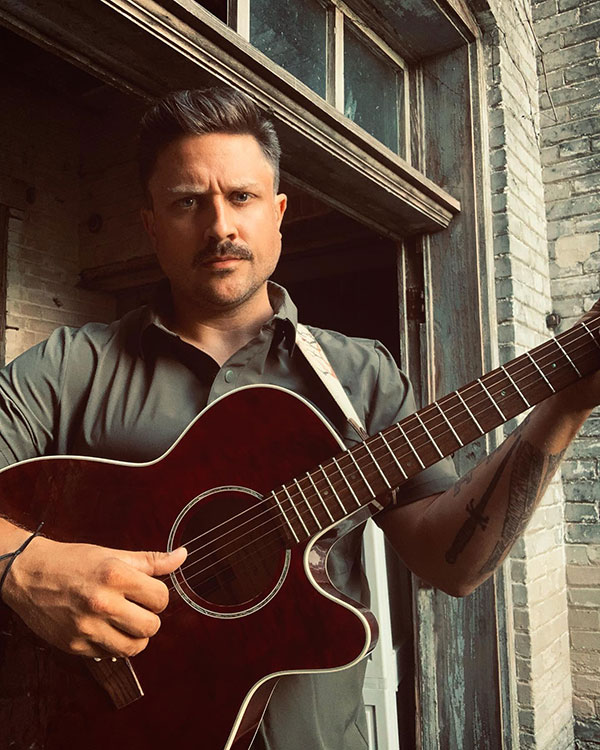 Our Talent Buyer Donnie Biggins is a singer-songwriter and concert promoter born in Oak Park, IL. He and his wife have three children. Donnie joined our team in March of this year.
It is Donnie's goal in life to foster artistic communities. In the past 10 years, his independent concert promotion company Harmonica Dunn has been the source of thousands of concerts and festivals across the Chicagoland area and the Midwest. He is the proprietor of Golden Dagger, a music venue located in Lincoln Park. Additionally, he was Head Of Music at FitzGerald's in Berwyn for five years. In the time he has been booking with The Acorn, Donnie has been responsible for bringing such talented musicians as Ike Rielly, Cathy Richardson, Joe Pug, Marshall Crenshaw, Marcia Ball, Michael McDermott, BoDeans, Tab Benoit and more!
When he's not working, Donnie enjoys taking long bike rides with his wife and children and exploring forest preserves. He also likes visiting coffee shops in communities he's not accustomed to.
Donnie defines success this way: "Success is defined by the community you help create, expand and maintain."
Q: What made you want to join The Acorn team?
A: The Acorn is one of the most special music venues in the United States. The space is beautiful and the experience of a live performance within the venue is unlike any other in the midwest. I align with its values and want to do everything I can to help grow the community and appreciation for the artists that take the stage.
Q: What is your favorite memory from your time at The Acorn?
A: Performing alongside Anne Harris during the Singer-Songwriter competition in July 2022.
Q: What is your favorite way to spend a day off?
A: My favorite way to spend a day off is to put all technology away, sit on my porch and write songs with my guitar or banjo.
Q: What would a typical Saturday morning look like for you?
A: Wake up at 5:00AM to feed my dogs. Attempt to go back to sleep, but quickly realize that will not happen. I like to make coffee, have a cup, get my work inbox to zero unread messages and head outside on my bike.
Q: What is a 'fun fact' about you or something people might be surprised to know about you?
A: I collect elephants. I can't even explain why, but I love shopping antique stores for unique elephant objects.
---
Acorn News
Special Partnership with Harbor Country Pride to Continue in 2023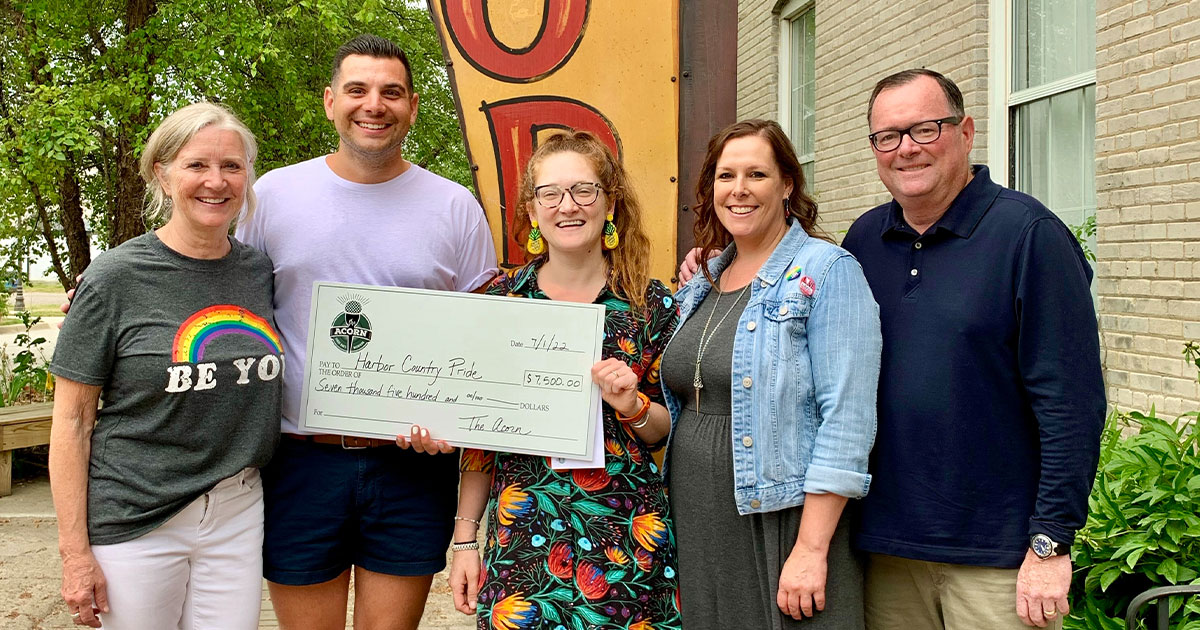 Laura Jolly, Acorn Board Chair, Bob Murphy, Incoming Board Chair, and Nikki Gauthier, Manager of Marketing & Programs, present Travis Worden and Abby Voss, founders and organizers of Harbor Country Pride (HCP), with a check for $7,500.
Founded in 2021 by Travis Worden and Abby Voss, Harbor Country Pride has established itself as the preeminent celebration of queerness in Southwest Michigan. The Acorn was thrilled to partner with Harbor Country Pride for this year's Pride Week, with three special events taking place at the theater. Proceeds from the events, including the sold out Club Rainbow, went to support Harbor Country Pride. "The Acorn provided the ideal venue and support to help make this year's event an incredible success," said Abby Voss.
"The support of The Acorn and so many other local businesses and individuals not only helped our efforts, but also funded other organizations such as Youth Empowerment Performance Project, Brave Space Alliance, LGBTQ Outreach of Porter County, and PFLAG (Parents, Families and Friends of Lesbians and Gays)," added Travis Worden.
Plans are already underway for the continuation of this partnership in 2023!
Midwest Made Summer Concerts Delighted Audiences for 10 Weeks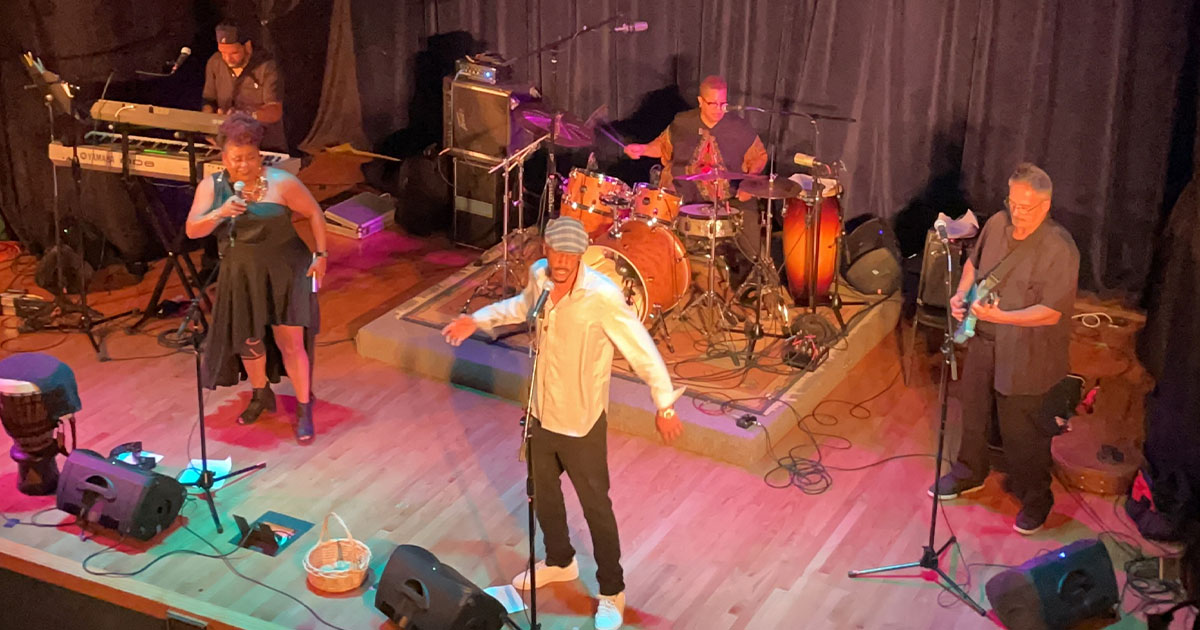 Featured on July 27th as part of the inaugural season of Midwest Made shows, Sankofa kept the crowd entertained with their style of R & B / jazz fusion.
A very special concert series kicked off on Wednesday, June 15th with jazz trio Buddy Pearson 3 and continued for 10 weeks, featuring local and regional artists, many of them in their debut at The Acorn. First timers to our stage included bluegrass band The Water Street Wranglers, Kalamazoo indie artist Kaitlin Rose, rockers Mike Struwin Band, the eclectic Sankofa and the region's premier big band, Lake Effect Jazz Big Band.
Week after week, audiences were entertained by talented musicians who are "Midwest Made." We were thrilled to present artists who call our region home.
Midwest Made 2023, here we come!
10th Annual Singer-Songwriter Competition Crowns Kray Van Kirk as 2022 Winner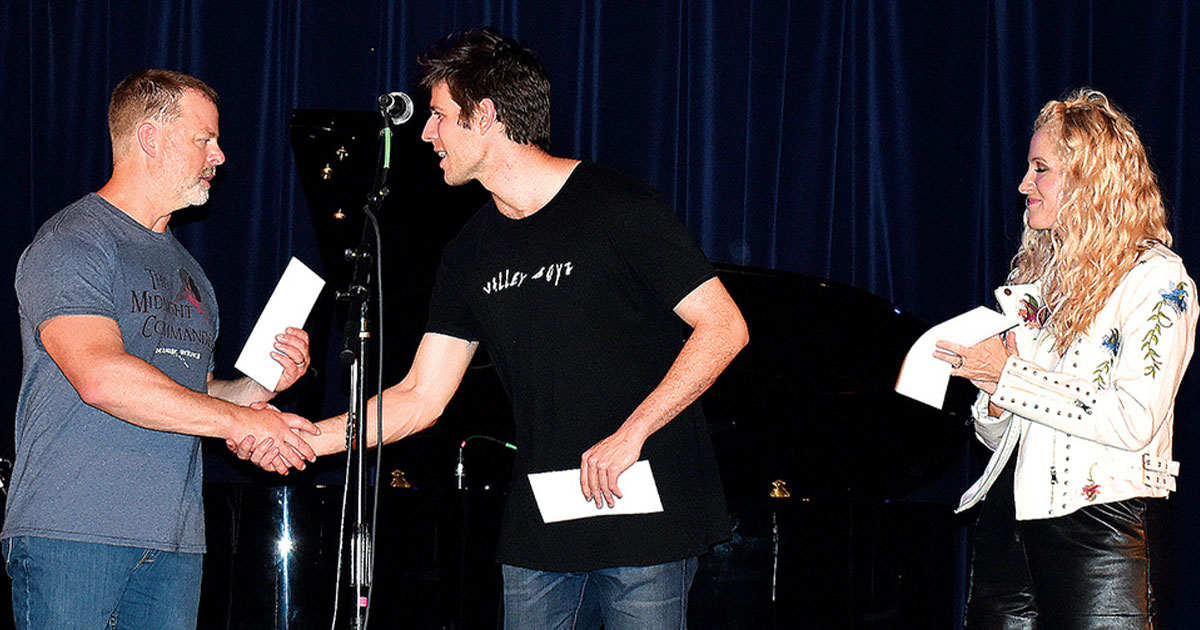 The Top 3 Finalists pictured left to right: Kray Van Kirk, Nich Lampson and Abbie Thomas. Image courtesy of David Johnson.
A packed house gathered at The Acorn on July 21st for our 10th Annual Singer-Songwriter Competition to hear from our six finalists – Jack Cunningham, Daniel Deitrich, Nich Lampson, Tim Stop, Abbie Thomas and Kray Van Kirk. Judges Donnie Biggins, Anne Harris and Jon Goldman narrowed the field to a Top 3 and our audience voted on this year's winner – Kray Van Kirk.
A fine finger-style guitarist with a precise baritone, Kray Van Kirk has a Ph.D. from the University of Alaska. After five years of living in his van and playing music across the US and Canada in the early 1990s, he thought that a career in the sciences might be a bit more secure than playing music. Eventually, however, he realized that he wrote better songs than statistical models, and he picked up his guitar and set out again. When he reached the Fringe Festival in Edinburgh, the Daily Fringe Review wrote, "The evening's act was Kray Van Kirk, whose 12-string guitar and soaring vocals were spellbinding; the Alaskan singer-songwriter, in his Edinburgh debut, was not the reason I arrived early, but was certainly why I stayed late."
Of this charming, Quixotic, and decidedly eclectic performer, now tucked away in the redwoods of far northern California, the Borderline Folk Club in New York wrote, "...it is what every singer-songwriter should aspire to."
The Acorn to Host Red Cross Blood Drive in September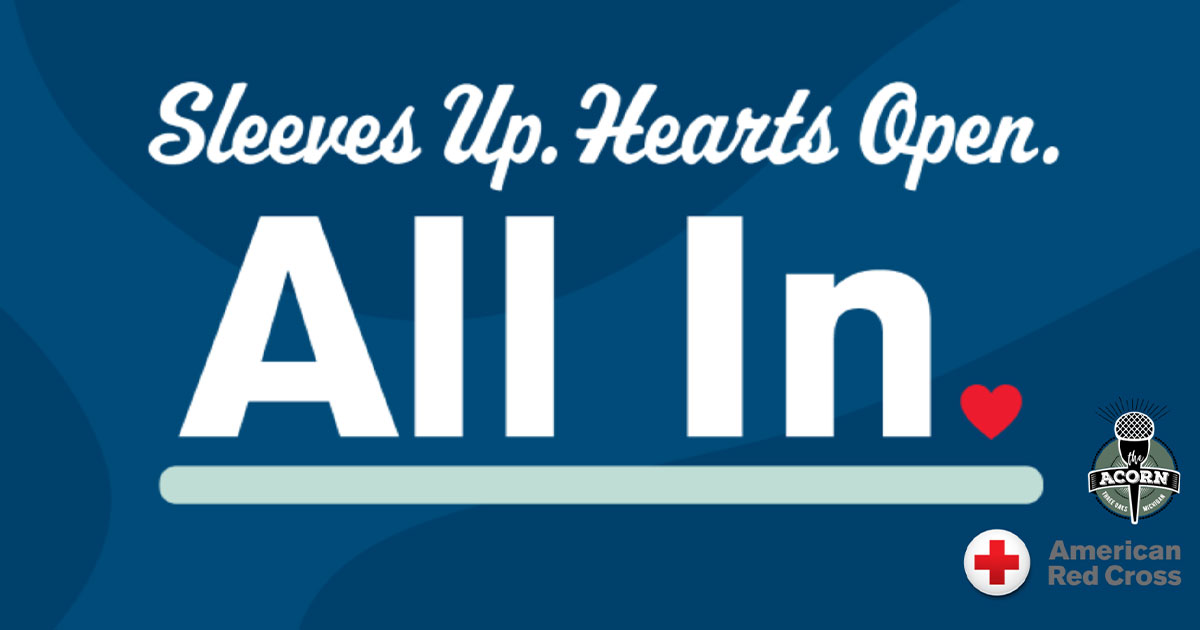 Join us for our first American Red Cross blood drive on Tuesday, September 20th at The Acorn, 107 Generations Drive, Three Oaks, MI 49128.
The Acorn is happy to kick off another community partnership in September – this time with the American Red Cross.
The American Red Cross in Michigan provides services to more than nine million Michigan residents. They play a key role during crisis situations by providing a network of services including community preparedness, disaster response and family recovery. The Red Cross engages in daily efforts to assist families in creating disaster plans and provide relief to families who suffered a house fire or other disaster, citing their goal as building "a more resilient Michigan."
Blood donations are critically important. We will host our first blood drive to support the important work of the American Red Cross Michigan Region on Tuesday, September 20th from 11am to 5pm ET.
Register via the Red Cross app for a specific time. More information on downloading the app can be found at https://www.redcrossblood.org/blood-donor-app.html. Use zip code 49128 and then register.
---
Acorn Updates
Highlights
Check out some of these recent moments at The Acorn.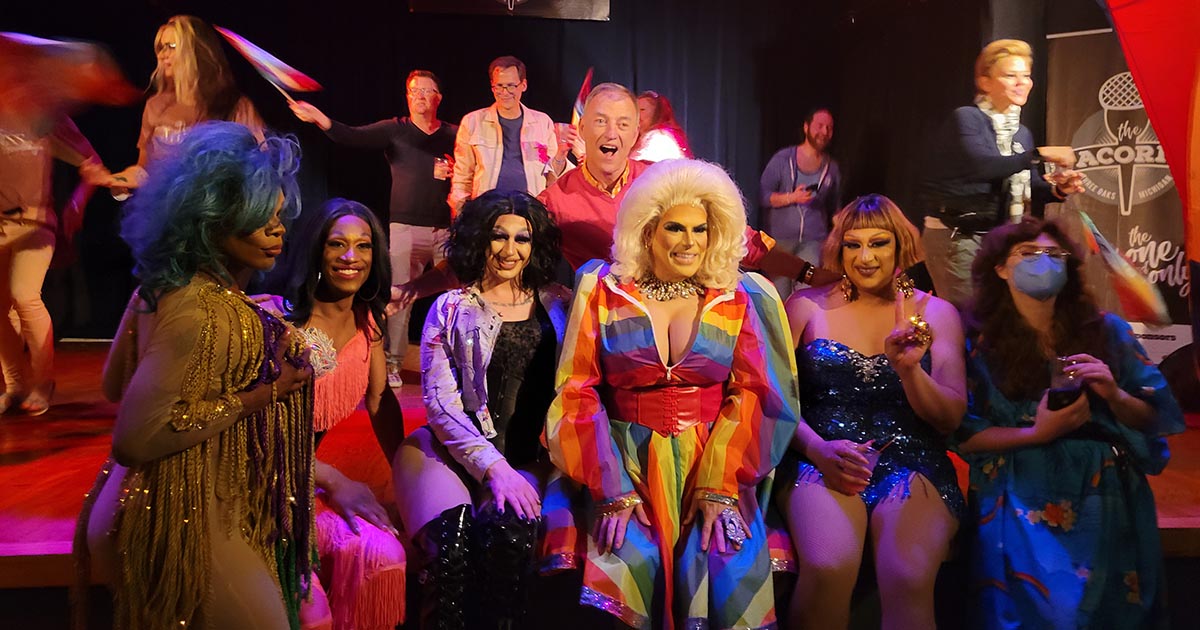 The Acorn enjoyed a truly proud partnership with Harbor Country Pride for 2022 Pride Week. "The Acorn provided the ideal venue and support to help make this year's event an incredible success," said co-founder Abby Voss. Plans are already underway for the continuation of this partnership in 2023!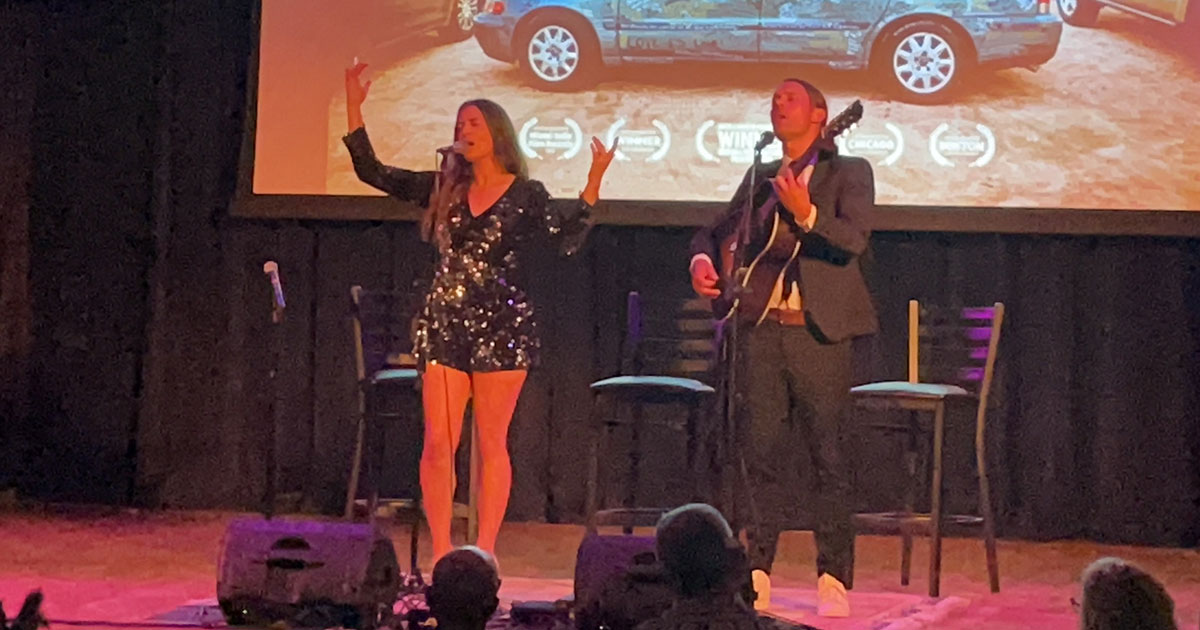 Friends of The Acorn Jillian Speece and Nathaniel Hoff (otherwise known as The Bergamot) gave us the honor of hosting the Midwest premiere of their award-winning film State of the Unity. In addition to the screening, the audience participated in a Q & A with the artists and were treated to an intimate, acoustic performance from Jillian and Nathaniel to close out the evening.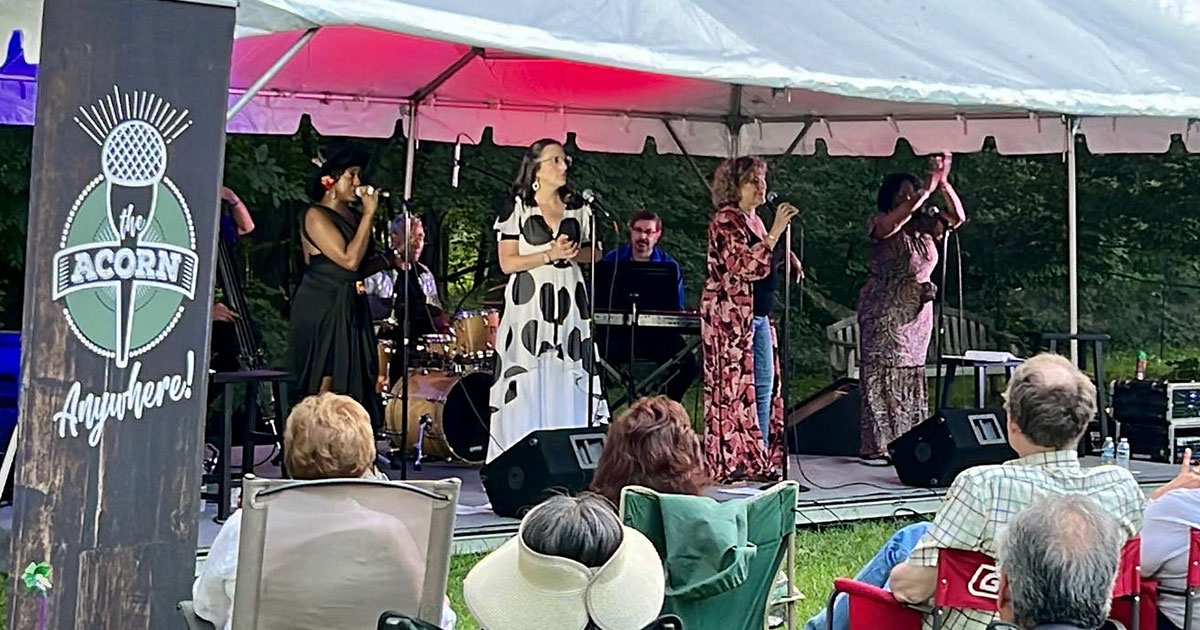 Acorn Anywhere! returned to the beautiful grounds of Fernwood Botanical Garden for a reprisal of The Music of Ella & Billie on July 30, 2022. Lauren Dukes, Meredith George, Patti Shaffner and Char Jones delighted the audience with their presentation of beloved songs from Ella Fitzgerald and Billie Holiday.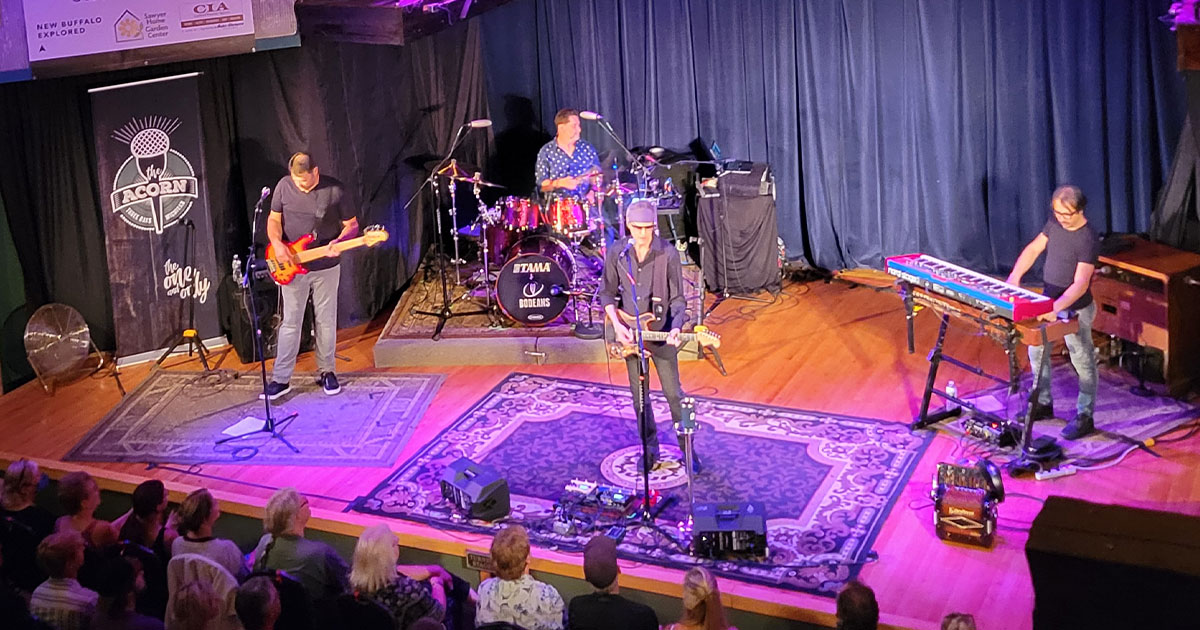 A sold out Acorn crowd was treated to a performance from BoDeans on August 4, 2022. BoDeans continue to contribute to the American songbook as a tried-and-true institution. The band's remarkable 30-year musical career has blended compelling songs and high energy performances while retaining an unpretentious rock & roll loyal following like no other.
---
What's Next
Friday, August 26
Crystal Bowersox
Saturday, August 27
The Milk Carton Kids
Wednesday, August 31
Neighbor by Neighbor Benefit featuring PureSoul Presents
Friday, September 2
Brooklyn Charmers – The Music of Steely Dan
Saturday, September 3
The Second City presents Out of the House Party
Sunday, September 4
Miles Nielsen & The Rusted Hearts
Wednesday, September 7
Serenata, An Evening of Song for Tenor, Violin and Piano
Thursday, September 8
Open Mic Night Featuring PlayHouse
Friday, September 9
Kashmir
Saturday, September 10
William Elliott Whitmore
Friday, September 16
Al Stewart with his band The Empty Pockets
Saturday, September 17
Duke Tumatoe & The Power Trio
Thursday, September 22
Mary Gauthier with Special Guest Jaimee Harris
Friday, September 23
The Black Opry
Saturday, September 24
Toronzo Cannon & The Chicago Way
Friday, September 30
Mississippi Heat
Saturday, October 1
Jonathan Edwards
Saturday, October 8
MegaBeatles
Friday, October 14
Backyard Tire Fire
Saturday, October 15
Brass from the Past
Thursday, October 20
Open Mic Night
Friday, October 21
Bruce Katz Band
Saturday, October 22
Alejandro Escovedo
Friday, October 28
Billy Elton
Saturday, October 29
Halloween Bash at The Acorn w/ PureSoul
Monday, October 31
Drag-ula's Ball with Harbor Country Pride
Friday, November 4
Clem Snide
Friday, November 11
The Steepwater Band
Sunday, November 13
Mason Jennings
Thursday, November 17
Open Mic Night
Friday, November 18
The Claudettes Album Release Concert
Saturday, November 19
Echoes of Pompeii
Wednesday, November 23
Dancing Queen: An ABBA Salute
Friday, November 25
Sean Masterson - Family Magic Matinee
Friday, November 25
Dancing Queen: An ABBA Salute
Saturday, November 26
Chicago Comedy Tour
COMING SOON!
December events
Holiday Shows at The Acorns