Letter from the Artistic Director | Interview with an Acorn Artist | Board Spotlight | Acorn News | Acorn Updates
---
Letter from The Artistic Director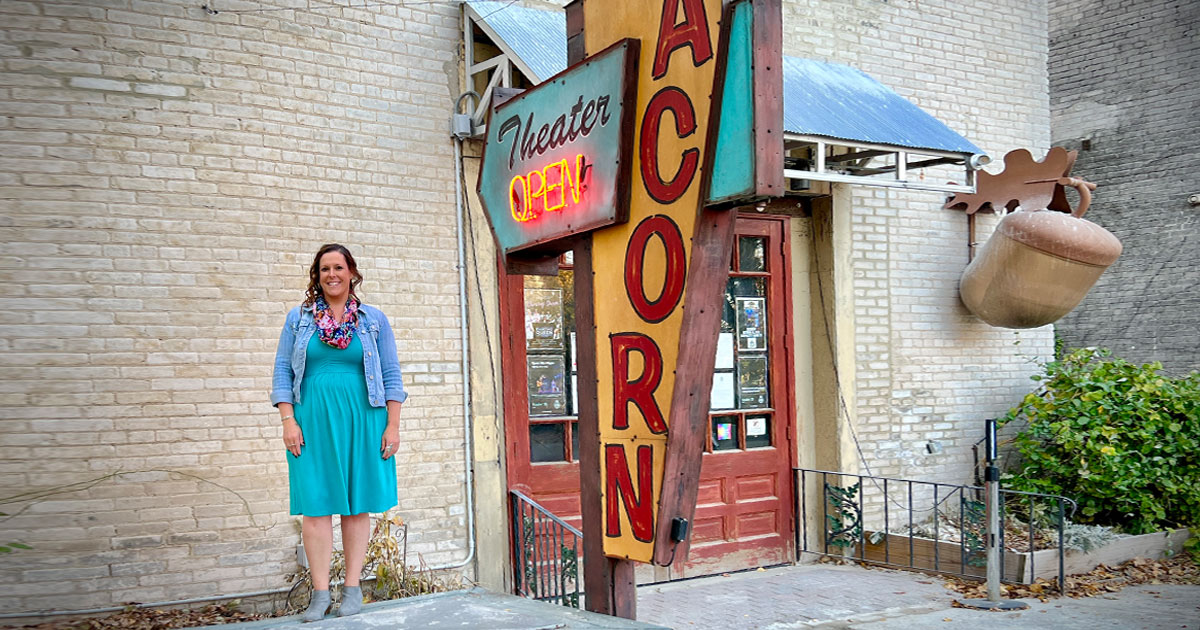 Hello Acorn friends!
As I look out the window, I see the autumn sun shining through as golden leaves flutter to the ground. Outside I hear the sounds of skilled hands working to preserve our historic building. All around me, I feel the excitement of this space – this special place where we present experiences like no other.
On any given Friday or Saturday night, we welcome you through our doors and seat you under our stars. It's not just the music that brings you – there's that something 'more,' the warmth of the smiling faces, that "One and only Acorn" feeling you get when the evening's artist takes the stage and plays the first note. And, of course, there is the music itself – which, time and time again, you tell us is the best around!
Denise T., who drove all the way from Minneapolis to see Duke Tumatoe & The Power Trio in September, said: "Wow! Wow! Wow! Phenomenal venue!" and Bob L. suggested that our patrons should keep The Acorn their "secret." With our apologies to Bob – The Acorn is no secret in the area as we continue to earn our reputation as having "the best live music in Harbor Country."
Throughout this eventful fall season, we have been gathering together to enjoy the music of such artists as Al Stewart, Mary Gauthier, Bruce Katz, Alejandro Escovedo, Frank Orrall, plus Duke Tumatoe who I already mentioned, and more! We've presented over twenty local artists at our Open Mic events and featured close to twenty original artists in concert, as well as talented tributes that put smiles on all your faces. All the while, our team has been busy building an exciting 2023 for our community and we can't wait to share it with you!
We will continue to be your "One and only Acorn," your place that you count on for the best live music in Harbor Country... and beyond! We will bring you more original artists than ever before, while still welcoming your favorite quality tributes to our stage and launching exciting, new programs.
What can you expect from us in 2023?
Original music from the likes of

Jim Messina, Tommy Castro & The Painkillers, The Way Down Wanderers, Paul Thorn

and more, including the return of

Bruce Katz Band

and

Martin Barre

.

Celebrations of the music of Led Zeppelin, Fleetwood Mac, Chicago, Joni Mitchell, Bruce Springsteen, Pat Benatar, and more.

Singer-songwriters such as

Dan Navarro, Sarah Lee Guthrie

and

Beth Nielsen Chapman

will shine.

And, new in 2023 – we will proudly present a series of

Dance Showcase

events featuring young dancers from local dance studios.

Also new –

a multimedia dance, visual art and music performance

with Pam Kirkham and Carolyn Rabbers, held as the wrap-up to our second year of participation in

Art Attack Weekend

.

The return of community partnerships with

Harbor Country Pride, Art Attack, Three Oaks Makers & Merchants Alliance, American Red Cross of Michigan

and

Neighbor by Neighbor

, plus NEW community partnerships with

School of American Music

and

Coastline Children's Film Festival

.

Summer will bring the second season of our

Midwest Made Concert Series

which focuses on local and regional artists to help support their growth and celebrate their artistry.

Summer will also bring our first ever Acorn music festival!

Our 11th Annual

Singer-Songwriter Competition

will crown a new winner in July.

The

Spectacular Tournament of Playwrights

will make its return to The Acorn in November!
All this while we bring you more opportunities to get involved and up close and personal with some of your favorite artists, with special invitations throughout the year to engage with us in deeper ways, all to support the continued growth of your "One and only Acorn."
Please read on to hear more about these exciting programming plans, as well as details about how we are growing in other ways.
See you at the theater!
All the best,


Nikki Gauthier
---
Interview with an Acorn Artist
Abbie Thomas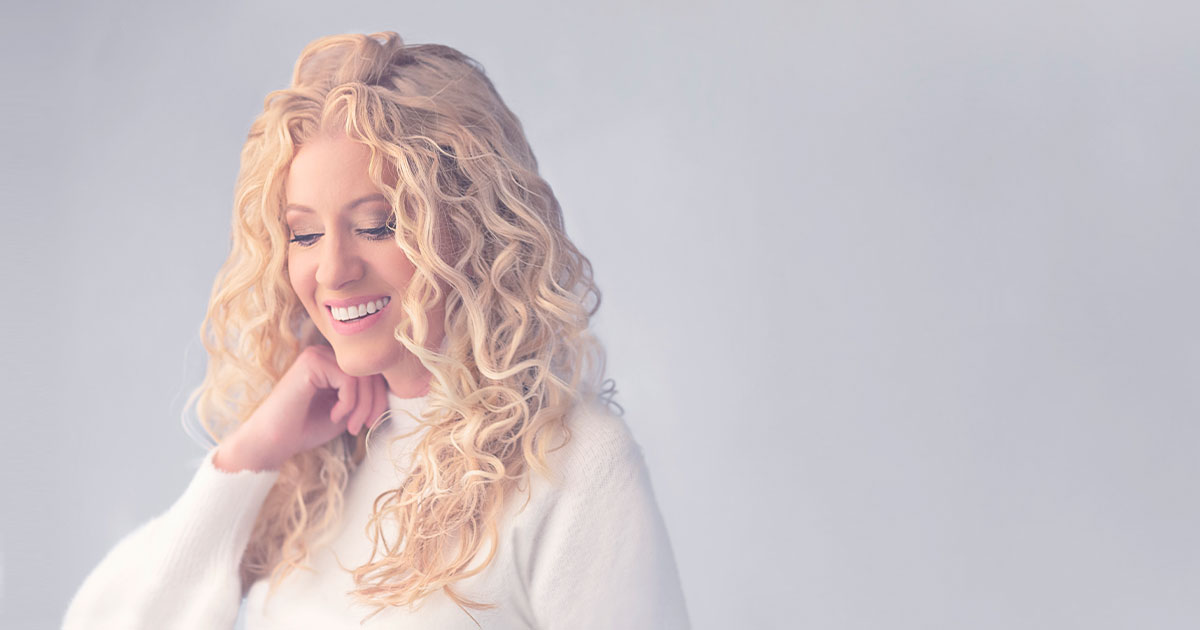 Q: Our audience may first remember you from the Singer-Songwriter Competition in 2019 when you were one of the six finalists. You were also a finalist in this year's competition, performing in the Top 3 and placing 2nd. Tell us about the journey that brought you to the competition that first year and what has changed for you in terms of music since then.
A: 2019 was a crazy year. I had just played at my first Open Mic six months prior to the Singer-Songwriter contest and kept going to open mics at the encouragement from other attendees. A violin player (who is now in my full band) saw me play at an open mic in Warsaw, IN and sent me a Facebook message encouraging me to enter the Acorn contest. I was shocked that I made the cut and that one opportunity led to a full-time music career. I left knowing I could do better, but with a fire lit under me after judge Jim Peterik told me I was on the right path, and to never give up.
I went full-time with music in 2021 (after I lost my full-time job during covid shutdowns, and delivered my daughter Penny.) Since that pivot, I've released one full-length album, a self-produced EP, a few singles, and have played over 250 shows – including opening for national touring artists like Girl Named Tom and Laine Hardy. I'm still in shock at how quickly things are moving, but I'm forever grateful for the opportunities being thrown my way, especially since I'm an independent artist.
Q: What is the biggest challenge you have faced or lesson you have learned along the way to becoming a full-time working musician?
A: Honestly, being a mother of a toddler and playing music full time is really hard. I'm lucky to have parents, in-laws, friends and family pitch in to help with child care that allows me to play live shows and schedule recording sessions. If it wasn't for them, my husband and I would struggle to make this work.
Q: What has been your favorite original song that you've written thus far and why?
A: "Lucky Penny" is the first song that I have written that reflected on what was going on in the world, as opposed to what was going on in my own life. Inspired by the attacks on Ukraine, it touches on finding perspective and thankfulness among inconveniences. It seems to be a favorite among fellow parents, but I'm partial to it as it is a love letter to my daughter, Penny. I have a hard time performing it live some days, and often don't. Although it is an unreleased track, I did do a live recording of it for my YouTube channel. I may record/release it in the future, but for now, I love being able to play it live when the timing seems right, and for the right crowd. ("Lucky Penny" can be viewed here.)
Q: Tell us about the series of music videos that you created for Coming Undone, Fireflies and Again.
A: In 2021, I released three music videos that followed the debut of my album. They were filmed by David Perkins. Each music video was shot in one take, and with the vibe of an indie film. "Coming Undone" was shot from the perspective of a male lead in a relationship that didn't work out. "Fireflies" (my favorite!) was shot from a female lead perspective of a relationship that didn't work out. "Again" is the final video that completes the trilogy, telling the story of our male and female leads from the previous two videos, coming together and growing old. If you play the videos back-to-back-to-back, they create a short film.
It was such an amazing creative process with a crew of about 15 people. From hair to makeup, set crew, and directors, it was a week I will never forget. Although the short film version has been picked up for some film festivals (and has even won some awards), "Fireflies" was the standout. As of now, it's been nominated for and/or won nine awards. (You can view the videos here.)
Q: Who is your favorite musician to listen to when you're not making music of your own?
A: I have very eclectic taste, so picking my favorite would be very difficult. I'm down to a three-way tie between Beethoven, Dermot Kennedy or Lake Street Dive.
Q: What advice would you give to young artists?
A: Don't let fear be the ruler of your life.
Q: What musical projects are you working on now and where can fans find you?
A: My next single, a cover of "White Christmas" will release on November 18 on most streaming platforms. The music video will release on November 20 on my YouTube channel. The single can be pre-saved here .
People can find me on Facebook, Instagram and YouTube by searching 'Abbie Thomas Music,' or via my website: www.abbiethomasmusic.com.
Music can be streamed on most platforms, including Spotify, iTunes, Apple Music, etc. by searching for 'Abbie Thomas.'
Q: Anything else you think our Acorn audience would like to know about?
A: I have two things I would love to share! First, I'm so excited and honored that I'm partnering with the Elkhart Symphony Orchestra in Elkhart, Indiana for a show on May 14, 2023. This will be the final show of their 75th anniversary season, and I'm currently arranging four of my original songs for the orchestra. I even get to perform with this group at the Lerner Theater. This is a lifelong dream, to write for an orchestra, and a pinch-me moment.
I also want to thank The Acorn for being such a support for original artists, and giving us a stage to get our music out into the world. I can't tell you how hard it is to build a fan base without the financial backing of a label, so supporters of The Acorn are literally helping independent artists like me have a chance. From the bottom of my heart, thank you.
---
Board Spotlight
Janet Davies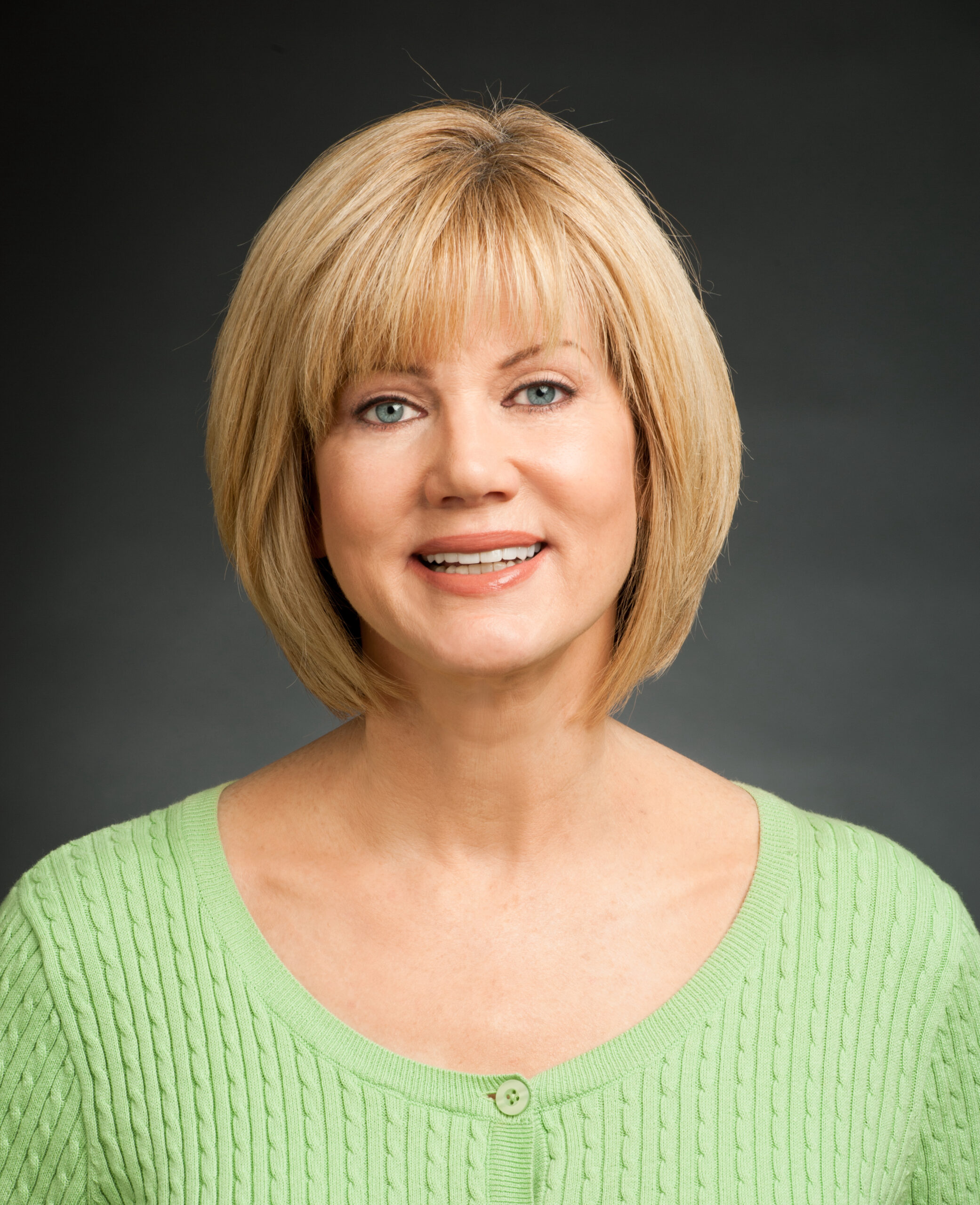 The Acorn is supported by a talented and dedicated Board of Directors who lead our non-profit organization, The Acorn Center for the Performing Arts. Among these Board volunteers is the inspiring and energetic Janet Davies. Born in Richmond, Virginia, Janet was raised in Fairfield, Ohio, and earned a BA from Miami University in Ohio, majoring in communications and theater. She lives with her husband in Galien, Michigan.
Janet was the entertainment reporter for Chicago's ABC 7 for over 30 years. She was also the host and executive producer of 190 North, a multiple Emmy award-winning Chicago-based entertainment and lifestyle program. She has traveled the world, covering such diverse stories from the British Royal family to the endangered species of Kenya. She also reported from the Academy Awards, the Primetime Emmy Awards and the American Music Awards, and has received numerous awards, including 18 Emmy awards for hosting, producing, writing, and reporting.
In addition to her professional accomplishments, Janet has volunteered for numerous charities including developing and serving on the Children's Memorial (now Lurie Children's Hospital) Corporate Board of Directors and working with the Leukemia Research Foundation to create their successful annual 5k race.
On those days when Janet gets to spend some time to herself, she is an avid gardener – in her words: "I get my fingers in dirt and garden until I drop." What else makes her list of hobbies and pleasures in life? Janet says, "Besides digging dirt, I forage in the woods, am a southern cook, a history buff and write non-published plays!"
On our Board of Directors, Janet co-chairs our Development Committee and can often be found emceeing a special event. She has served The Acorn for a year and a half. When we asked her what made her want to join our Board, Janet replied: "I have been attending shows at The Acorn since 2008. When I moved to SW Michigan permanently in 2020 I wanted to associate with a performing arts venue – what better one than The Acorn?"
Q: How would you describe The Acorn to someone you were meeting for the first time?
A: You must come see a performance in a funky, historic, intimate, exciting and just super cool space – no matter what or who is on stage.
Q: What is your favorite memory from your time at The Acorn?
A: This is a strange one – many years ago I did a story for my show 190 North on ABC7 Chicago and featured The Acorn. I discovered that the theater organ came from the movie house in Ohio I went to as a child. No, it was NOT being used then for silent pictures. I'm NOT that old.
Q: Are you a bookworm? Who is your favorite author and/or what is your favorite book?
A: There are books everywhere in our home. I reread Gap Creek by Robert Morgan all the time. The story is very close to the lives my grandparents lived in the mountains of North Carolina.
Q: How do you define success?
A: Living a balanced, joyful life that makes a difference in the world – no matter how big or small.
Q: What is a 'fun fact' about you or something people might be surprised to know about you?
A: I can twirl a baton. Actually twirled fire batons in my teens. Got a burn scar to prove it.
---
Acorn News
The Acorn Grows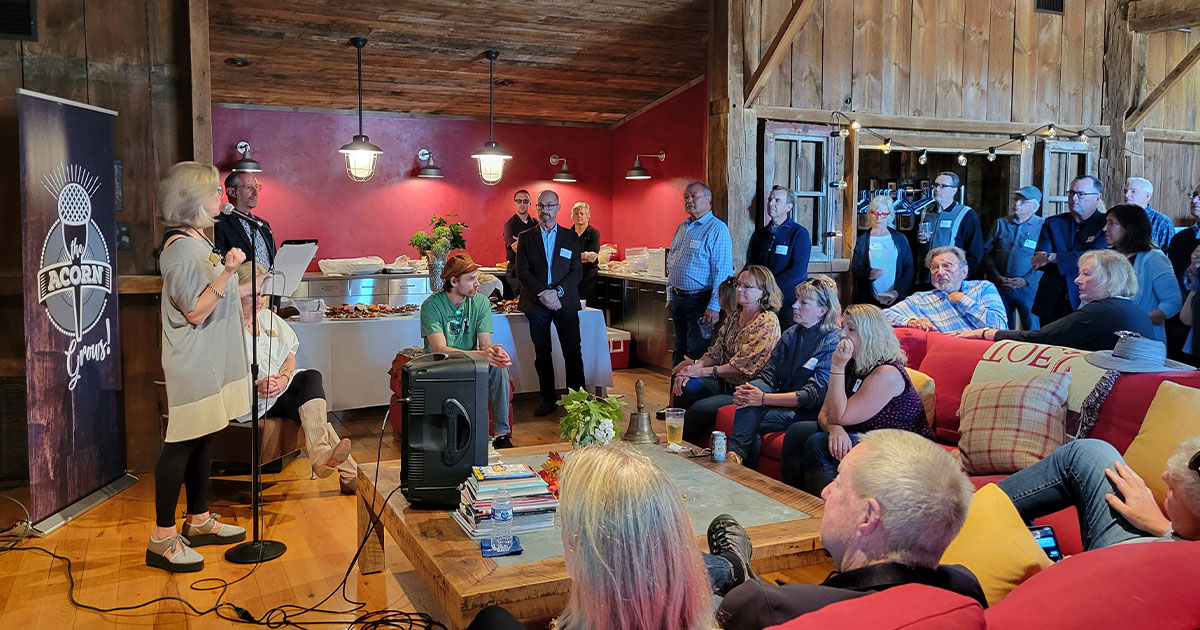 Laura Madsen Jolly, Board Chair for The Acorn Center for the Performing Arts, addresses supporters gathered to celebrate the future of The Acorn.
The Board of Directors of The Acorn Center for the Performing Arts welcomed supporters and friends of The Acorn to Lynn and Allen Turner's Spring Creek Farm on October 2, 2022 to celebrate The Acorn's "now forever home" in Three Oaks.
Board Chair Laura Madsen Jolly invited guests to view renderings provided by Kil Architecture & Planning of ideas under consideration as The Board looks to "move forward writing the next chapters of The Acorn's history." Jolly noted the subtle changes that have been made as Board and Staff advance and grow The Acorn, including "...increases in the variety of our programming we feature on The Turner Stage and a strong commitment to further engagement with our neighbors and our community…"
In Jolly's remarks to the crowd of supporters she shared, "The Acorn is stronger than we have ever been and our commitment to mission-driven programming, community engagement, and having a positive economic impact on our community is at our core, indeed it's our mission. Our dedicated board, our talented staff, and our amazing volunteers have a burning passion for this place, and we are committed to stewarding The Acorn forward to ensure that there is magic and enjoyment for everyone in the future who walks through The Acorn's doors and enjoys their time under our stars." She continued, "We feel, though, that The Acorn isn't just the theater building – it's a community of people – all of us – who are committed to the performing arts and that's what we are celebrating here today – the permanence of The Acorn and arts in our community."
In addition to the Board Chair, those gathered also heard from Greg Kil who highlighted his excitement to be part of the project to renovate and restore the special historic building that is The Acorn. Kil shared that his firm has been working with the ACPA Board to envision plans to retain all that is special about the space while ensuring that it takes The Acorn and the community's dreams into the future.
ACPA Board member Janet Davies who emceed the program noted, "The Acorn couldn't grow if it hadn't been planted." Davies thanked David Fink for his vision and the work he and Kim Clark did to establish the theater in Three Oaks. Fink also shared remarks at the celebration, highlighting the humble beginnings of the current space.
Longtime supporters of The Acorn Lynn and Allen Turner hosted the event on the beautiful grounds of their Spring Creek Farm in Three Oaks.
2023 Brings Dance to Our Stage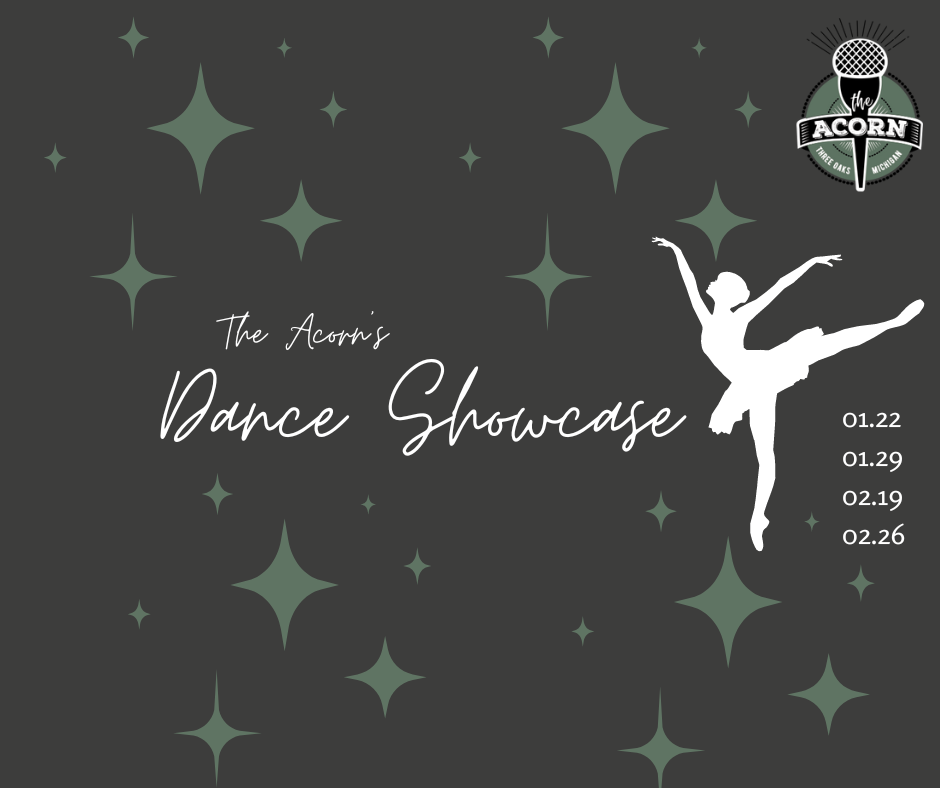 January 22 will mark the kickoff to our Dance Showcase series featuring local dance students.
The Acorn will proudly present a series of Dance Showcase events in January and February, featuring five local dance studios. Coming to The Turner Stage at The Acorn are: Citadel Dance & Music Center, Connie Cassidy School of Dance, Diamond Dance Academy, Fusion Center for Dance and Sawyer Dance Academy.
Each Dance Showcase event will take place on Sunday at 3pm ET. The complete list of events and ticket information will be released in our Black Friday On Sale Announcements.
Black Friday – 2023 Show Announcements Are Coming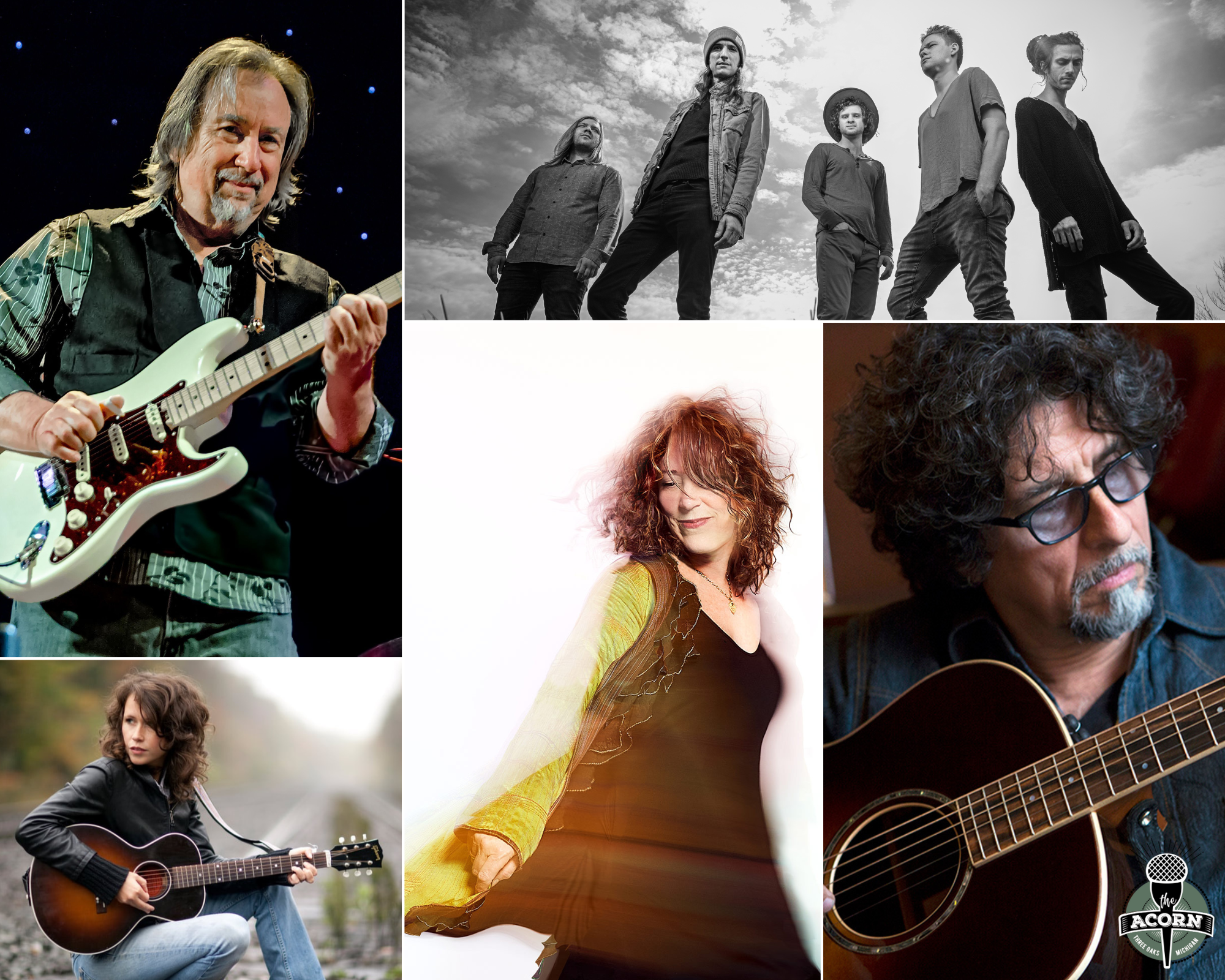 An exciting start to 2023 will be announced on Black Friday (November 25th) with more than 25 events going on sale.
Since the unofficial close to the summer season that was Labor Day Weekend, we have welcomed you to over two dozen shows at The Acorn. While we've been gathering to enjoy the music of such artists as Al Stewart, Duke Tumatoe, Mary Gauthier, Alejandro Escovedo, Frank Orrall and more, our team has been busy building an exciting 2023 programming lineup for our community and we can't wait to share it with you!
On Black Friday – Friday, November 25th – check your inbox and our website for all the details about what we have coming your way.
Look for:
Original music from Jim Messina, Tommy Castro & The Painkillers, The Way Down Wanderers, Paul Thorn, Bruce Katz Band and more.

Singer-songwriters such as Dan Navarro, Sarah Lee Guthrie and Beth Nielsen Chapman.

Celebrations of the music of Led Zeppelin, Fleetwood Mac, Chicago, Joni Mitchell, Bruce Springsteen and Pat Benatar.

Midwest Made 2023

concert dates with advance series ticket purchasing available.

AND MORE!
The Acorn Grows! Building Construction Update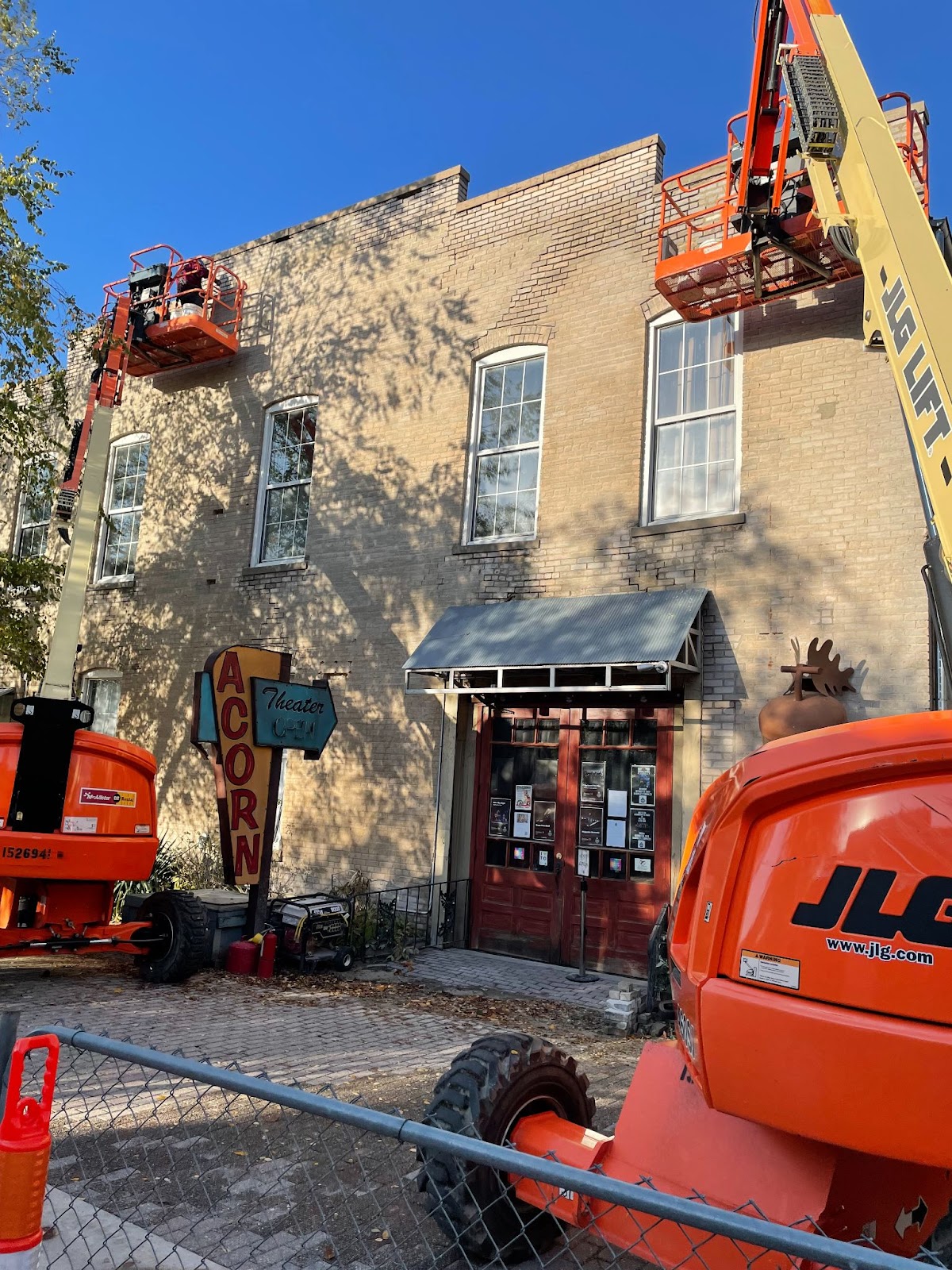 If you took a stroll down Generations Drive earlier this autumn you surely noticed safety fencing, lifts, and scaffolding. Perhaps you even got a glimpse of our bricklayers and roofers in action. This ongoing flurry of activity has been in support of shoring up the exterior of our beloved historic building prior to the snow falling this winter.
As old buildings do, our theater needs some tender loving care. Our Phase I / Fall 2022 projects have included:
grinding out deteriorating mortar and replacing 100+-year-old bricks where necessary

tearing off the old roof and replacing it with a new one that includes more insulation

protecting the west and east parapet walls with a new layer of parging

adding an extensive new gutter system to ensure water is kept away from the building

replacing broken glass bricks

beginning to repair/replace window sills
Within a couple of weeks, this year's outside work will be complete and we'll take a break from construction for winter. But rest assured, we are already planning our Spring 2023 work, which, funding permitting, will include a bit more exterior work before we move on to some interior improvements. Some of these projects will be noticeable and exciting - can we hear it for improved air conditioning?! But much of our work, while not pretty and sexy, needs to be completed to support what comes next - things like ductwork for the HVAC system, new wiring and electrical service, and added outside services to support expansion into our backyard.
We are excited to be in growth mode here at the theater - new staff members and volunteers, new programming, new community partnerships, new sponsors, and ultimately new spaces. Continue to keep your eyes on us to see what we're doing and where we're growing next. And please support us here if you are able.
photo: Phase I construction projects at The Acorn have preserved the exterior of our historic building at 107 Generations Drive.
---
Acorn Updates
Highlights
Check out some of these recent moments at The Acorn.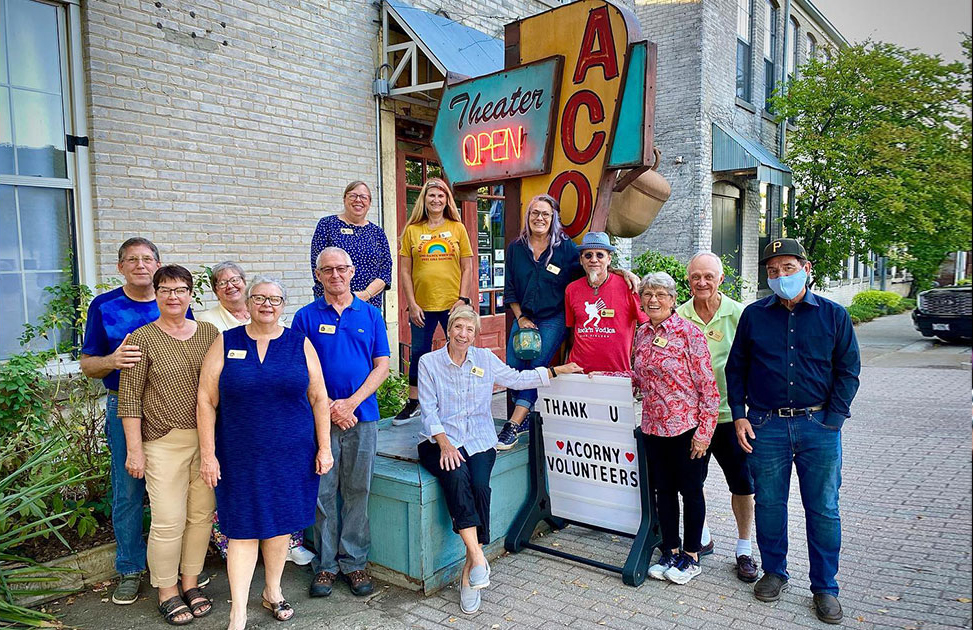 The Acorn Staff and Board held a Volunteer Appreciation event September 18, 2022 to celebrate the many wonderful volunteers who give so generously to The Acorn. We enjoyed pizza and a movie on The Acorn big screen. (It is worth noting that the volunteers pictured cleverly changed our Thank You sign message to read: "Thank U Acorny Volunteers.")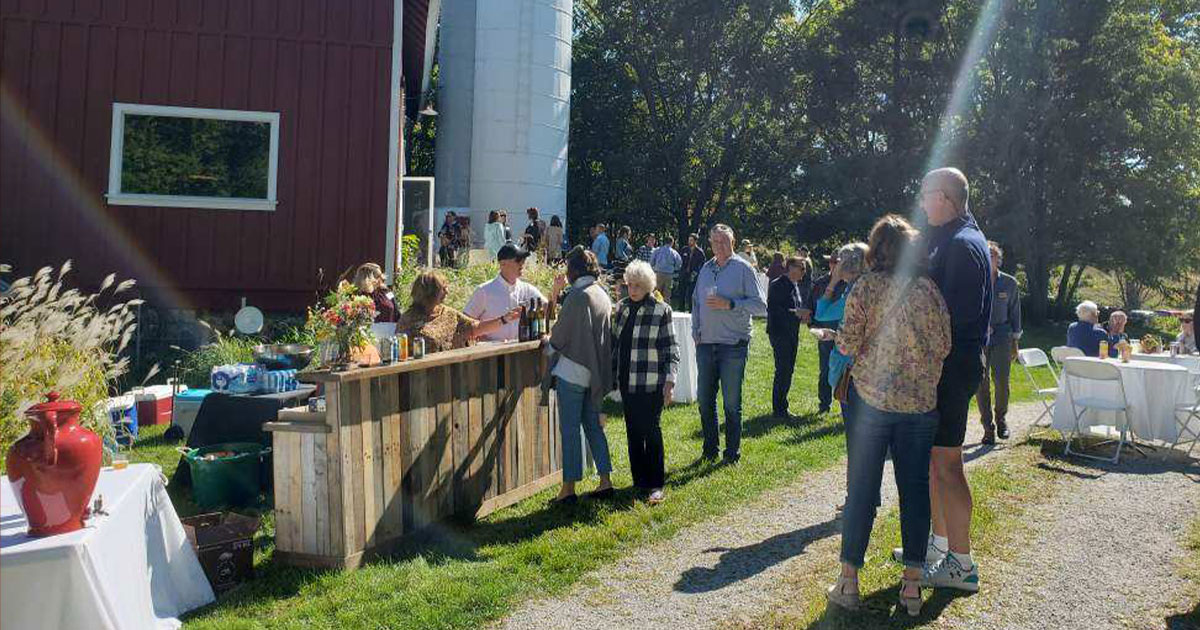 The Board of Directors of The Acorn Center for the Performing Arts welcomed supporters and friends of The Acorn to Lynn and Allen Turner's Spring Creek Farm on October 2, 2022 to celebrate The Acorn's "now forever home" in Three Oaks.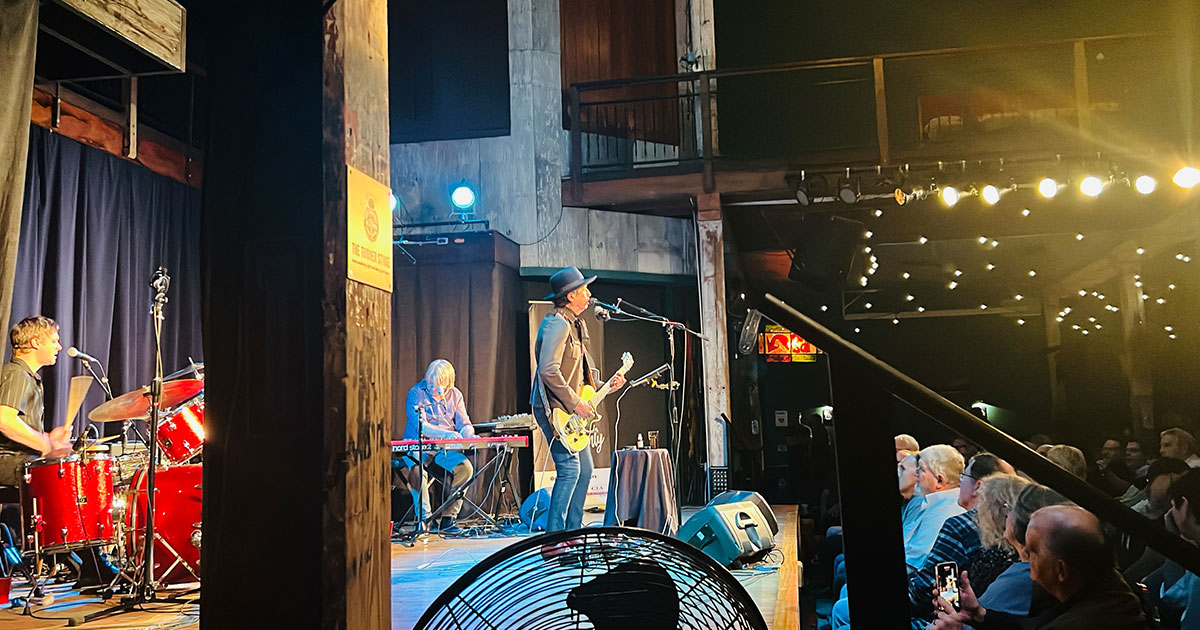 A sold out Acorn crowd was treated to a performance from Alejandro Escovedo on October 22, 2022. The night ranged from heavy-hitting rock 'n' roll to intimate acoustic performances, and much in between. A highlight for many was when Alejandro and his band, along with opener Matt Jaffe, came down off the stage into the audience to play three completely unplugged songs right in the crowd.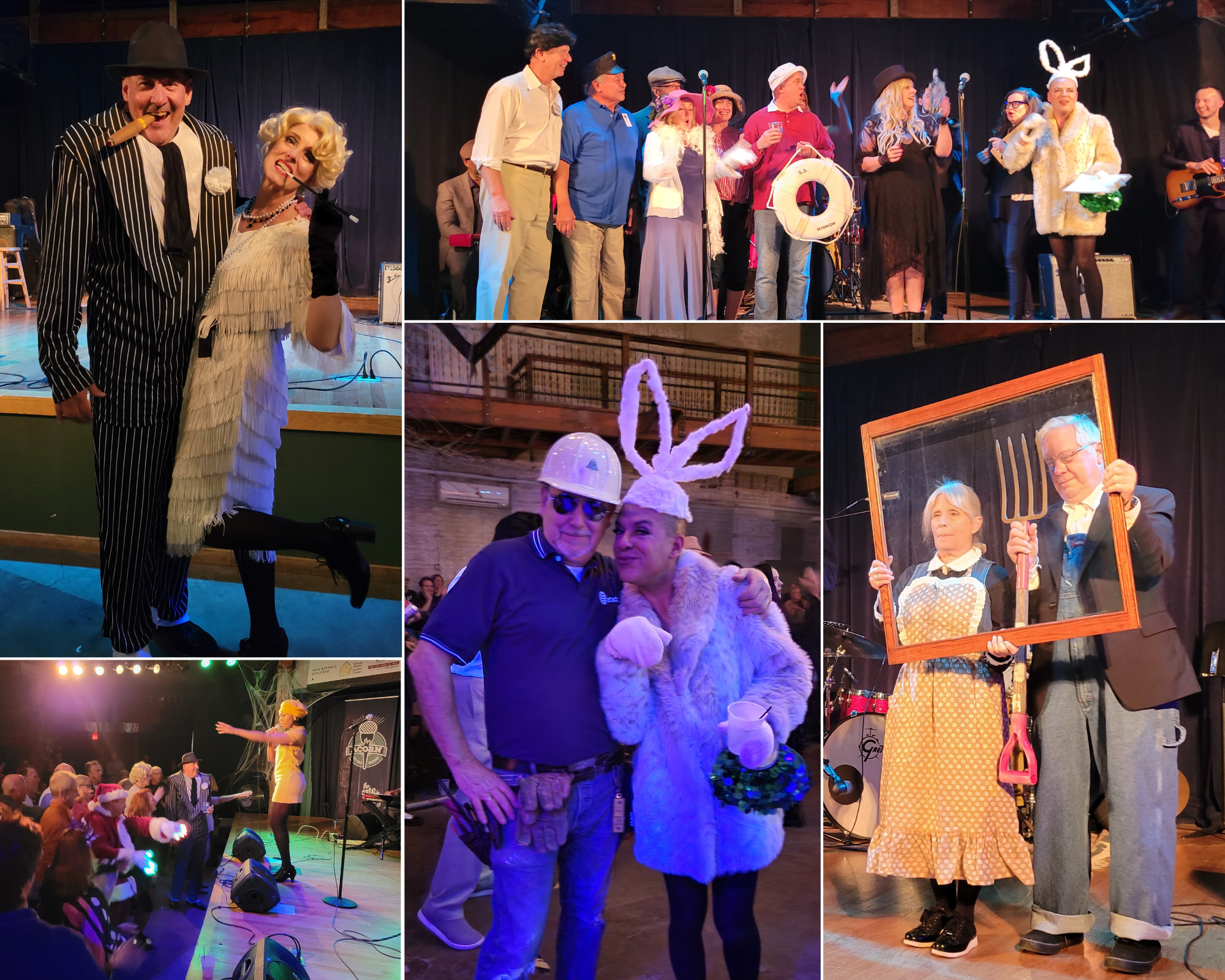 The Acorn's annual Halloween Bash returned on Saturday, October 29th with a dance party featuring the music of PureSoul Presents: The Music of Motown and More! Prizes were awarded for Best Individual (Wrigley Field), Best Couple/Group (American Gothic) and Best TV/Movie Theme (Gilligan's Island).
---
What's Next
Friday, November 18
The Claudettes Album Release Concert
Saturday, November 19
Echoes of Pompeii
Wednesday, November 23
Dancing Queen: An ABBA Salute
Friday, November 25
Sean Masterson - Family Magic Matinee
Friday, November 25
Dancing Queen: An ABBA Salute
Saturday, November 26
Chicago Comedy Tour
Sunday, November 27
Community Film Screening – Prancer
Friday, December 2
Jeff Tweedy w/ Free Range - SOLD OUT
Saturday, December 3
Rockapella's Holiday Show
Friday, December 9
The Bergamot: A South Shore Christmas
Saturday, December 10
Heartache Tonight - A Tribute to the Eagles
Sunday, December 11
It's a Wonderful Life - Holiday Viewing Party
Thursday, December 15
Acorn Holiday Open Mic Night featuring Abbie Thomas
Friday, December 16
Char Jones presents 'Season of Love'
Saturday, December 17
Davy Knowles
Friday, December 23
Christmas At The Acorn!
Friday, December 30
The Erly w/ Lost Pyramids
Saturday, December 31
New Year's Eve with The Edgar Willbury Experience w/ opener Skirt
COMING SOON!
Black Friday Sale!
2023 Events on Sale