Letter from The Acorn Executive Director | Interview with an Acorn Artist | Staff Spotlight | Acorn News | Acorn Highlights
---
Letter from the Executive Director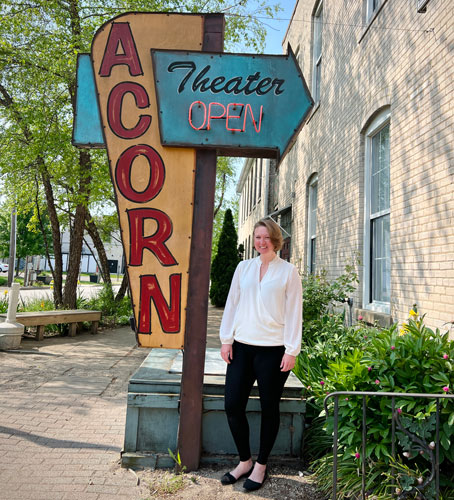 Dear Acorn Friends,
Thank you so much for your support, advocacy, and involvement with this incredible nonprofit performing arts center! In my first two months at The Acorn, I have been lucky enough to meet several of you at performances, and I am so looking forward to continuing to connect with folks at our shows and other Harbor Country community events.
We have had an incredible 2023 so far, including five sold out shows, four open mics, and nine community organization events, and are looking forward to a couple of landmark firsts this summer! In particular, we are launching our first-ever Acorn Music Festival June 16-18, with 23 artists over one action-packed weekend. Our inaugural youth musical theater camp for ages 8-18, The Acorn Dramatic Arts Camp (TADA), runs June 19 - July 13, and culminates in the performance of a production of The Wizard Of Oz. Space is limited for BOTH of these not-to-be-missed events, so be sure to get your festival tickets or register for camp today.
The Acorn is pleased to share news of two recent grant awards, both to support our community programming. TADA Camp is being supported in part by The Monday Musical Club, and we are so proud to partner with them on our scholarship program for this camp - ensuring even more students are able to participate in this 4-week program. For information on camp scholarships, please contact us at info@acornlive.org.
The Frederick S. Upton Foundation announced a generous matching grant to support two of The Acorn's flagship performance series: Acorn Open Mic and Midwest Made. Both of these series feature local, Midwest-based artists - with 75% of the artists coming from right here in the state of Michigan! In addition to providing performance opportunities for these incredible artists, ticket prices are low or no cost to attend - we hope to see you at these series this summer!
If you'd like to support these or other programs at The Acorn, please check out our website at acornlive.org for ways to donate or to volunteer with us.
See you at The Acorn!
Sincerely,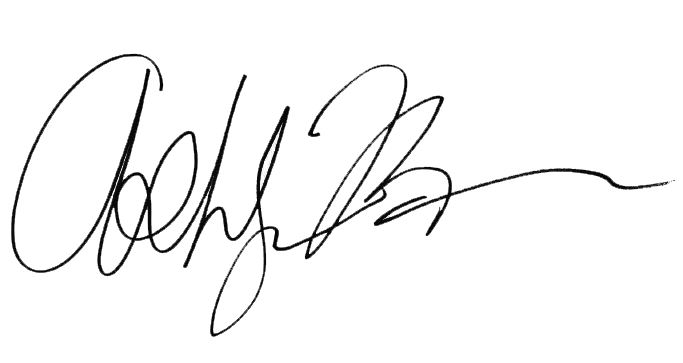 Ashley Magnus
Executive Director
---
Interview with an Acorn Artist
Cathy Richardson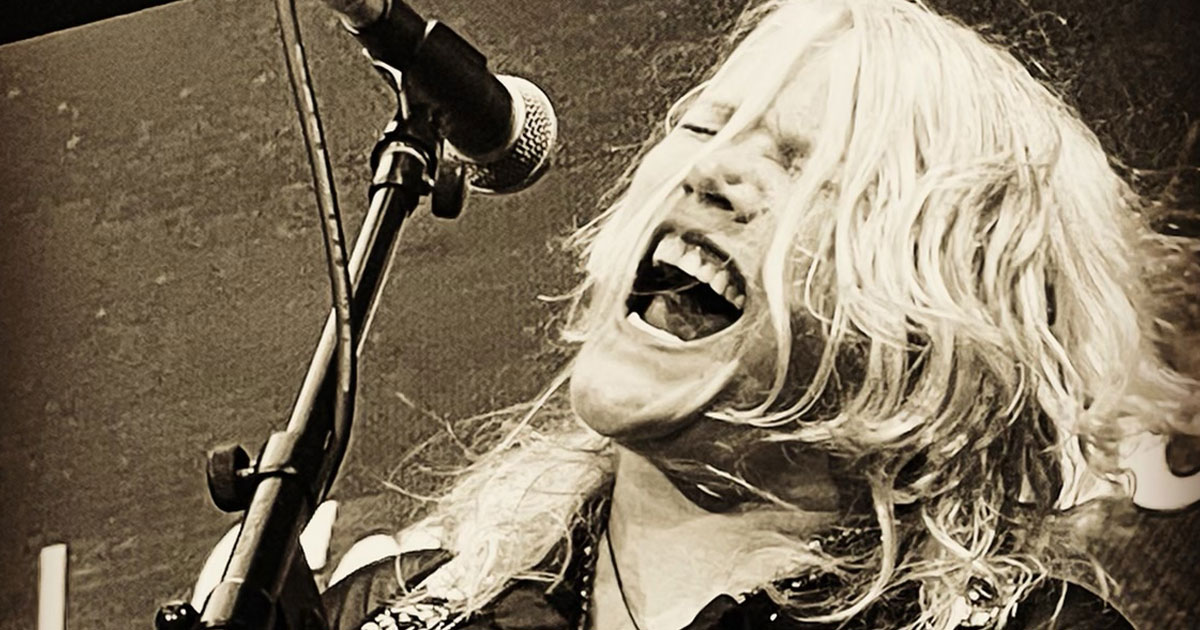 It's hard to think of any musician who's had a more varied career than Chicago-based singer Cathy Richardson; from scrappy indie rock singer selling albums out of her car to commercial jingles, off-Broadway stage productions to fronting Jefferson Starship and a variety of side projects, she also picked up a Grammy nomination along the way. The twists and turns of her career feel impossible to follow, and incredibly unlikely, but are owed to the vast range of Richardson's dynamite-packed vocal cords and her dogged perseverance to achieve goals she set as a teenager.
"When I set out to do rock and roll, I was like, 'I'm going to be a rock star.' Not, 'I want to be a rock star.' I'm going to be a rock star," she says. "I thought that it was, 'Oh, I'm going to write songs and I'm going to shop them to a record label and then I'm going to get signed and then I'm going to be rich and famous.' That's how I thought it was going to go down and that was my sort of plan. I had no idea how I was going to enact that plan, but I just blindly started trudging down that path. And then it was just always one little door after another that kept opening. It was just these little sort of victories along the way, these little dangling carrots that I would chase after and then I would get them, and then it would be like, 'Okay. What next? What's next?'"
What's next for Richardson is as varied as her list of credits, but in the immediate future is performing with her deep well of self-penned songs, which she's built up over decades as the frontwoman for a list of bands too long to list here, and, in Voice Box, a monthly songwriting and storytelling event she co-hosted outside Chicago for the last eleven years.
What's next is also Cathy's return to The Acorn on Friday, June 9th. Come see the Grammy-nominated rock goddess then, and read more about her now.
Q: How did you get your start in music?
A: There was always music in the house growing up. My mom sang and played piano, my dad dabbled with guitar. We used to gather around the piano and sing songs and harmonize as a family. I picked up the instruments and started teaching myself how to play.
Q: What is the most surprising memory you have from a performance?
A: When I was in grade school, I sang a Barbara Streisand song at a variety show and at the end the audience jumped out of their seats in thunderous applause. It actually scared the hell out of me. I went backstage and my mom was all excited, "Cathy, they gave you a standing ovation!" "What does that mean?" I asked, still shaking. "It means you were great and they really loved you," she said.
Q: Who is your favorite musician to listen to when you're not making music of your own?
A: I love all kinds of music, I don't really have a current favorite. I just love anything that's good and there's so much out there. I guess I lean towards classic rock and female singer songwriters.
Q: What advice would you give to young artists?
A: Be yourself, believe in yourself, do what you're good at and keep getting better. Experience comes from years of doing something. I know it's cliche but it's true – practice. There's no set path to get where you want to go and success in the music business doesn't necessarily mean superstardom. There are all kinds of levels and different ways to get there. Get as much help as you can but ultimately, it's up to you. Be proactive and grab those opportunities as they arise.
Q: What can our audience expect from you when you play at The Acorn on June 9th?
A: They can expect me to give it all I have. Some days you have less in the tank than others but I always spill my guts onstage. I've had a pretty varied career beyond my solo work. I played Janis Joplin in the off-Broadway show Love, Janis and toured with her former band Big Brother and the Holding Company and I've been the lead singer of Jefferson Starship for the past 15 years. So, I always play a couple Airplane and Janis tunes. I'll include the most powerful songs from my catalog and hopefully make you feel something. Ever since that first standing ovation, it's my goal to always inspire that kind of reaction from the audience.
Q: Anything else you think our Acorn audience would like to know about?
A: I love The Acorn! I've had some transcendent shows there over the years. The room has such a warm, welcoming vibe and I really enjoy the intimate atmosphere of a seated, listening audience. I am incredibly grateful for The Acorn audiences who have supported me over the years and I'm looking so forward to coming back and rocking their faceholes once again!
Many thanks to Cathy from The Acorn for taking time out of her schedule to answer our questions! We can't wait to see you again on June 9th!
---
Staff Spotlight
Michael Bond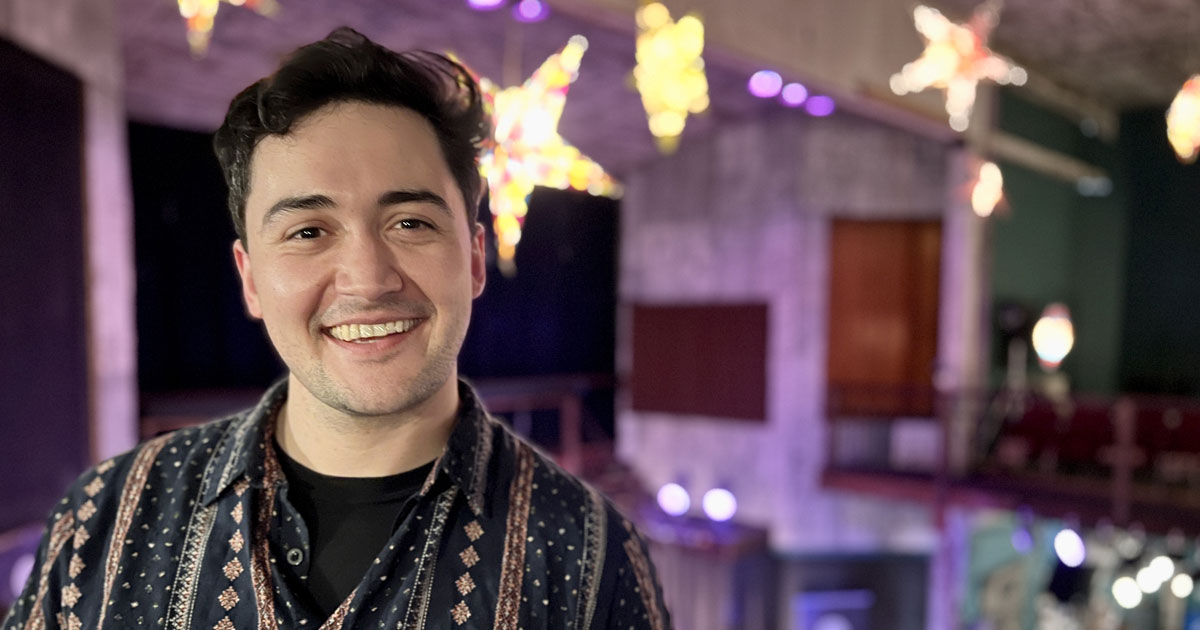 You know Michael as our Production Manager – the "points person" who ensures that each of our events is planned down to every last detail. We've enjoyed having Michael on our Team for just over a year now. You could say that a career in the arts was in the stars for Michael as the arts have always been his passion.
You may have caught Michael on a local stage, as he performs in theater productions at Twin City Players, The Beckwith Theatre Co., The Ghostlight Theatre, Ramsdell Regional Center for the Arts, and the South Bend Civic Theatre. He describes himself as a "straight up theater nerd," in fact. He took a bit of a hiatus for planning his wedding (which just happened, by the way, so congratulations to Michael and Sarah), but he is ready to jump back into a role on stage soon.
In terms of his favorite musician on The Acorn stage? He really couldn't come up with just one – he instead gave us a list – Joe Pug, Mike Dawes, Dirty Dozen Brass Band, Jeff Tweedy and The Acorn production of The Music of Ella & Billie.
Q: What made you want to join The Acorn team?
A: The simplest way to put it is: the people. I knew I wanted to shift gears and dive headfirst into something that was closer to my passion projects and consistent. The first time meeting with this team, I knew I found something really rare.
Q: How would you describe your role at The Acorn to someone you were meeting for the first time?
A: I describe it as the "points person." The role of Production Manager has a pretty big umbrella, since a lot of elements of what we do can be labeled as "production." My role is to overthink every physical element that goes into a show, and plan to make it work the way we want it to.
Q: What is your favorite way to spend a day off?
A: Mostly I just like to have a simple day in to spend with my fiancée (note, when this is published she'll actually be his wife). We'll turn on a movie we've already seen a thousand times or a podcast and jump into a home project, buy too much cheese from the Cheese Lady, and I'll finish the day in the kitchen cooking something new and delicious.
Q: Who inspires you?
A: My niece, who is about a year and a half now, who always just puts a big smile on my face.
---
Acorn News
Acorn Music Festival June 16 – 18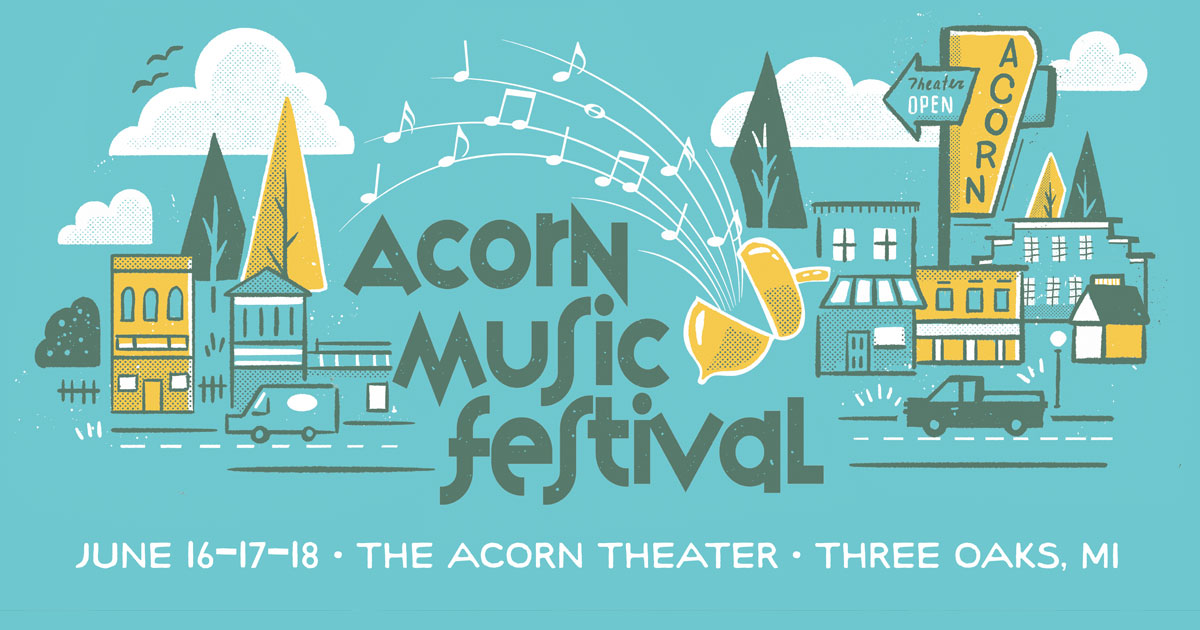 Coming to Three Oaks, Michigan next month, it's The Acorn's first-ever summer music festival! A full weekend of music will hit our stage June 16 through 18 with 23 amazing artists!
Friday, June 16 - Alejandro Escovedo and Shemekia Copeland
DAY ONE features headliners Alejandro Escovedo and Shemekia Copeland. Escovedo has crossed borders, jumped barriers, taken risks, and bet it all in his lifelong search for the heart of rock and roll. Copeland possesses one of the most instantly recognizable and deeply soulful roots music voices of our time. Friday's first show starts at 5pm ET, with multiple performances leading up to Shemekia and Alejandro's headlining shows. Also featured are The Bergamot, Buddy Pearson 3 and Nikki Morgan.
Saturday, June 17 - Cracker
DAY TWO features headliner Cracker! Cracker has been described as a lot of things over the years: alt-rock, Americana, insurgent-country, and have even had the terms punk and classic-rock thrown at them. Saturday's first show starts at 2pm ET, with eight performances leading up to Cracker's headlining show. Also featured are Aaron Lee Tasjan, May Erlewine, Anne Harris & Dave Herrero, Nora O'Connor w/ Steve Dawson, Michele McGuire, The Backups, Brad Cole and The Erly.
Sunday, June 18 - Son Volt
DAY THREE features headliner Son Volt! Jay Farrar founded Son Volt in 1995 after leaving the seminal group Uncle Tupelo. Son Volt's Electro Melodier offers up a unique blend of folk, country, blues, soul and rock – an electric troubadour with melodies that hit and stick. Sunday's first show starts at 2pm ET, with eight performances leading up to Son Volt's headlining show. Also featured are The Crane Wives, Mario Abney & The Abney Effect, Daniel Villarreal, Grace Thiesen Trio, The Sypian Family Band, Jack Whittle Trio, Down Home and The Resurrection Blues Band.
New Family Fun Series – The Acorn Tree House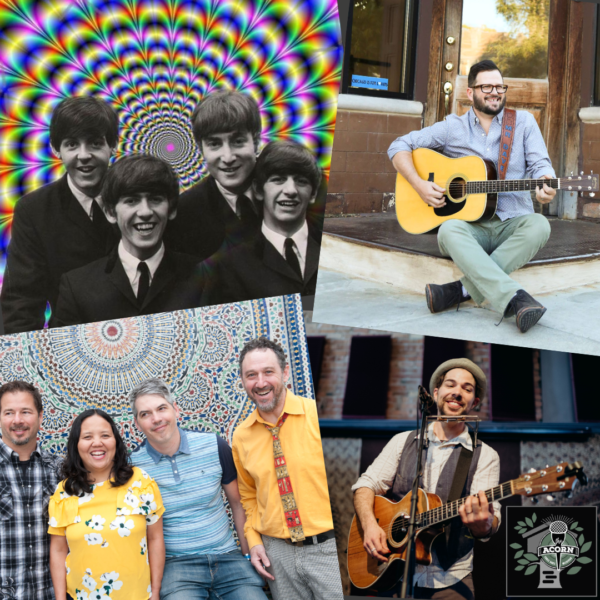 Kicking off Saturday, May 27, 2023, The Acorn offers a new family fun series – The Acorn Tree House – the last Saturday of each month all summer at noon ET. The emphasis will be on fun for the entire family with music and entertainment for all ages!
The Acorn Tree House starts with Mr. Blotto performing The Music of The Beatles on May 27th. On June 24th, Mr. Dave will bring the joy of music through a warm and creative experience. Little Miss Ann and her band will play upbeat, interactive fun songs that kids will sing, jump and dance along to on July 29th. And, on August 26th, singer-songwriter and author Mike Struwin will entertain us with music from his children's book and partner album, "Campfire Stu & The Backwoods Jamboree."
Announcing Youth Summer Camp to Begin June 19th – The Acorn Dramatic Arts Camp (TADA)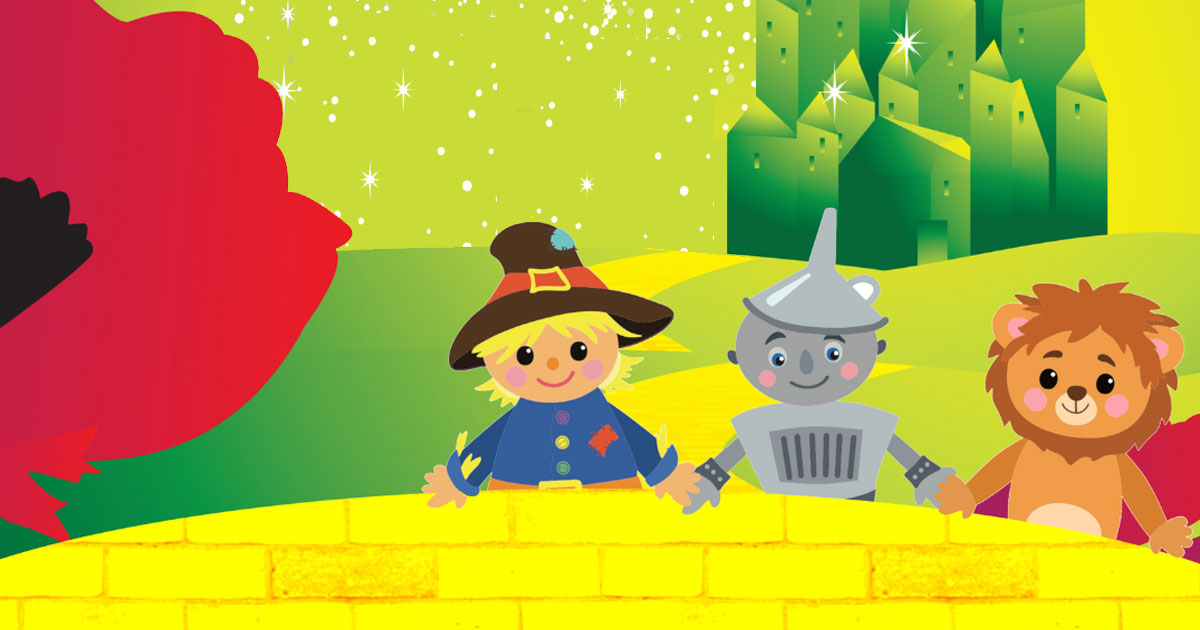 The Acorn is proud to announce the launch of The Acorn Dramatic Arts Camp right here in the Harbor Country community. We are building this program with a mind to introduce and grow a love of musical theater to children and teens in the community who have no experience, and flourish musical theater as a passion for children and teens in the community who have already begun their exploration of the art form. We believe that there is something for everybody to love about theater - whether that's the stage, set building, stage managing, backstage tech, or any other little detail that goes into a production.
For ages 8 –18. All experience levels are welcome in this four week long camp at The Acorn! Camp will begin on June 19th, 2023 and will conclude on July 13th with a performance of The Wizard of Oz for friends and family of the campers and a wrap party after the production.
Space Is Limited, so register today!
Art at The Acorn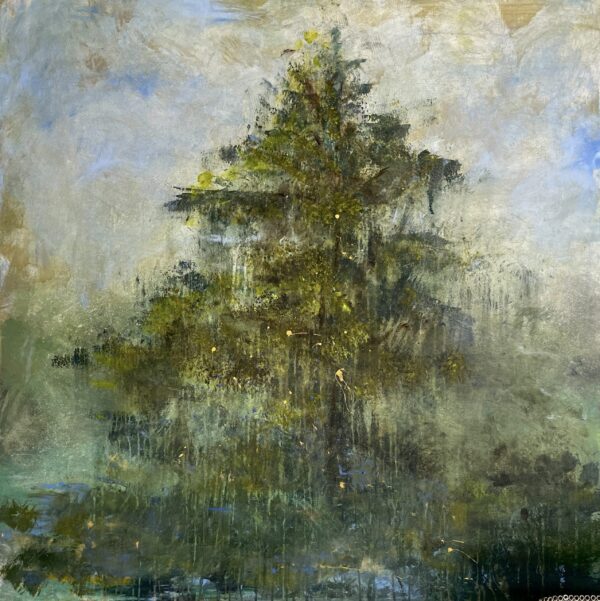 Frank Kurland: 'Dreamscapes and more' is the opening exhibition in our new Art at The Acorn program. Artist Reception will be held on Tuesday, June 27th at 7pm ET at The Acorn.
The Acorn Center for the Performing Arts will transform into a visual art space as we launch our new initiative, Art at The Acorn. As a part of our ongoing Pride festivities, we welcome our first artist, Frank Kurland and his exhibit Dreamscapes and more. Frank will also share a special body of work the night of the Artist Reception only – Love is in the Air, the exclusive debut of Frank's new series of original paintings celebrating queer pride and men in love.
"…I wanted to capture moods, not pictures. I didn't want photographic realism, I wanted to create paintings that required you to look into—and mostly, to feel. I came to call these "Dreamscapes". For they truly come to life from out of my mind's eye, based on cumulative years of observations in nature… My work now generally evolves in layers—as is nature itself—with depth, light and movement. Subtle tones as well as vibrant colors. Finding balance and focus. Evocative and moody. Sometimes calming and sometimes turbulent, but always expressive of a memory, a mood, a moment in time that's cherished." –excerpt from Frank Kurland, Artist Statement
---
Program Recap
Highlights
Check out some of these recent moments at The Acorn.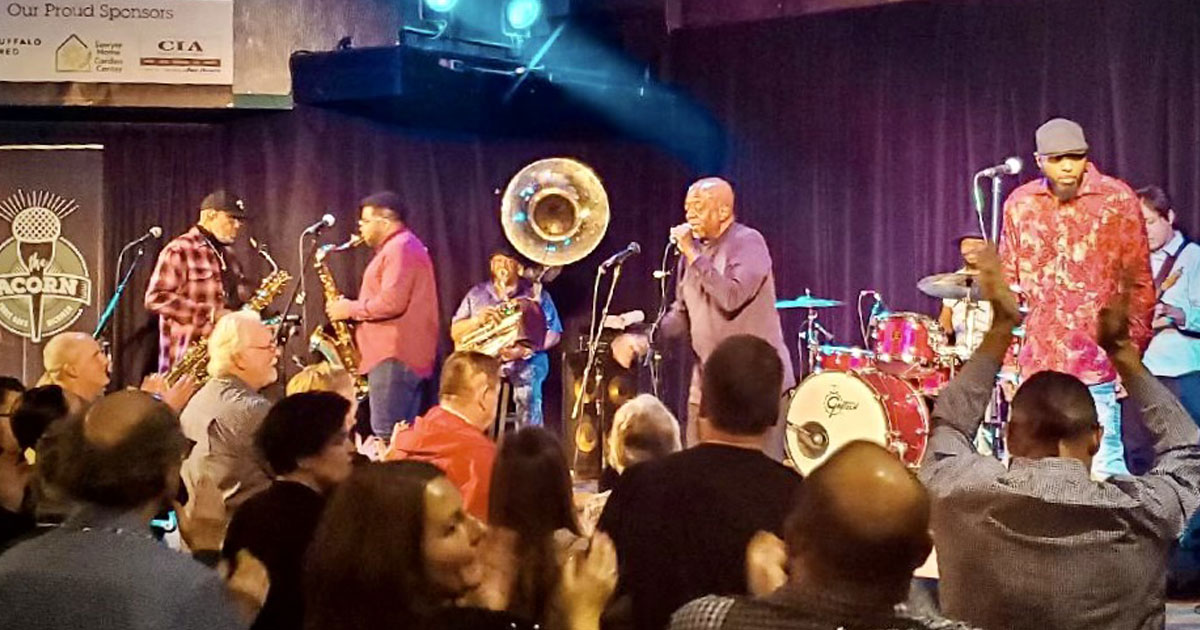 The Dirty Dozen Brass Band made their Acorn debut in a Mardi Gras celebration on March 9th which delighted the packed house. The crowd was brought to their feet throughout the night and a fantastic time was had by all.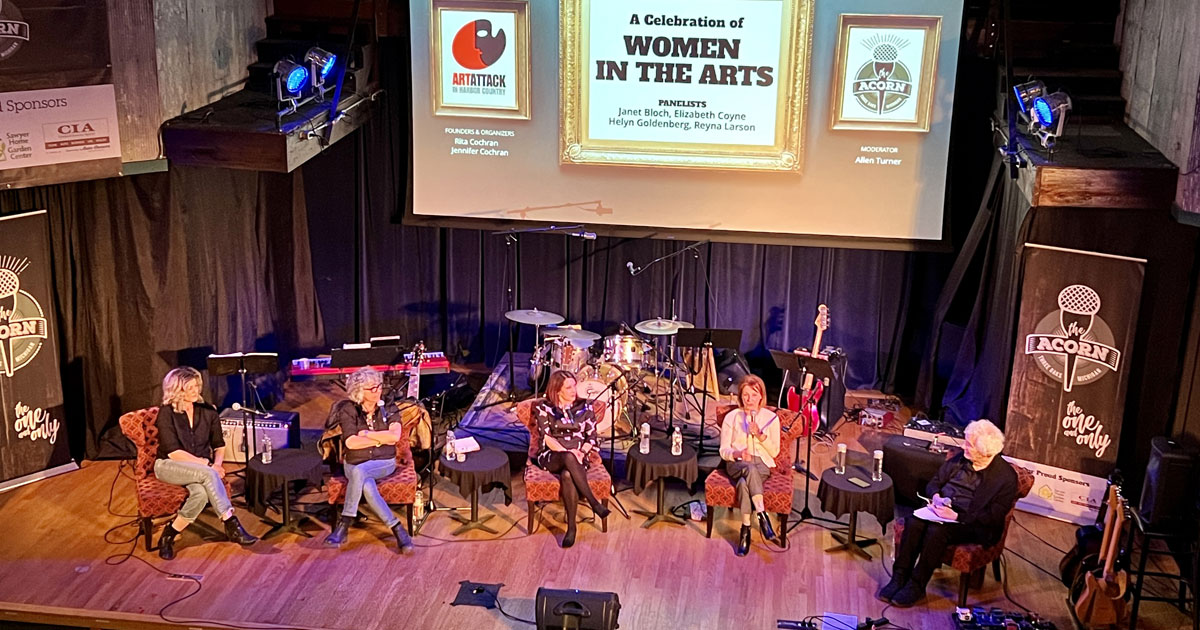 Art Attack 2023 kicked off again this year at The Acorn's Art Attack Launch Party on Thursday, April 27th. We welcomed close to 250 guests for a celebration of women in the arts which began with remarks from Ashley Magnus, Executive Director of The Acorn and Rita and Jennifer Cochran, founders of Art Attack. Allen Turner moderated an interesting discussion with Reyna Larson, Elizabeth Coyne, Janet Bloch and Helyn Goldenberg. Afterwards, Reyna and her band Lazy Susan performed.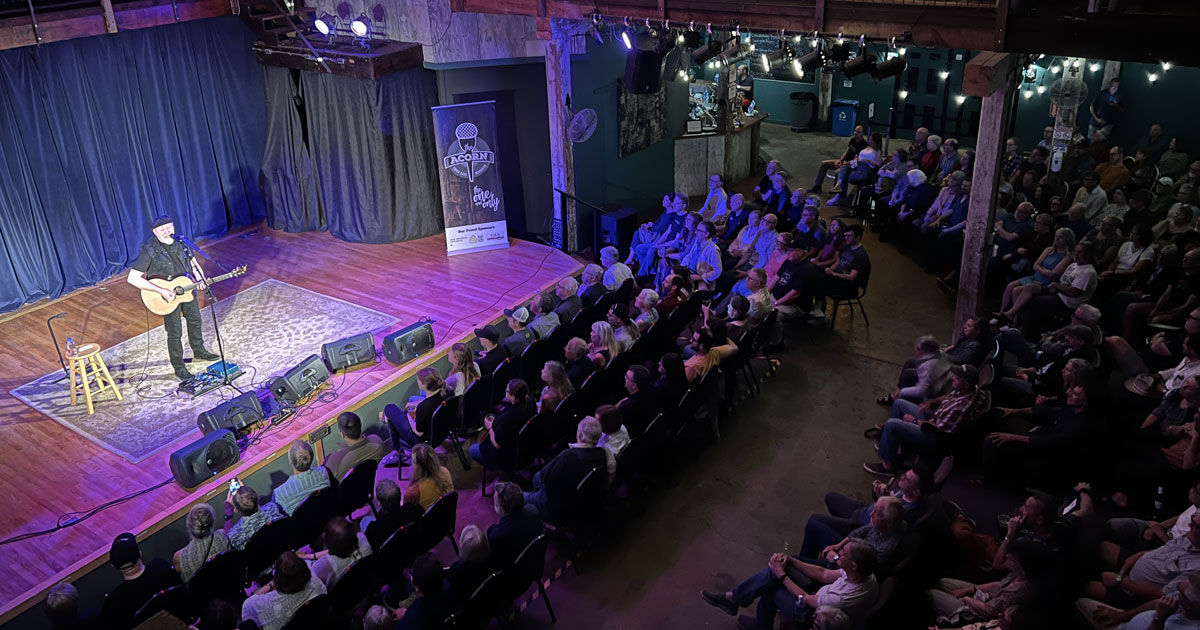 A sold out Acorn audience enjoyed an intimate Richard Thompson concert on Sunday, May 7, 2023. Powered by evocative songcraft, jaw-dropping guitar playing, and indefinable spirit, Thompson holds a coveted spot on Rolling Stone's "100 Greatest Guitarists of All Time" and counts a Lifetime Achievement Award from the Americana Music Association in Nashville, and a Lifetime Achievement Award from the BBC Awards among his many accolades.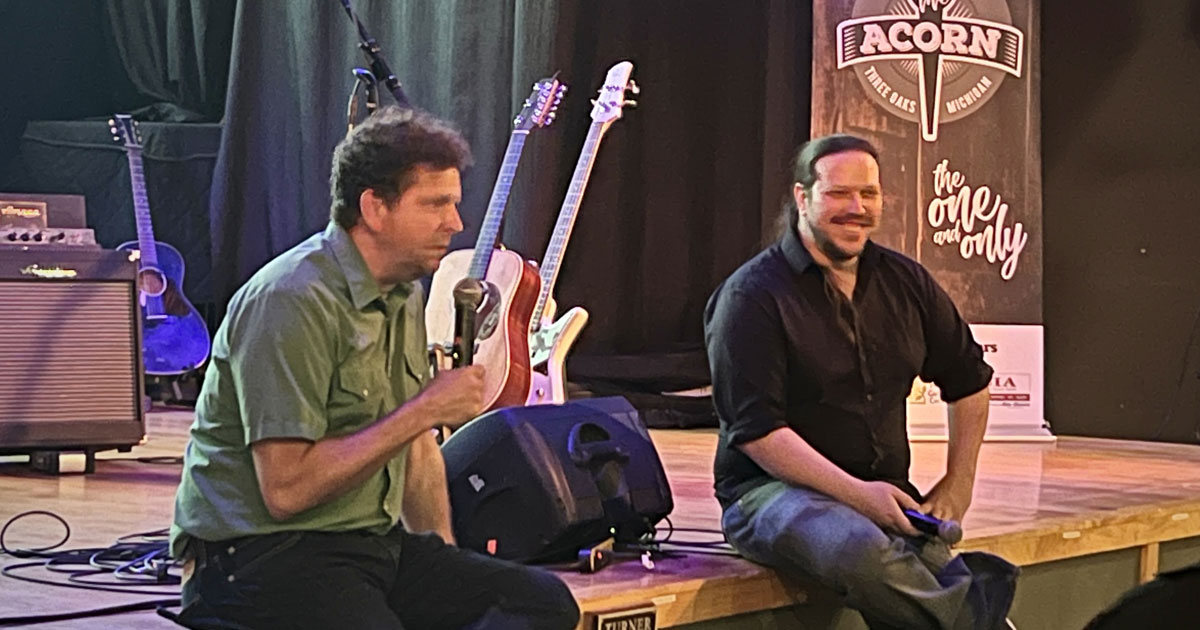 Singer-Songwriters Abe Partridge and D. Anson Brody answered questions from the audience about their visual artwork during an Artist Talk before their May 13th concert. Both artists shared their work (Abe's paintings and D. Anson's photography). Partridge discussed the process of creating his artwork which is made with roofing tar. Abe carves his artwork with a screwdriver or an ice pick in tar that has cured for 30 days and then paints the tar with acrylic paints and seals it with a clear gloss acrylic sealer.
---
Schedule of Shows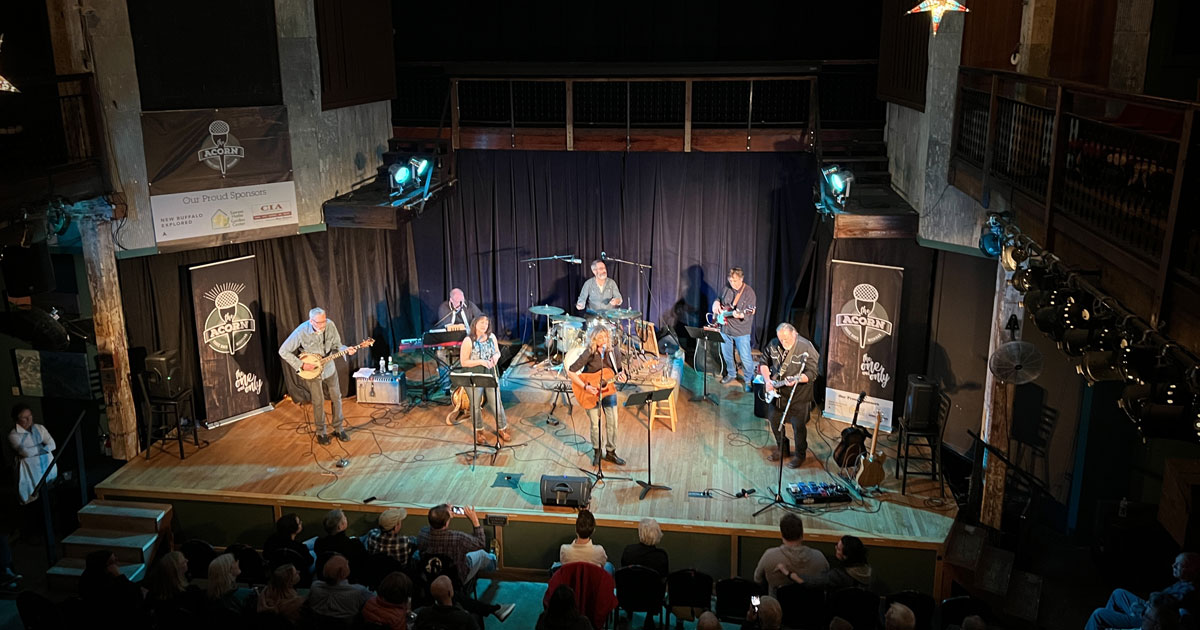 Friday, May 26
The Brit Pack
Saturday, May 27
Mr. Blotto
Sunday, May 28
Real Pretenders + Naomi Ashley Band
Thursday, June 1
Cosmic Country Showcase - Harbor Country Pride
Friday, June 2
Philip Gulley - American Writer and Storyteller
Saturday, June 3
Club Rainbow - Harbor Country Pride
Thursday, June 8
Martin Barre: The Classic History Of Jethro Tull
Friday, June 9
Cathy Richardson
Saturday, June 10
An American Prayer: The Doors Tribute
Friday, June 16
Acorn Music Festival DAY ONE Featuring Headliner Alejandro Escovedo and Shemekia Copeland
Saturday, June 17
Acorn Music Festival DAY TWO Featuring Headliner Cracker
Sunday, June 18
Acorn Music Festival DAY THREE Featuring Headliner Son Volt
Wednesday, June 21
Pride Open Mic Night Featuring Dylan Reed Leavitt
Thursday, June 22
PettyBreakers: A Tribute to Tom Petty and the Heartbreakers
Friday, June 23
Rico! A Tribute To Santana
Saturday, June 24
The Acorn Tree House presents Mr. Dave
Saturday, June 24
Heartache Tonight - A Tribute to The Eagles
Sunday, June 25
PlayHouse – Midwest Made
Tuesday, June 27
Art at The Acorn - Artist Reception for Frank Kurland: Dreamscapes and more
Saturday, July 1
An Evening with Griffin House
Sunday, July 2
Sankofa – Midwest Made
Wednesday, July 5
Tab Benoit with Anthony Rosano and The Conqueroos
Saturday, July 8
Acorn Anywhere at Fernwood - Second Hand News
Sunday, July 9
Sneak Prevue of The Voice That Rocked America: The Dick Biondi Story
Sunday, July 9
Resurrection Blues Band – Midwest Made
Wednesday, July 12
Los Lobos - SOLD OUT!
Thursday, July 13
Open Mic Night Featuring For Pete's Sake
Friday, July 14
Chicago Farmer & The Fieldnotes
Sunday, July 16
Newski – Midwest Made
Friday, July 21
2023 Singer-Songwriter Competition FINALS
Saturday, July 22
Journeyman – A Tribute to Eric Clapton
Sunday, July 23
Buddy Pearson 3 – Midwest Made
Friday, July 28
Colm & Laura Keegan
Saturday, July 29
The Acorn Tree House presents Little Miss Ann
Saturday, July 29
Will Hoge
Sunday, July 30
Water Street Wranglers – Midwest Made
Thursday, August 3
Harbor Country Opera presents Phantom & Les Miz
Friday, August 4
Trouble Ahead: A Jerry Garcia Birthday Show
Saturday, August 5
Harbor Country Opera presents Phantom & Les Miz
Sunday, August 6
Mark Ficks & The Significant Others – Midwest Made
Friday, August 11
Tim Stop
Saturday, August 12
The Chicago Experience
Sunday, August 13
Mike Struwin Band – Midwest Made
Monday, August 14
Steve Earle: Alone Again, Solo & Acoustic - SOLD OUT!
Wednesday, August 16
Open Mic Night
Sunday, August 20
Drew Stolz & Priscilla Sabourin – Midwest Made
Thursday, August 24
Robbie Fulks
Saturday, August 26
The Acorn Tree House presents Campfire Stu
Saturday, August 26
Devon Allman & Donavan Frankenreiter
Sunday, August 27
Lake Effect Jazz Big Band – Midwest Made
Friday, September 29
SuperBlue: Kurt Elling & Charlie Hunter
---
COMING SOON!
Final summer secrets announced
Labor Day weekend entertainment
and Fall shows!