2023 Singer-Songwriter Competition FINALS
Friday, Jul. 21 | 7:00pm ET
(6:00pm CT)
Competitions
Singer-Songwriter
Perennial Acorn fan favorite Singer-Songwriter Competition Finals returns for its 11th consecutive year to The Acorn. Three esteemed judges and our beloved Acorn audience will participate as six finalists take the stage for this thrilling performance, with the field narrowing to the 'top three' artists over the course of two rounds.
2023 FINALISTS!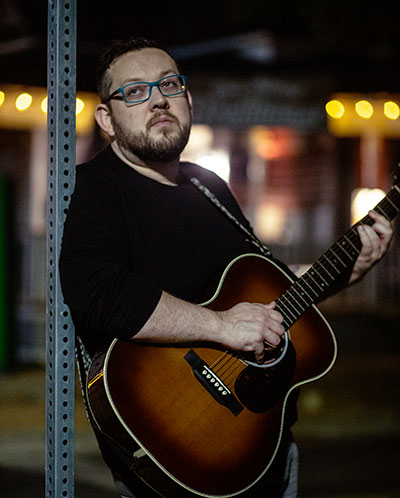 Andrew Delaney
Andrew Delaney was born to a Chinese-American family in Houston and currently resides in Arlington, TX. He is an unorthodox writer and storyteller who Rich Warren of WFMT Radio, Chicago once called "The Alfred Hitchcock of singer/songwriters." In 2017 he was the winner of the Songwriter Serenade competition in Moravia, TX; and has been a three time finalist in the storied Grassy Hills New Folk Competition at the Kerrville Folk Festival.
---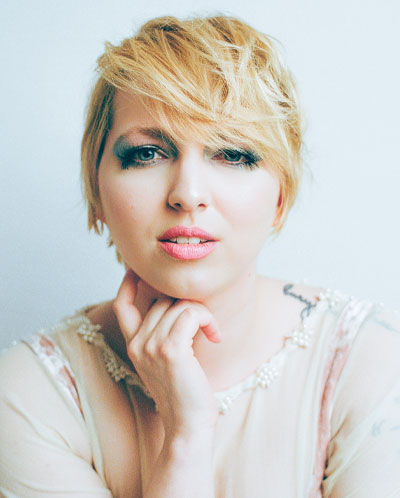 Kelly Hoppenjans
Kelly Hoppenjans is an indie-rock singer-songwriter from Nashville, now based in Ann Arbor. She creates empowering, feminist, grungy rock with catchy pop melodies and introspective folksy lyrics. She has released three EPs and one full-length album. Kelly has had her music featured on NPR, American Songwriter, The Alternative, Lightning 100, KUTX, and many other press outlets and radio stations. She has also been a finalist in numerous songwriting competitions, including NewSong, Kerrville New Folk, and John Lennon Songwriting Competition, and she was a winner of the Eddie's Attic songwriting competition.
---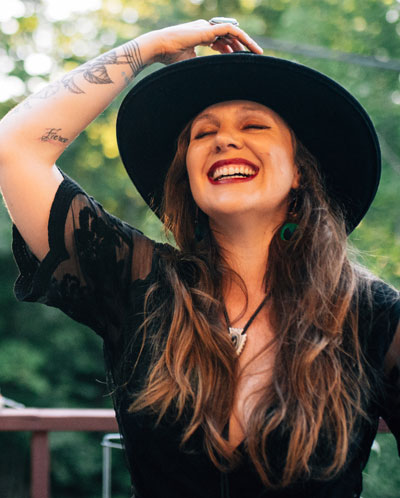 Sarah King
Known for her powerhouse voice and "fiery, vulnerable songs," Sarah King creates thought-provoking, versatile Americana music. Her genuine stories about real-life emotions and situations also draw on classic folk-blues themes, balancing songs about the devil and booze with hard-won moments of reflection and acceptance. Her acclaimed 2021 EP The Hour, produced by Simone Felice and David Baron, earned her recognition as the New England Music Awards Songwriter of the Year and performances at the 2022 Folk Alliance International and Philadelphia Folk festivals, as well as supporting slots for acts including Blues Traveler and The Steel Woods.
---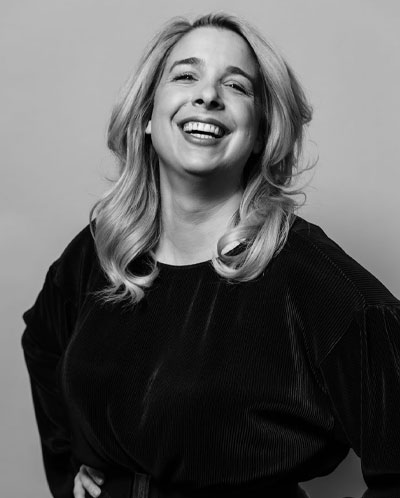 Maggie Kubley
Maggie Kubley is a solo performer, songwriter, comedian, writer, storyteller, and video artist. She has been making her uniquely midwestern multimedia performance works for the better part of the last two decades. Kubley graduated from Ball State University in Muncie, IN with her BA in Theatrical Studies. She lived and worked in Chicago, IL for over 15 years before moving back to her hometown of Plymouth, IN to take over as executive director of Wild Rose Moon, an intimate listening room dedicated to providing meaningful musical experiences for the surrounding region.
---
Stone & Snow
Named "Best Folk/Soul Artist" at the 2022 Richmond International Film + Music Festival, Stone & Snow is an Americana pairing of songwriters and multi-instrumentalists Karen Bridges and Clint Thomson. In 2012, they began a collaboration filled with close harmonies and thoughtful lyrics. They gave it a name that gives a nod to the mountain landscapes of the West– Stone & Snow. They currently reside in Cincinnati, OH.
---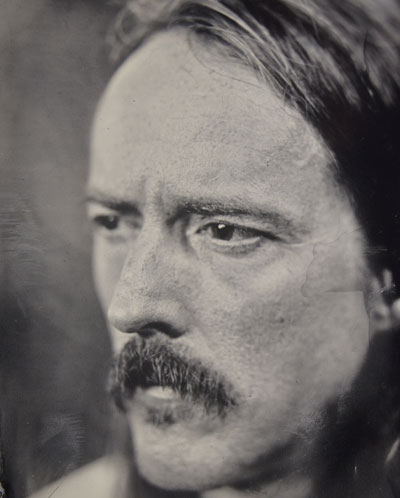 Reece Sullivan
Originally from Arkansas, Reece Sullivan now lives in Lafayette, LA and plays the surrounding states regularly. Over the course of the years, Reece reinvented himself musically many times, often against his will: piano to guitar, classical to art rock, art rock to folk, flat picking to finger-picking, solely songwriting to performing. His latest incarnation has him playing out often, sometimes touring, and writing and recording consistently. In 2022, he released a full length album, Arkansas, and a single, "The Riverband" (Dockside). In 2023, Reece released another full length album, Gethsemane, and plans to release another album, False Summits, sometime towards the end of the year. He also has a single, "Song for Edward de Vere," planned for November 2023, the 400th anniversary of the Shakespearean Folio.
2023 Judges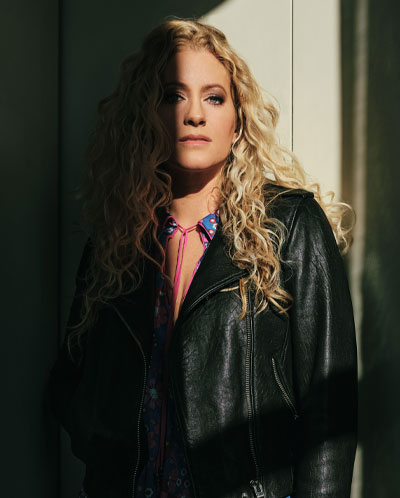 Abbie Thomas
Independent singer-songwriter Abbie Thomas started on the road from part-time hobbyist to full time musician after appearing in The Acorn's 2019 Singer-Songwriter Competition. She earned the vibrant praises of Grammy winner Jim Peterik in that contest, which was a catalyst for turning music into Abbie's full-time career. She mixes pop melodies with soulful vocals and hints of R&B, Jazz, and a vibe from the songwriters of the '70s. Touring regionally, she has most recently opened for Laine Hardy, Girl Named Tom, and Cathy Richardson of Jefferson Starship.
Abbie currently keeps a 130+ per year live show calendar. She recently composed for and performed with the Elkhart County Symphony Orchestra. Abbie just wrapped up her first short film score and is currently composing for a collaboration with the South Bend, IN Symphony Quartet.
Abbie's standout music video, "Fireflies," has earned over 10 nominations for awards, including a "Best Female Solo Artist" nomination in 2021 for the California Music & Video Awards, and a "Best Independent Music Video" nomination for the Hollywood Music in Media Awards. She was also recently nominated for four Josie Music Awards (the equivalent to The Grammy's for independent artists): Artist of the Year, Song of the Year for "Dirty Little Things," Entertainer of the Year, and Songwriter Achievement for her song "Lucky Penny." The awards show will take place at The Grand Ole Opry House October of 2023.
In early 2023, Abbie surpassed 100,000 streams on major platforms including iTunes, Spotify and YouTube. New music is currently being recorded, and slated to begin releasing in late 2023.

---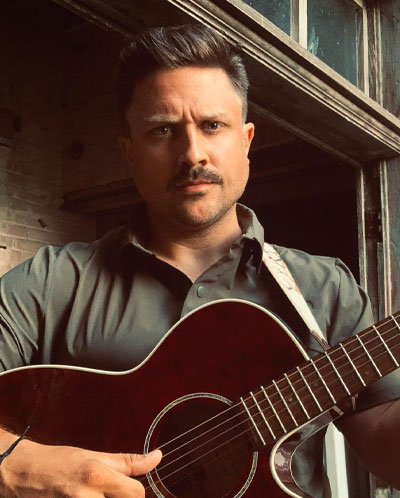 Donnie Biggins
Donnie Biggins is a singer/songwriter from Oak Park, IL. He is a member of Chicago's The Shams Band and owner/operator of Chicago music venue, Golden Dagger. Donnie is also the Talent Buyer for The Acorn in Three Oaks, MI. Donnie has been writing songs and performing live since 2005. He released his debut solo album, Profiles, in November 2016. The album received press and airplay from the Chicago Tribune/Chicago Now, Glide Magazine, WGN Radio, WXRT, CHIRP Radio and Radio One Chicago.

---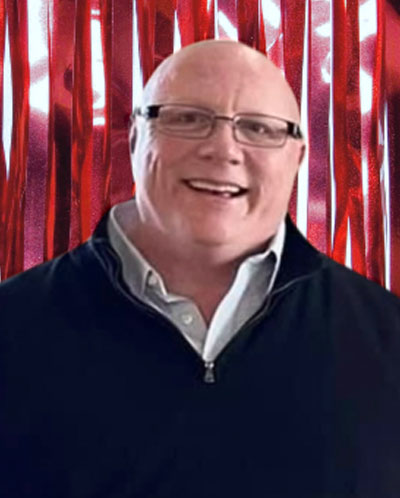 Lance Werner
Lance Werner is a music concert Producer in Southwest Michigan and Northern Indiana. For the past decade, Lance has organized 70 concerts and sold 17,000+ tickets. He is President of Music in the City Concerts. Lance is a graduate of Purdue University and has managed finance and accounting corporate teams for 34 years. He enjoys all types of music and loves to attend live music concerts. Lance's favorite quote is, "Music produces a kind of pleasure which human nature cannot do without." Confucius
Lance has been bringing quality live music and sell-out events to The Acorn since 2017. He lives in LaPorte Indiana with his wife Ann. They enjoy traveling throughout the world aboard cruise ships.
Guest Performers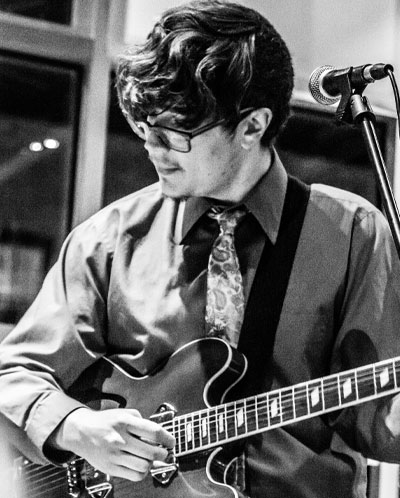 James Neary
James Neary is a singer-songwriter that combines from-the-guts songwriting with soaring falsetto and passionate vocals. Since the release of his first solo album, '2013', James has gone on to open for the likes of Cracker, The Main Squeeze, Billy Strings, John Mayall, Neal Francis, and has even joined British rock superstars Muse on-stage for a performance of their hit song 'Plug In Baby'. With his former band, James Neary and the Bevy Blue, James released three color-themed EPs and toured throughout the Midwest. Now he's taking to the road on his own, bringing his special blend of blues and indie rock with him.

---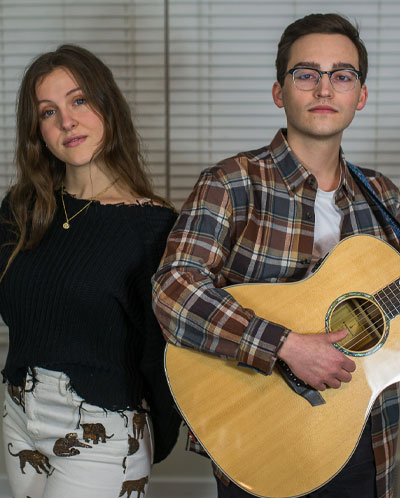 Priscilla Sabourin
Drew & Priscilla have been making music together since 2018. They first teamed up in high school and have continued booking shows whenever they get the chance. Combining Priscilla's songwriting and intimate vocals with Drew's seasoned acoustic guitar skills, they deliver an engaging and unique live music experience. Together, they have performed at various local venues including The Acorn, The Buchanan Common Stage, as well as participating in musical events such as a touring Carole King tribute show, Taste of Michigan City festival, and 'Dancing Like The Stars' YMCA fundraiser.
---
RESERVED SEATING DONATION option includes a $25 tax-deductible donation to The Acorn and guarantees you a seat with optimal sightlines. $25 Donation per ticket holder in your group.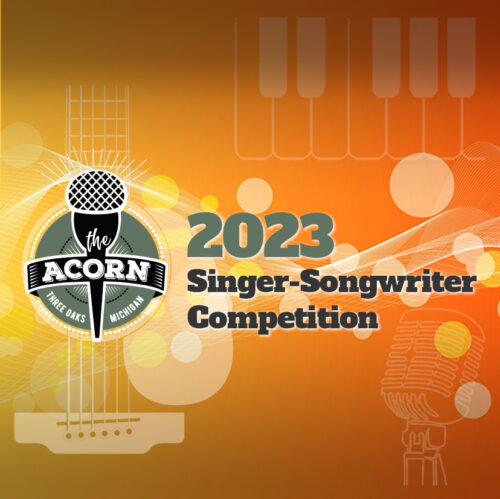 Box Office opens at 4:00pm ET
Starts 7:00pm, doors open 6:00pm