Letter from the Executive Director | Interview with an Acorn Artist | Staff Spotlight | Acorn News | Acorn Highlights
---
Letter from the Executive Director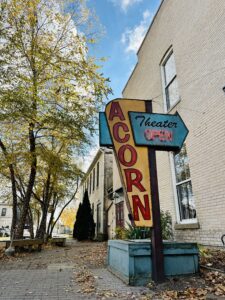 Dear Friend of The Acorn,
This has been a busy fall at The Acorn Center for the Performing Arts! We've welcomed hundreds of people into our space for incredible live music experiences, launched Nicolina Holt's Been a Boy Art at the Acorn exhibit, and partnered with several local organizations on fundraisers and events throughout Harbor Country.
This holiday season, we have three opportunities to support The Acorn's efforts to connect the community through great live music and performing arts programming.
Throughout November and December, The Acorn is hosting a food and hygiene drive for Neighbor by Neighbor, a nonprofit dedicated to connecting Harbor Country residents to much needed social services and resources. Donations of laundry detergent, pop-top soups, hygiene products like body wash and hand soap, and more can be dropped off in the marked box in our lobby whenever you join us for a show or holiday event! You can find the complete list of needed items available at our website.
November 28th and 29th, The Acorn is hosting a two-day residency with Metta Quintet and JazzReach - the nation's preeminent nonprofit dedicated to jazz music education and enrichment. We are partnering with River Valley Schools (K-12), Bridgman Elementary School, and St. Joseph High School on interactive, engaging programming at The Acorn Center for the Performing Arts, and on masterclasses onsite at these local schools. Each day will culminate in a performance open to the public from Metta Quintet. You can purchase tickets at our website, and support this incredibly impactful program for students throughout Harbor Country.
Finally, The Acorn Center for the Performing Arts is grateful to receive grant funding from the Michigan Arts and Culture Council (MACC) for programs like these and much needed building projects. These are matching challenge grants totaling over $53,000, and provide crucial support in expanding our efforts in Three Oaks and beyond. Please consider helping us meet this match requirement by December 31st by making a gift of any size to The Acorn at our website.

We could not accomplish all of these important programs without support from donors like you!
Thank you for your friendship, advocacy, and support of The Acorn!
Wishing you a fabulous holiday season - see you at The Acorn!
Sincerely,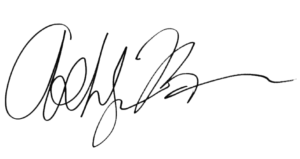 Ashley Magnus
Executive Director
---
Interview with an Acorn Artist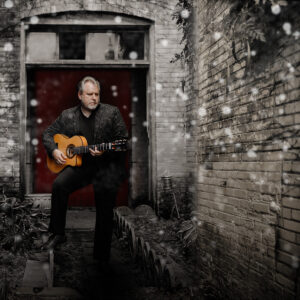 Bryan Lubeck
Bryan Lubeck's music has wide-reaching appeal with radio play in all the major instrumental radio formats including Latin, Jazz, New Age, Smooth Jazz, and Adult Contemporary. Millions of streams from his music catalog also point to his enduring popularity.
Having performed for more than 1,000,000 music enthusiasts, Lubeck's concert credits include industry legends and greats Richard Elliot, Jim Peterik, Rick Braun, Mindi Abair, Brian Culbertson, and Craig Chaquico, to mention just a few. He has honed his show into a perfect blend of romance and high-energy songs with mass appeal across age, cultural, and genre differences.
Welcome Winter is Lubeck's much-anticipated holiday release. It layers his romantic Spanish guitar stylings with an acoustic ensemble of violins, cellos, dulcimer, melodica, percussion, vibraphones, and unique acoustic instrumentation. In a nod to his childhood inspirations from popular Windham Hill music label artists, Welcome Winter continues Lubeck's tradition of holiday music.
Enjoy Bryan Lubeck: Welcome Winter At The Acorn on Saturday, December 16th at 8pm ET. Tickets are on sale now.
Q: You are no stranger to The Acorn stage. How long have you been playing at The Acorn? Do you have a favorite Acorn memory from your times playing here?
A: I've had the pleasure of playing in many venues massive and small around the world. That said, I remember feeling very "at home" the first time I hit the stage at The Acorn. It's the perfect mix of up close and personal but yet such a great professional showcase. I think my funniest moment was briefly getting lost backstage, finding the restroom and feeling an immediate Spinal Tap movie moment!
Q: Who are your biggest musical influences?
A: Gosh, so many…..I've been blessed not just in my early days listening to a deeply diverse list of influences…everyone from Jose Feliciano to Sting. Now with some time behind me I've had the blessing of performing with some of my childhood idols, Grammy winners and icons of the music industry. I think those with the most impact probably would be Sting, George Benson, Mark Knopfler, Segovia, George Winston, Lyle Lovette and more…. that is quite the spread but I think there's a flavor of each of them in everything I do….
Q: You're playing The Acorn again on Saturday, December 16th. What can fans expect from you for this show?
A: I'll be bringing my signature fusion of romantic Spanish guitar styles and smooth and energetic urban grooves to The Acorn, launching my new Holiday Album "Welcome Winter." You'll also hear Grammy winning Sax/Flute player Nick Bises (Ray Charles/Ramsey Lewis…) and special guest Ted Yoder (most watched facebook music video) and a few other holiday surprises. It will be a true welcome of the winter season as well as featuring new and familiar favorites! The band includes Aretha Franklin's keyboardist Richard Gibbs and an all star rhythm section. My album became an Amazon #1 best seller since my last show here so I'm excited to share the music that got me there as well. It will be as fun for me as the audience!
Q: Who is your favorite musician to listen to when you're not making music of your own?
A: I have found some real gems over the years that I revisit often. Keb' Mo' and Sting are true favorites but I'm also partial to lots of artists in various genres. I've had the good fortune to spend time and play with some of my childhood legends including Kenny Loggins, Jim Peterik, Vince Gill, Sheryl Crow, Michael McDonald, Seal and many others so they often find their way into my playlist.
Q: Did you always want to be a musician? What advice would you give to young artists?
A: I think for me it wasn't an option. I remember a guitar being given to me almost before I could remember and although I didn't know how to play it, it went everywhere with me. Once I could take lessons there was something in me that wouldn't let me put it down - or if I did I couldn't wait to pick it up. I still function that way…. My advice is something that Daryl Hall once told me which was to learn your craft and then insert yourself into any musical scenario you can…or if you need to, then create your own! Nothing replaces the practice of going to concerts to see others perform and performing yourself at every opportunity.
Q: Anything else you think our Acorn audience would like to know about?
A: I'd love folks to help me launch the new album "Welcome Winter" - we will be shooting a new official music video as well! If folks want to hear a tapestry of old favorites in a fresh upbeat way as well as hear some new holiday songs and musical surprises, this is the show!
The Acorn thanks Bryan for taking the time to be interviewed! We're looking forward to Bryan Lubeck: Welcome Winter At The Acorn on Saturday, December 16th at 8pm ET. Tickets are on sale now.
---
Staff Spotlight
Belle Schmidt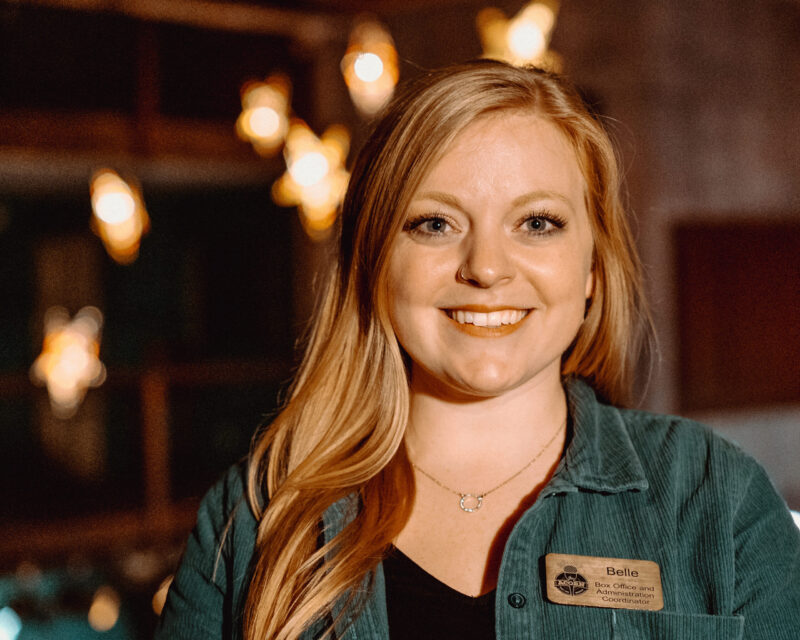 If you've attended an Acorn show any time over the past year and a half, you undoubtedly have met our Box Office & Admin Coordinator, Belle Schmidt. Belle joined our team in June 2022, but Acorn shows alone aren't the only activities that keep her busy. Belle wears many hats in addition to her Acorn one – nanny, dance instructor, choreographer and Dance Troupe director.
Belle grew up in the area dancing at the Sawyer Dance Academy and Berrien County Dancers. She attended the Ann Lacy School of American Dance and Entertainment at Oklahoma City University and holds a Bachelor's Degree in Dance and Arts Management. Currently, "Miss Belle" is a nanny to five children, an instructor at the Sawyer Dance Academy and Assistant Director for the competitive Sawyer Dance Troupe, and a choreographer for Children's Music Workshop and Twin City Players.
Q: What made you want to join The Acorn team?
A: I wanted to join a team of people who are just as passionate about the performing arts as I am. I've definitely found that in Team Acorn.
Q: How would you describe your role at The Acorn to someone you were meeting for the first time?
A: Box Office and Administration Coordinator is a mouthful but it really does encompass my position at The Acorn. I'm responsible for much of the patron communication, marketing to the community, and any administrative work including building shows for our ticketing system.
Q: What is your favorite way to spend a day off?
A: I don't have many days off since I work multiple jobs, but when I do find an occasional day off I like to hang out with my partner and our three cats watching movies and relaxing.
Q: What is your favorite memory from your time at The Acorn?
A: My favorite memory from my time at The Acorn must be the kickoff of The Acorn Dance Showcase. My worlds collided as my home studio took The Acorn stage. I felt so proud introducing the Sawyer Dance Troupe at The Acorn.
Q: What would a typical Saturday morning look like for you?
A: On a typical Saturday morning my boyfriend and I head to rehearsal for Children's Music Workshop where he directs and I choreograph children's musicals.
Q: Who inspires you?
A: I have many strong women in my life that each inspire me for different reasons. They've all rolled with the punches of life, been both independent and supported by others, and become true to who they are with confidence and grace.
---
Acorn News
Art at The Acorn – Nicolina Holt Been a Boy
Visual Arts Initiative Continues – Open for Submissions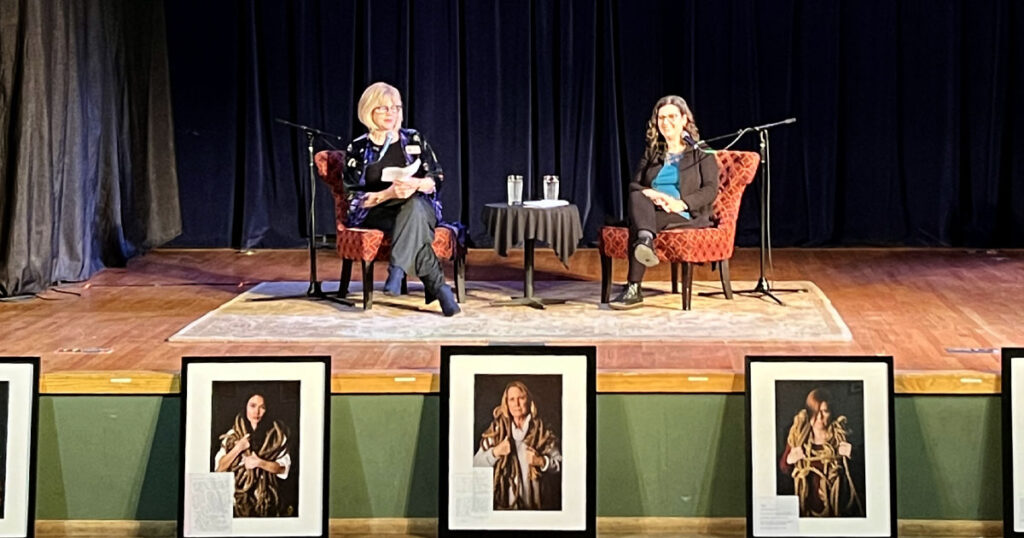 Artist Nicolina Holt with Janet Davies for a Q&A with those in attendance for an Artist Reception on October 17, 2023 to celebrate Holt's work 'Been a Boy,' along with additional pieces from her 'Irrelevant' series.
Art at The Acorn has brought our physical space to life in exciting ways. The performing arts can be complemented in a special way by the visual arts. With our first exhibition which featured Frank Kurland, and this new body of work from fine arts photographer Nicolina Holt, we see the impact that a cohesive installation of art can have on our unique space and the experience of those who enter our doors.
Nicolina's exhibition, Been a Boy, deconstructs expected norms in the domestic and public space by intentionally challenging gender roles. From her Artist Statement, Nicolina explains: "The photographs are a symbol of empowerment for women. From a young girl playing football to a woman of color conducting an orchestra, these women break through gender stereotypes with confidence and grace. They are everyday heroes that have quietly stepped into these positions. Been a Boy addresses the need for continued awareness of the oppression of women in the home and the public sphere, but most importantly, it is a celebration of the women that break the glass ceiling."
We remain open for Artist Submissions for consideration for a future exhibition. Artwork exhibitions rotate once approximately every three months. One Artist is featured during each exhibition/rotation period. Depending on size, generally up to ten to twenty pieces can be displayed.
Interested artists should fill out an Art at The Acorn Artist Submission Form.
For more information on Art at The Acorn and our current exhibition, please visit our website.
Inaugural Boo Ball Held
Fundraiser Benefiting The Acorn Center for the Performing Arts Full of Frightful Fun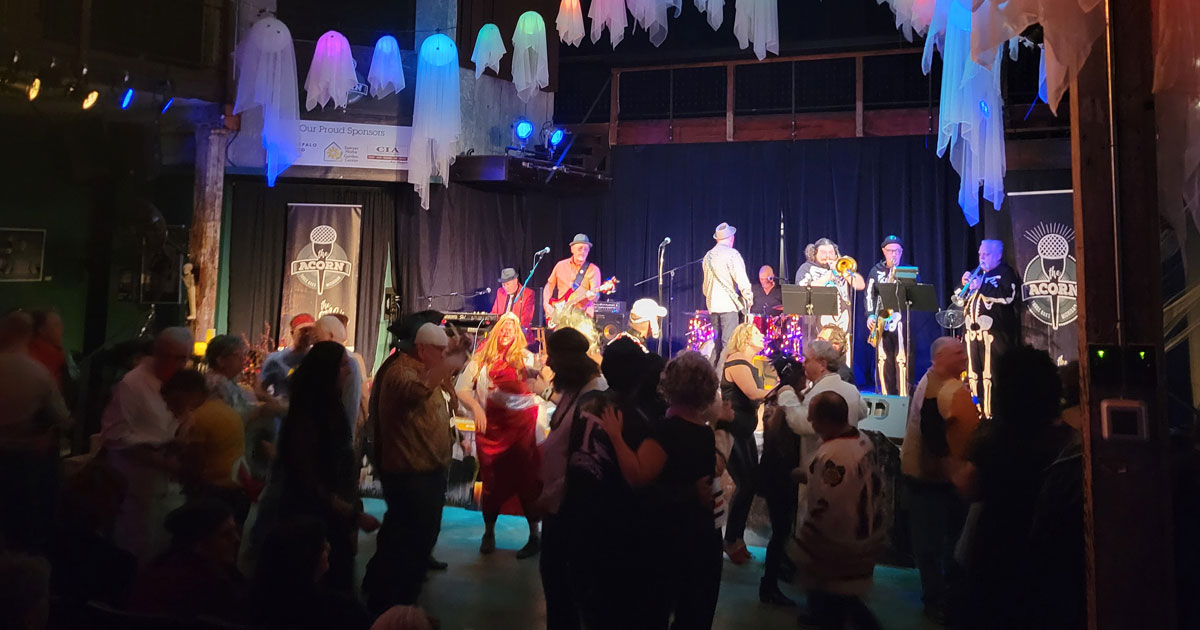 The Acorn was completely transformed for our first-ever Boo Ball on Saturday, October 28, 2023. Not only did everyone in attendance have a wonderful time, but the fundraiser was a huge success, raising over $25,000 to support The Acorn Center for the Performing Arts!
The first-ever Boo Ball fundraiser on October 28th was a resounding success, raising over $25,000 to support The Acorn Center for the Performing Arts! We are grateful for all the hard work and creativity from our Events Committee who made it all possible! Thank you to Chair Janet Davies, Brett Boyd, Teri Frantz, Deb Gunderson, Laura Jolly, Vicki King, Laurie Koehler, Paddy Lauber, Kim Murphy, Lani Myron, Allison Strauss, Shelley Thomson and Jan Tomecek.
We are also grateful to our sponsors: Classic Catering and Events, Original Rago Brothers Funeral Homes, Maureen Culp RE/MAX Harbor Country, Laura and Fred Jolly, Eileen and Rich Kochanny, Kim and Bob Murphy, Park Hyatt New York, Cari and Mark Stables, Vickers Theater, Chef Shelley Young and The Chopping Block.
An event like this cannot happen without the help and support of our dedicated volunteers, who we'd like to thank as well: Dianne Burgis, Joanne Davidhizar, Catherine Doll, Dawn Galluzzi, Karen Haasen, John Knox, Rasa Lakas, Michael Lasswell, Karen Leurck, Bob Leurck, Jennifer Nagy, Chuck Osgood, Kristen Robinson, Richard Russell, Greer Shoup, Hillary Stifler, Steve Wadley and Lawrence Wroblewski.
The Shams Band and Expo '76 provided the entertainment and kept our guests dancing. Fortunes were told, drinks were had (jello shots in syringes and cocktails in blood bags, anyone?), and freakishly fabulous food was enjoyed by all. Costumes were impressive indeed, with special awards given, including the best group costume (Golden Bachelor and his bachelorettes). Through our live auction, over $9,000 was raised, with the auction winners having such things to look forward to as a private meet and greet with Shemekia Copeland, taking over Vickers Theater for a night, a decadent dinner party, and even a trip to New York City!
We hope to see all of you for the second annual Boo Ball in 2024!
2023 Spectacular Tournament of Playwrights Winner Chosen
Acorn Playwright Competition Returns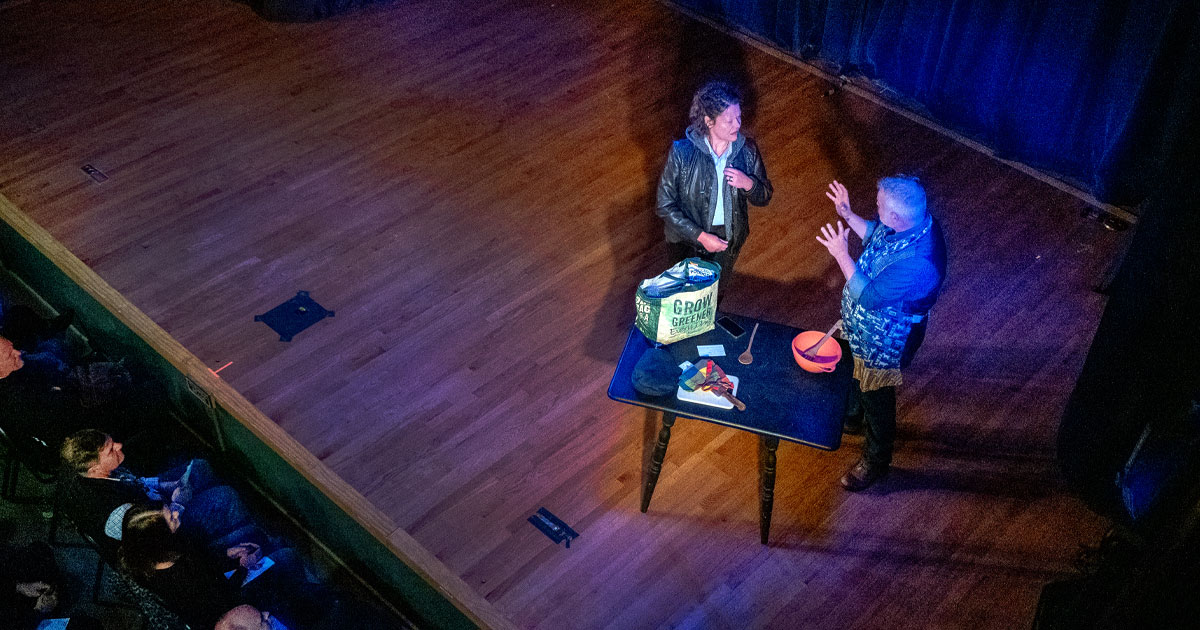 Actors Heidi Ferris and Jonathan Wilson
of the Beckwith Theatre Company bring the work of Shawn Samuelson-Henry to life on The Acorn stage. Henry's play, "Schadenfreude Doesn't Become You, Babe" was chosen by the audience as the winner of the 2023 Spectacular Tournament of Playwrights on November 4, 2023. "Schadenfreude Doesn't Become You, Babe" was directed by Tucker Curtis.
After a 4-year hiatus, the Spectacular Tournament of Playwrights took The Acorn's stage once again. The finals took place on Saturday, November 4th, 2023 after an accumulation of many months of preparation and hard work by three regional theater groups: Twin City Players in Saint Joseph, the Beckwith Theatre Company in Dowagiac, and The Tin Shop Theater in Buchanan. This is the first year back for the competition, the last one taking place in 2019.
Initially, thirty-seven short plays were submitted. Playwrights had two months from the launch of the competition to refine their work and send in their final product by the end of May. Plays came from across the United States (and one from the U.K.), with many coming from the greater Chicago area and plenty from our own region of Southwest Michigan. From there, a group of fourteen members of the regional theater community read through each play, judging on the criteria of messaging, voice, story, and originality. Finally, we had narrowed it down to the final six plays to be brought to life on The Acorn's stage for the finals on November 4th. We had minimal costumes, sets, and only the essential props to further accentuate the writing itself.
By the end of the night, the audience had selected Shawn Samuelson-Henry's Schadenfreude Doesn't Become You, Babe as the winner of the 2023 tournament. Second place went to Steven Satta's Floating Down to Camelot, and third went to Kyle P. Berry's Softball Bros. Our winner, Shawn Samuleson-Henry, has entered and competed in the Spectacular Tournament of Playwrights in the previous years it was held, and was so grateful and excited to take first place in the competition this year.
It was a truly wonderful evening to bring together playwrights from Benton Harbor, Stevensville, Naperville IL, Davidson NC, and right here in Three Oaks. A big thank you to directors Scott Bradford from Twin City Players, Tucker Curtis from the Beckwith Theatre Company, and Kelly Carlin from The Tin Shop Theater for taking on these six plays and bringing them to life on our stage. We are so grateful to bring this program back, and for the warm reception from all those who were able to attend the evening of the finals!
Nationally Recognized New York City-Based JazzReach Comes to The Acorn
Music Education Comes to The Acorn for Local Schools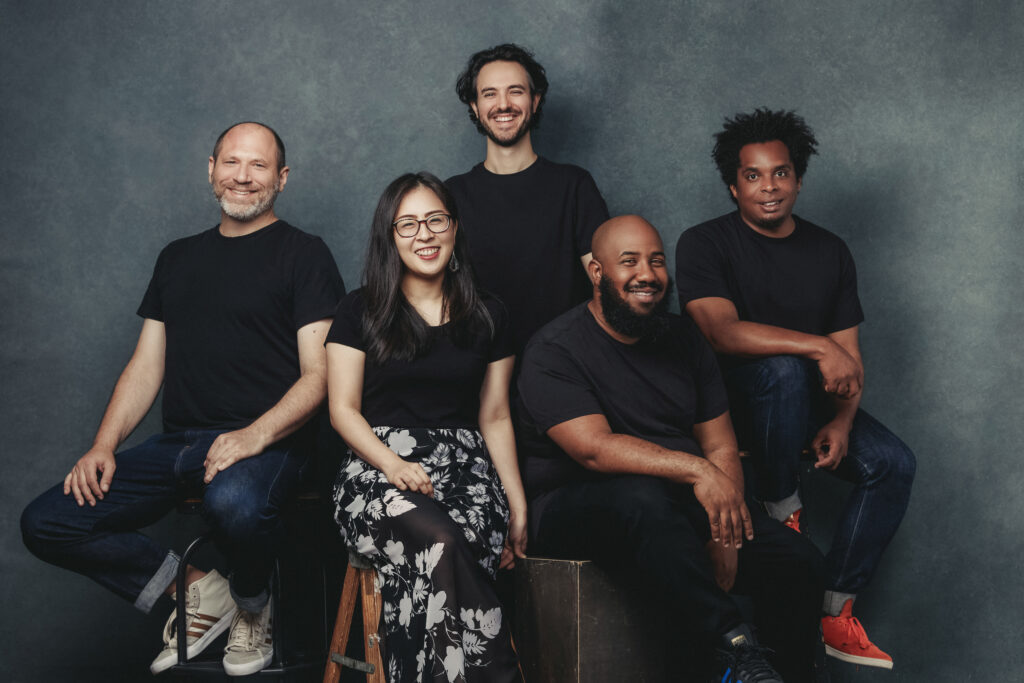 JazzReach Metta Quintet comes to The Acorn this November to provide valuable music education enrichment experiences to local students.
We are thrilled to bring nationally recognized New York City-based JazzReach to The Acorn for two days of educational and community programs on November 28 and 29.
Working with River Valley Schools, Bridgman Schools, St. Joseph High School and the School of American Music, students will be offered daytime programming both at The Acorn and in the schools. This will include highly engaging and interactive multi-media experiences for over 500 students from kindergarten through high school. Each day culminates with an evening concert featuring JazzReach's renown Metta Quintet.
Night One brings Big Drum / Small World featuring commissions from jazz composers hailing from West Africa, Israel, Cuba, Puerto Rico, India and the United States. Each unique composition is inspired by elements of both the American jazz tradition and the indigenous music of each composer's respective country of origin.
Night Two brings Stolen Moments: The First 100 Years of Jazz – a thoroughly captivating and informative program that introduces audiences to jazz music's rich history and to the names, faces and music of some of its many masters.
Please consider supporting this exciting educational opportunity for Harbor Country Area Students! By making a tax deductible donation to our JazzReach 2023 Campaign you can help to provide valuable funding for this program.
---
Program Recap
Highlights
Check out some of these recent moments at The Acorn.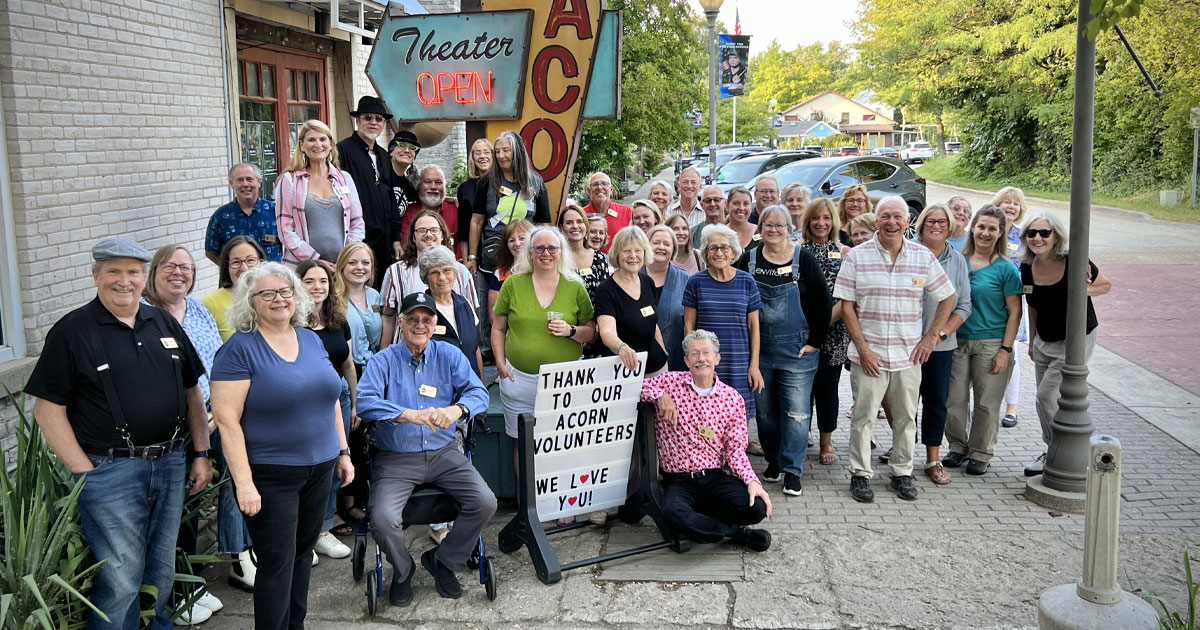 On September 10th, we gathered with our Staff and many members of our Board to celebrate our ever-growing and dedicated volunteers. Thank you to several Three Oaks businesses for helping us treat our volunteers to Patellie's pizza and raffle prizes from P&E Bottle Shop, Froehlich's, Alapash and Vickers Theatre. We recognize our volunteers who make it possible for us to do what we do here in our community! Want to join the volunteer team? Visit our website and sign up today!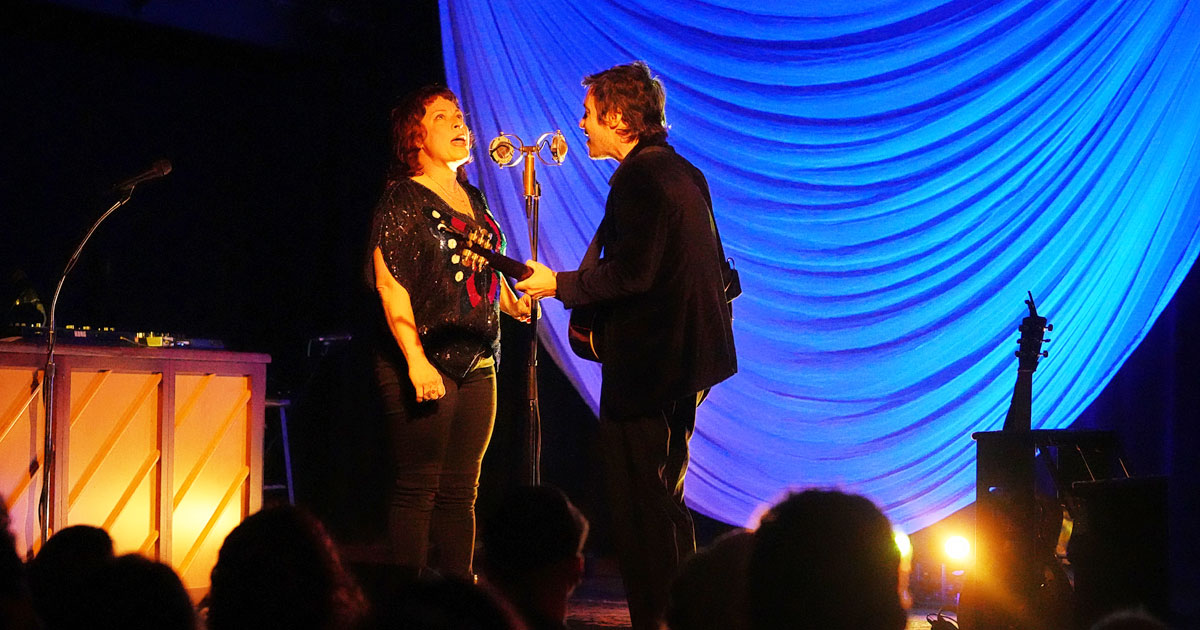 American folk duo Shovels & Rope had the rapt attention of a sold out audience on October 7, 2023, fans with deep love and appreciation for the music of Michael Trent and Cary Ann Hearst. Two hours of music included songs from their latest album 'Manticore,' along with fan-favorites like Coping Mechanism and Mary Ann & One Eyed Dan. Photo courtesy of Susan Ward Trestrail.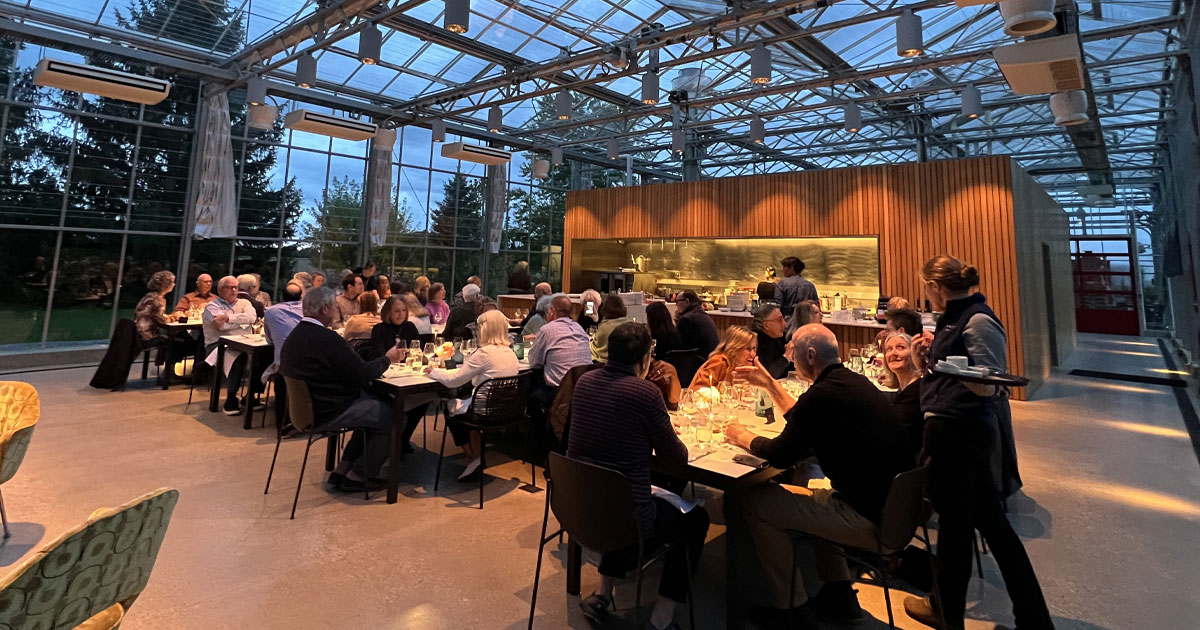 Supporters of The Acorn gathered on October 15, 2023 for an evening filled with informative discussion, laughter and conversation, friendship, and, of course, a beautiful meal. Many thanks to Abra Berens, Anna Rafalski and the entire team at Granor Farm for their partnership, and thank you to all who attended. The support we received enables us to extend our Mission further into the community.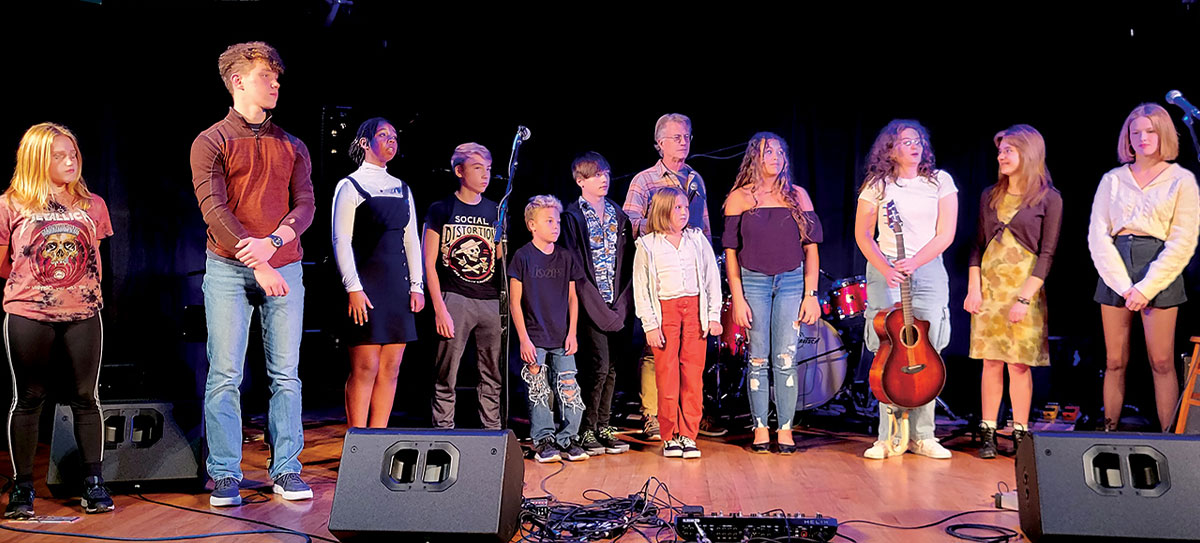 In the first-ever Youth Open Mic Night, twelve talented young performers took to The Acorn stage – ranging in age from 9 to 16. A powerhouse band of three siblings from northwest Indiana opened the show, followed by other performances featuring impressive vocals and instrumentation, including ukulele, acoustic and electric guitar. A number of schools were represented, including La Porte High School, Brandywine, St. Joseph, Gull Lake High School and more. Plans are underway for another Youth Open Mic Night in April 2024. Please email openmic@acornlive.org for information. Photo courtesy of Dave Johnson, Harbor Country News.
---
Schedule of Shows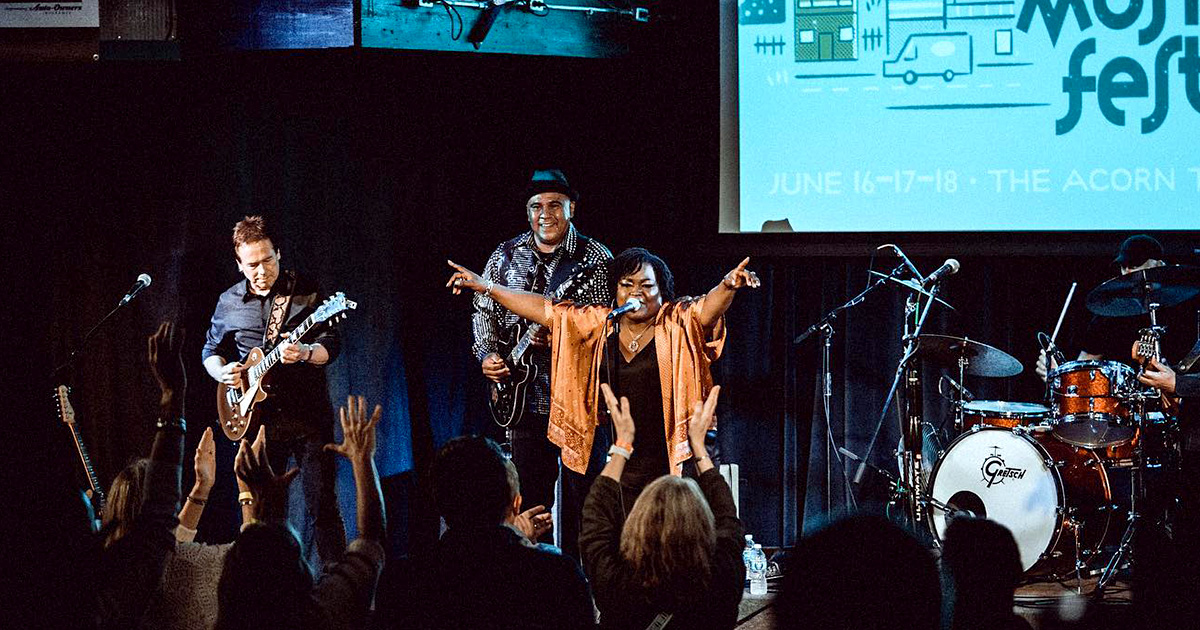 Shemekia Copeland performs at The Acorn Music Festival on June 16, 2023. Photo courtesy of D. Anson Brody.
Friday, November 17
Mike Struwin + Mark Ficks – A Midwest Made Show
Saturday, November 18
Echoes of Pompeii
Wednesday, November 22
Club Acorn Presents Dancing Queen: An ABBA Salute
Friday, November 24
Club Acorn Presents Dancing Queen: An ABBA Salute
Saturday, November 25
The Acorn Tree House Presents Sean Masterson's Timeless Magic
Saturday, November 25
PureSoul Presents: A Merry Motown Christmas
Sunday, November 26
Elf – A Holiday Movie Event
Tuesday, November 28
JazzReach Metta Quintet at The Acorn – Big Drum / Small World
Wednesday, November 29
JazzReach Metta Quintet at The Acorn – Stolen Moments: The First 100 Years of Jazz
---
Friday, December 1
Charlie Parr
Saturday, December 2
The Ides Of March Christmas Show featuring Jim Peterik
Friday, December 8
The Bergamot - A South Shore Christmas
Saturday, December 9
Heartache Tonight - A Tribute to The Eagles w/ Tom Carey and the Ghost Runners
Friday, December 15
Acorn Holiday Open Mic Night featuring Daniel Cole Dailey
Saturday, December 16
Bryan Lubeck: Welcome Winter At The Acorn
Sunday, December 31
Shemekia Copeland: A New Year's Eve Celebration
---
COMING SOON!
Holiday Season – Entertainment for All Ages!
2024 Announcements!