The Acorn's Dance Showcase - CC Dance and Diamond Dance Academy
Sunday, Feb. 19 | 3:00pm ET
(2:00pm CT)
The Acorn proudly presents a series of Dance Showcase events in January and February, featuring five local dance studios.
The Acorn Dance Showcase
Tickets: $10 General Admission, Kids 12 and under free
Package rates are available for general admission and reserved seating.
About About CC Dance
Connie Alti was only 18 when her beloved dance teacher, Violette Bryant Schadler, succumbed to breast cancer just weeks before her studio's annual dance recital. Students and parents asked Connie to step into Violette's slippers. Connie did so admirably, and what came to be known as the Connie Cassidy School of Dance took shape and grew. Over more than six decades Connie offered many thousands of students "A lifetime of dance," and Connie's daughter, Cammie Cassidy Hernandez continues to celebrate that legacy. Now operating under the name CC Dance, we embrace Connie's vision of creativity, character, and community, by offering a quality dance education in a warm, inviting environment where all are welcome and valued. We love to dance, and we share that love freely, just as Connie did.
For more information, please visit https://www.facebook.com/conniecassidyschoolofdance
---
About Diamond Dance Academy
New to the area and located in Cassopolis Michigan, Diamond Dance Academy is committed to giving its community and surrounding areas a high-quality studio where all can express themselves. Creating a safe, professional and educational environment that instills confidence, discipline, respect, and a great love for the art of movement. "Diamonds are formed under pressure, but never forget, they are not formed overnight."
For more information, please visit www.diamonddanceacadem4.wixsite.com/diamonddanceacademy
---
Click here to learn more about Acorn Covid-19 Policy.
---
RESERVED SEATING DONATION option includes a $25 tax-deductible donation to The Acorn and guarantees you a seat with optimal sightlines. $25 Donation per ticket holder in your group.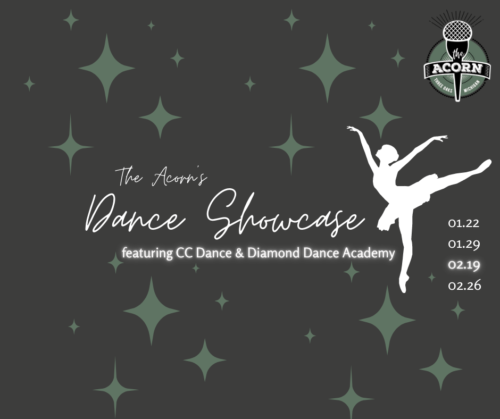 Box Office opens at 2pm ET
Starts 3:00pm, doors open 2:00pm