Letter from the Executive Director | Interview with an Acorn Artist | Patron Spotlight | Acorn News | Acorn Updates
---
Letter from the Executive Director
Beth Kaskel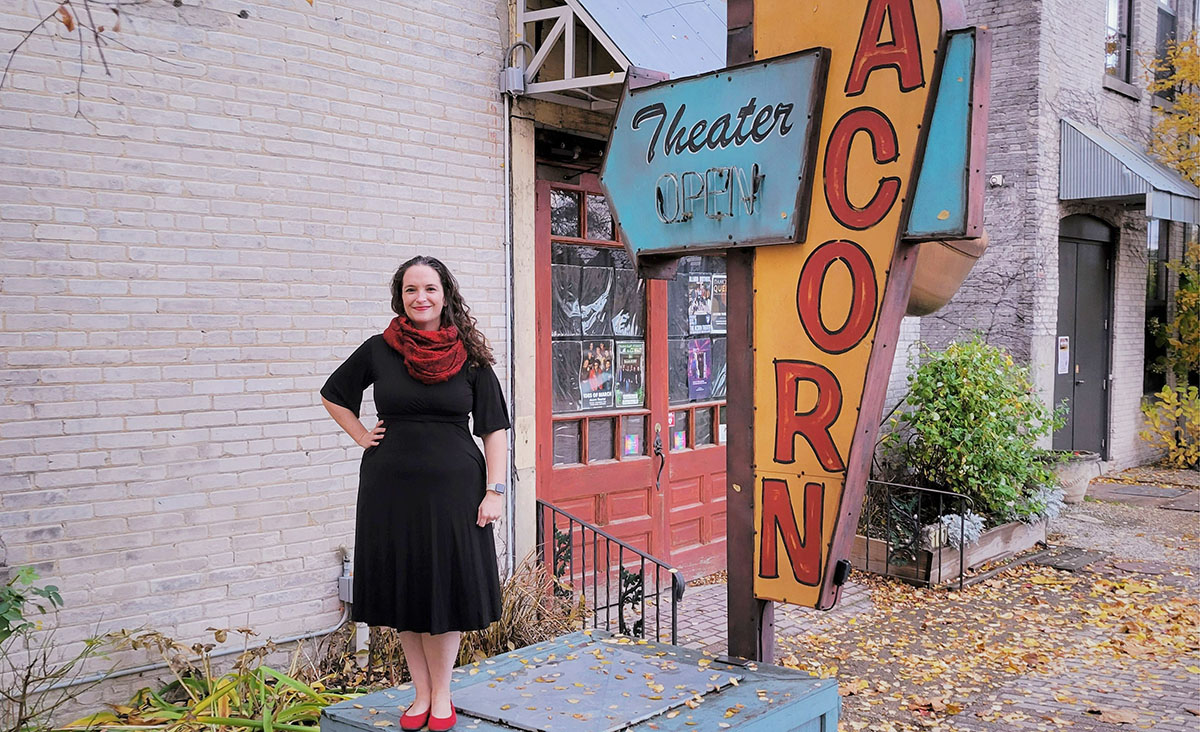 Hello Acorn Supporter-
My name is Beth, and I have the immense privilege of being the new Executive Director of this wonderful nonprofit. I'm grateful to The Acorn's Board of Directors for offering me this opportunity and am excited to spearhead the next chapter for this amazing organization.
As I finish up my first four months at The Acorn, I wanted to reach out and introduce myself. I've been a long-time fan – attending my first show, Poi Dog Pondering, at The Acorn in 2008. I've also had two decades of experience producing and presenting music, theater, and dance at cultural institutions big and small.
We started this newsletter to give you insight into the happenings at The Acorn. Here we'll:
Welcome you behind the scenes.
Spotlight the amazing artists on our stage.
Introduce you to the volunteers who help us accomplish so many things we could not do on our own.
We hope you enjoy this peek behind the curtain, and welcome you to join us!
The Acorn, like so many performing arts organizations, has been hard hit by the pandemic. Our industry was the first to close – and one of the last to reopen. The last 18 months have forced us to be resilient and creative as we found new ways to bring music to our community.
It has been positively joyful to reopen and safely welcome audiences back inside The Acorn once more! We have worked tirelessly to create an environment that is as responsible and comfortable as possible. We are ecstatic to welcome back artists who have also been unable to perform during this time, and are grateful to our patrons in supporting us as we navigate this new terrain together.
Since re-opening our doors to in-person performance in May 2021 we have welcomed:
7,078 people to…
45 performances in and around Three Oaks at…
6 Acorn Anywhere! locations!
We could not have done this without our loyal patron support. We are so grateful.
To those of you who have warmly welcomed me to Three Oaks, Thank You! It's been so wonderful to meet you. And to those I have not yet had the pleasure to meet, please say "hi!" next time you're at the theater.
Warmly,


Beth Kaskel
---
Interview with an Acorn artist
Dylan Reed Leavitt
Dylan was the winner of The Acorn's 2020 Singer Songwriter Competition. Her original style and natural audience rapport has built her a significant following. She also has impressive vocal ability - effortlessly moving between high and low pitches, incorporating interesting embellishments and adding dynamic expressiveness. In addition, Dylan is an accomplished musician and singer songwriter. Once you experience one of her unforgettable performances, you will absolutely want to see her again.
Q & A with Dylan
Give us a bit of background. How old are you? Where do you live? How long have you been performing/studying? What instrument(s) do you play? What artists do you emulate?
Dylan: I'm 17 years old, turning 18 in April. I live in Chesterton, Indiana. I've been studying music through various mediums and instruments for my entire life. Drums, violin, cello, ukulele, piano, and vocal lessons with my coach, Amanda Smolek. I've been told that I emulate some of Dodie and a bit of The Beatles.
You won Acorn's Singer Songwriter Competition in 2020, held outdoors on a farm because of COVID-19. What kind of impact did that experience have on you? How has it shaped decisions you are making now in terms of your music? What other Acorn experiences have you had that have had a positive impact on your life as an artist?
Dylan: After winning, I remember I didn't feel so silly pursuing music as a career because it had just been proven to me that I actually have a shot in this world. From then on, I would go on to compete in even more competitions, including but not limited to YoungArts Week. Long after winning, The Acorn still so thoughtfully reaches out to me about future opportunities. The monthly open mics are a blast!
Where to next? You are in the process of college applications. What are your top choices right now and what will you be majoring in? Where do you see yourself 5 years from now?

Dylan: Right now, my top choice is University of Miami, Florida, Frost School of Music. I plan to major in Modern Artistry Development and Entrepreneurship. If I'm being honest, I have no idea where I'll be in five years. I try not to think too far ahead and create expectations.
Anything else you think our Acorn audience would like to know about?
Dylan: There is truly no better place to meet dedicated performers than The Acorn. If you want a place to get inspired, this is the place for you!
---
Patron Spotlight
Laurie Koehler and Debra Gunderson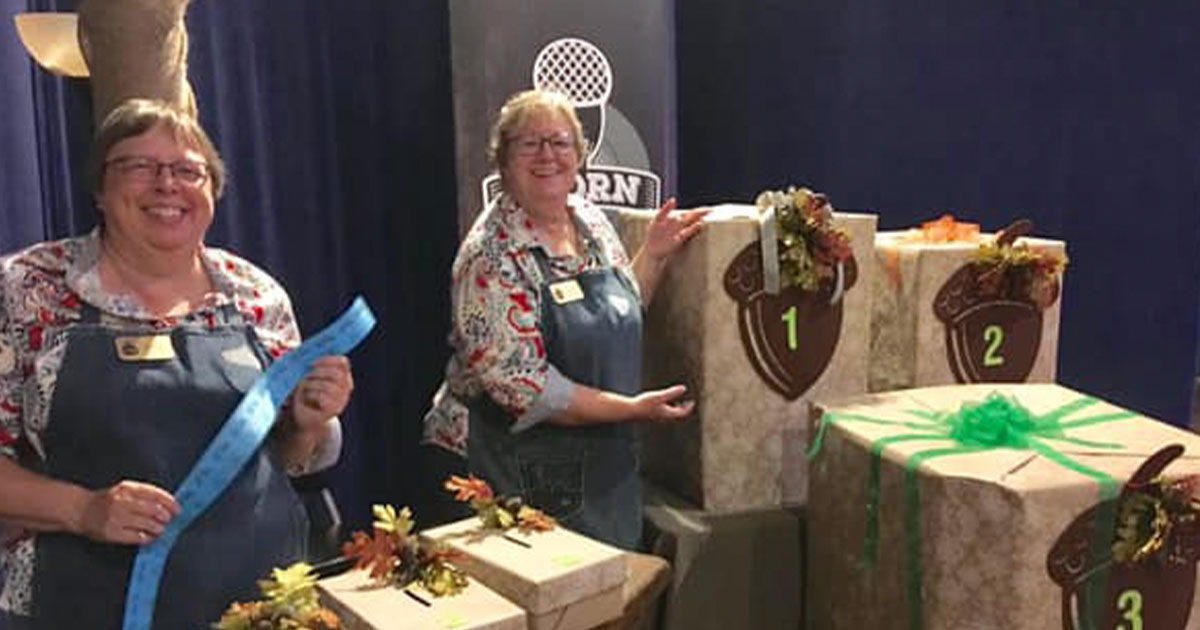 We're so grateful to Debra Gunderson and Laurie Koehler for all that they do - usually together - to support us at The Acorn! Around here, they are known as "The Acorn Sisters" and you'll find them volunteering at shows, getting in the weeds (literally!) to keep our grounds looking beautiful, helping with sewing projects, cooking a meal for one of our artists, decorating the theater for the holidays and more!
Laurie Koehler started volunteering at The Acorn first, about seven years ago and her sister, Debra Gunderson, followed about two years later. Laurie initially felt that volunteering would be a good way to meet new people and see some great shows. For her part, Deb says: "I had helped my sister, Laurie, cater a few meals for her Irish lads [Celtic Thunder] and got to know both Margaret and Sandra. They encouraged me to become an 'official' volunteer and I did."
As for favorite Acorn volunteering memories? For Deb, it was helping with the 2019 benefit "Denim, Diamonds & Dancing." She recounts, "The staff and the volunteers that night had to all pull together to work as a team, and it was a most successful evening. We raised a lot of money and had a lot of fun too!" Laurie describes her favorite Acorn volunteering memory this way: "Feeding all the members of Celtic Thunder at their individual shows, especially when Emmet Cahill bought me a latte from Conways!"
When we asked The Acorn Sisters to name their favorite musician they've seen perform at The Acorn, Laurie responded: "I couldn't possibly pick just one, there are 8... Ryan, Neil, Keith, Paul, Damian, Emmet C, Emmett O, and Colm. All members of Celtic Thunder!" Debra also couldn't choose just one, saying: "Oh there are so many I can't just pick one! What I enjoy about The Acorn is the diversity of the shows it offers. From individuals like Colm Keegan and Byrne & Kelley to the Ides of March, Al Stewart, and the Grass Roots. I loved watching Ed Asner's one-man play and enjoyed meeting and chatting with him. My most recent favorite was Dennis Quaid as my sister and I got to cook for him, and I also got to be his handler for he and his wife and their dog Peaches! Such nice people and so down to earth."
"Fun Facts" about The Acorn Sisters:
Laurie: "I love Donny Osmond and have his autograph. I also still own my first Osmond tee shirt, it's over 50 years old."
Deb: "I am also a volunteer lighthouse keeper. I volunteer for several weeks during the summer at both the Big Sable and Little Sable lighthouses up north near Ludington."
Where is your favorite place to travel?
Laurie: "My sister and I travel all over the state of Michigan. I love Ludington, Grand Marais on Lake Superior, and the Grand Hotel on Mackinac Island."
What are your hobbies/pleasures in life?
Deb: "Spending time with my family. I travel, I am a photographer and a genealogist. I also garden, paint, and enjoy crafting and sewing."
---
Acorn News
Turner Stage Named and Celebrated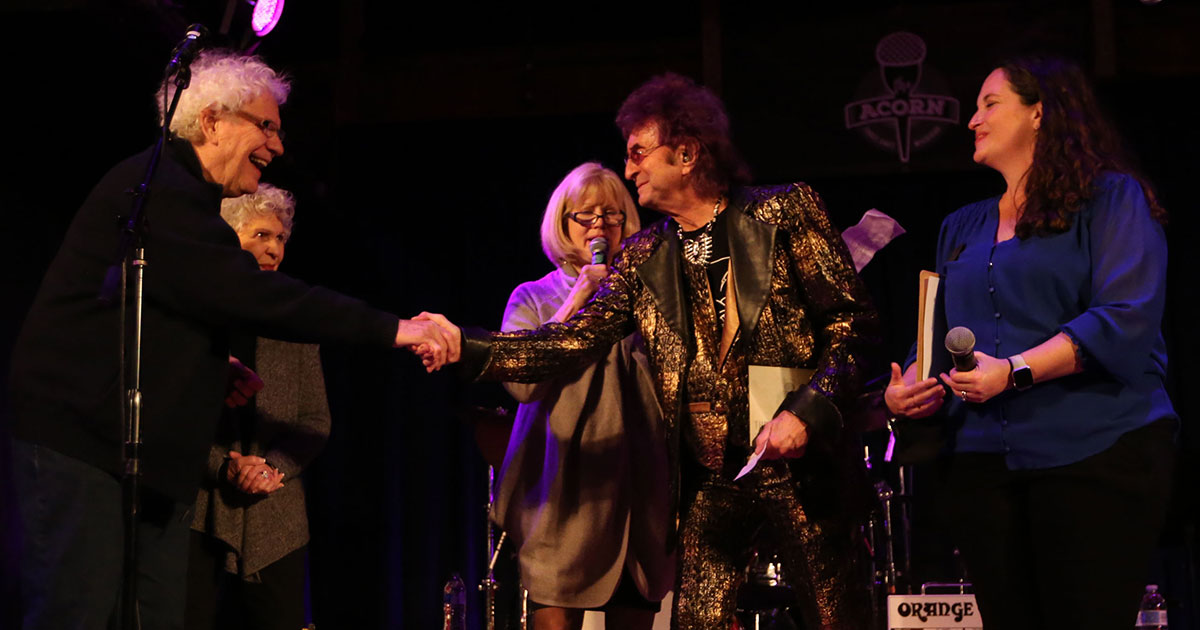 Photo: Bob Wellinski
Before Grammy-Winning, Oscar-Nominated Jim Peterik and his band, The Ides of March, wowed an energetic audience on November 12, The Acorn's Board of Directors honored Allen and Lynn Turner with a permanent plaque to recognize their generous contribution to fund the creation of the Acorn stage you see today. Going forward, the stage will be known as The Turner Stage to pay tribute to their philanthropy. The Turners have continued to be benefactors to The Acorn and we are incredibly grateful for their generosity.
A Fond Farewell to Sandra Thompson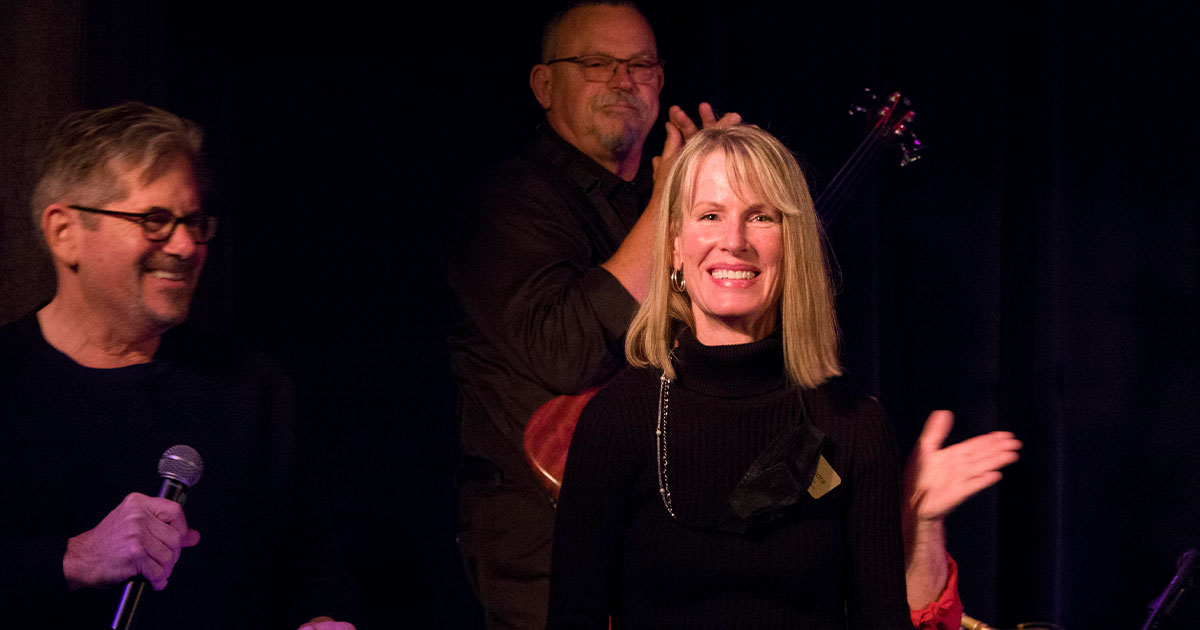 Photo: Chuck Osgood
As many of you probably know, this month Sandra Thompson is closing out her nine years of service to The Acorn. Sandra began as General Manager of The Acorn in 2013. In 2015, in order to keep the doors open, she led the efforts to move the organization to nonprofit status, and shifted into the role of Executive Director. Under her leadership, the organization was able to stabilize, evolve and expand its offerings to the community. Last year with the help of many others, she navigated the tricky waters of COVID-19, developing the Acorn Anywhere! brand and taking shows outdoors all over Southwest Michigan and Northern Indiana.
After completing her time as Executive Director in 2020, Sandra continued to work tirelessly this past year as Artistic Consultant to The Acorn. She organized Acorn programming, including Open Mic Nights and our Singer Songwriter Competition, along with bringing so many talented performers to our stage and working with our outside producers on quality shows for The Acorn. The list goes on and on. She will be greatly missed!
We look forward to seeing Sandra in The Acorn audience as a patron at events in the future. Please join us in wishing her well! In the words of Board Member Bob Beemer, "If you love The Acorn in the past nine years, you might want to say 'Thank You' to Sandra."
---
Acorn Updates
Highlights
Checkout some of these recent moments at The Acorn.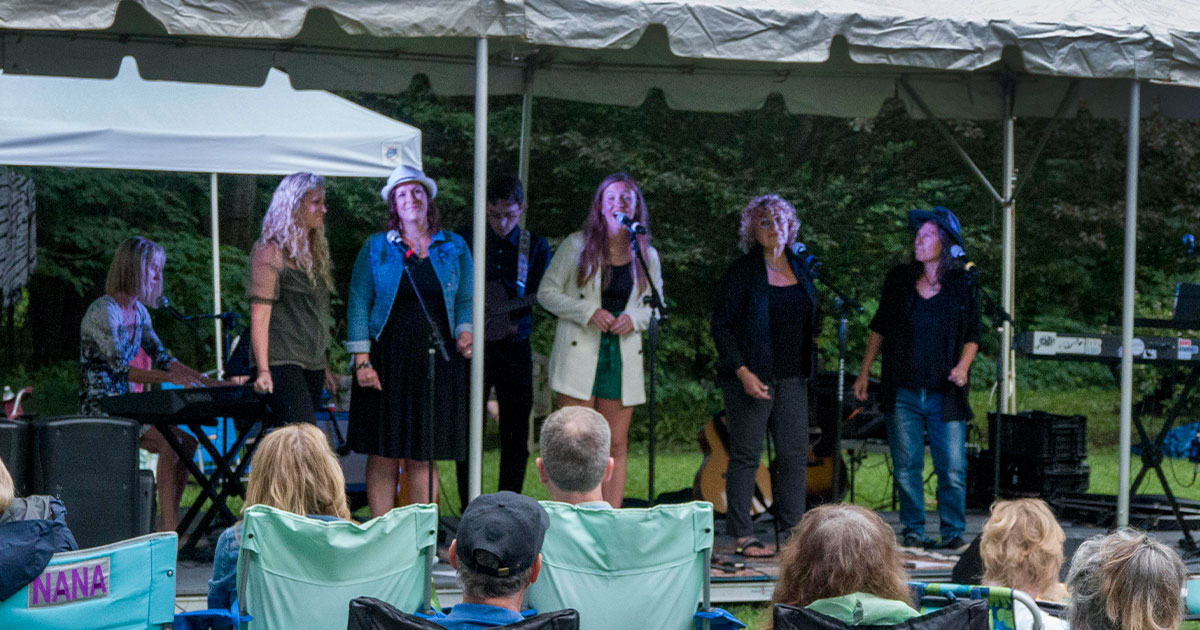 Our Acorn Anywhere! series brought us to Fernwood Botanical Gardens July 10, 2021 for The Music of Carole King featuring Patti Shaffner, Natalie Gaza, Priscilla Sabourin, Nikki Gauthier and Abbie Thomas. The sold-out crowd enjoyed favorite hits from one of the most influential songwriters of our time.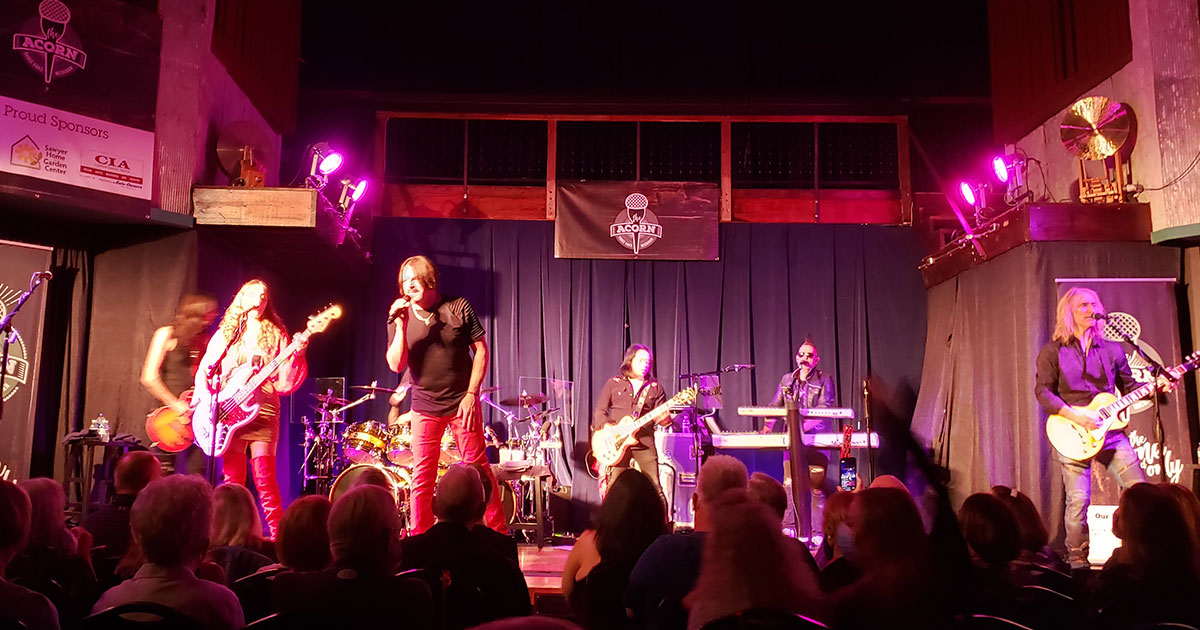 Boston lead singer Tommy DeCarlo and his band rocked The Acorn stage on October 1, 2021. Tommy has performed on every Boston tour since 2007 playing to sold-out audiences all over the world. The evening's double bill opened with American Idol finalist Rudy Cardenas performing the music of Journey.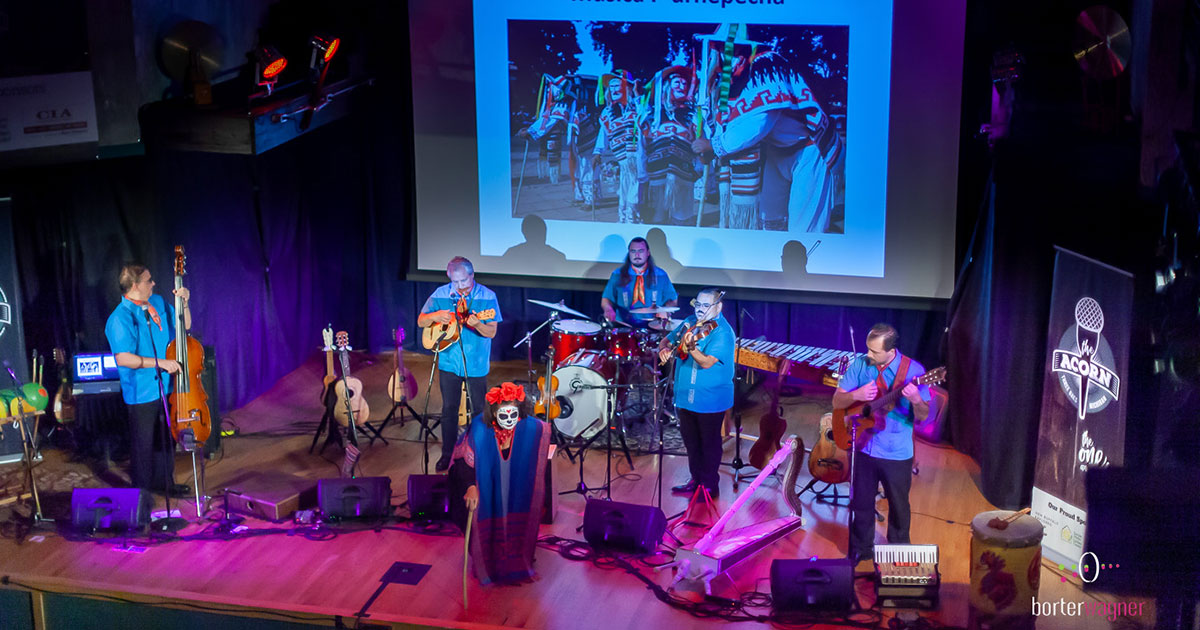 photo: borterwagner photography
Grammy-nominated Sones de México brought the community together October 27, 2021 for Beyond the Music: A Musical Geography of Mexico. Presented by Harbor Arts and The Acorn, sponsored in part by the National Endowment for the Arts.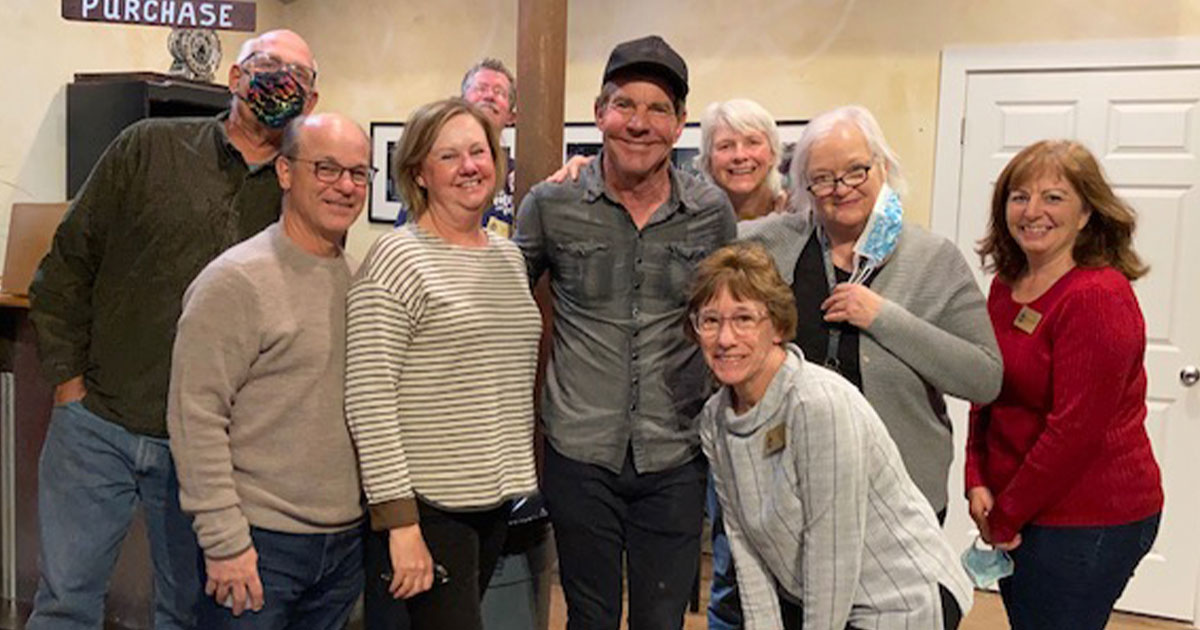 Emmy® Award and two-time Golden Globe® nominee Dennis Quaid delighted a sold-out Acorn audience with his musicality and storytelling when he performed in concert on November 7, 2021. Our Acorn volunteers were treated to a special visit with Dennis before the show.
---
What's Next
Friday, November 19
Midnight Rider - Allman Brothers Tribute
Wednesday, November 24
Dancing Queen: An ABBA Salute
Saturday, November 27
The Newports
Thursday, December 2
Open Mic Night hosted by Dylan Reed Leavitt
Friday, December 3
The Nielsen Trust
Saturday, December 4
We Banjo 3
Sunday, December 5
Classical Blast: Dark Side of the Yule
Friday, December 10
The Bergamot: A South Shore Christmas
Saturday, December 11
Henhouse Prowlers
Sunday, December 12
The Empty Pockets Holiday Spectacular
Wednesday, December 22
Acorn Holiday Open Mic Night
Thursday, December 23
Christmas at The Acorn
Wednesday, January 19
Jethro Tull's Martin Barre
COMING SOON! More 2022 Show Announcements with new tickets on sale!