2023 Spectacular Tournament of Playwrights SUBMISSION DEADLINE
Wednesday, May. 31 | 11:00pm ET
(10:00pm CT)
Calling all playwrights and theater-lovers, The Acorn is proud to announce that the Spectacular Tournament of Playwrights will be returning to The Acorn stage!
The deadline for entry is Wednesday, May 31st at 11pm ET
Six finalists will be announced to the public in August, where they will have the opportunity to see their production brought to life on The Acorn stage, interpreted by top tier actors and directors in our community.
Mark your calendars today, because you will all have the chance to see these productions come to life on Saturday, November 4th, 2023 for a night of performances and storytelling. Audiences will also have the exciting opportunity to vote for the winners! More information coming soon.
Click on the "Get Tickets" to complete your entry form.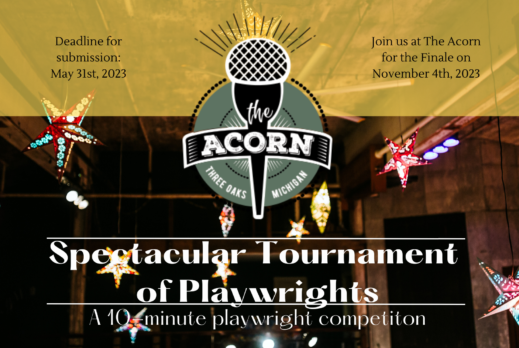 Starts 11:00pm, doors open 11:00pm