The Music of Pat Benatar
Saturday, Apr. 29 | 8:00pm ET
(7:00pm CT)
Pat Benatar is a four-time Grammy winner who remains a bold and distinctive artist. Benatar and her husband, guitarist Neil Giraldo, have collaborated in love, life and music for 40 years as one of rock's most enduring couples. They have recorded 15 Billboard Top 40 singles, two multi-platinum albums and five platinum albums.
1979 debut album, In the Heat of the Night, served as Pat Benatar's North American breakthrough with hits "Heartbreaker" and "We Live for Love" being standouts.
Born Patricia Andrzejewski in Brooklyn, New York and raised in Lindenhurst, Long Island, Pat started singing in elementary school and never stopped, working on her craft throughout her teens. In 1973, Benatar quit her job as a bank teller to pursue a singing career full time after being inspired by a concert she saw in Richmond, VA. She got a gig singing with a lounge band called Coxon's Army, who soon became regulars at Sam Miller's Basement Club and fairly well known in and around Richmond. In 1975, just as Coxon's Army was about to break, and against the advice of everyone involved, Benatar quit the band.She packed everything she owned into her car and headed back to NYC alone, with only $2,500 in her pocket. And she never looked back.
Pat Benatar is acknowledged as the leading female rock vocalist of the '80s – a feat marked by her unprecedented winning of four consecutive Grammy Awards between 1980 and 1983, as well as three American Music Awards – but Benatar and Giraldo remain a rock 'n' roll powerhouse today, selling out concerts and still wowing audiences after over three decades in music together. Theirs is a chemistry that will, undoubtedly, be thrilling music-lovers forever.
The Music of Pat Benatar features an all-star band made up of local musicians who've come together to celebrate and pay tribute to rock legends Pat Benatar and Neil Giraldo. Our singers are joined by —
Simon Hurst — keyboards and guitar
Buddy Pearson — bass
Sonny Carreno — drums
Caitlin Faust — violin and background vocals
Rafael Chavez — lead guitar
Expect iconic tunes like Heartbreaker, Love Is a Battlefield, Shadows of the Night, Hit Me with Your Best Shot and so much more! Get up and dance and sing along to all your favorite songs!
About the Artists: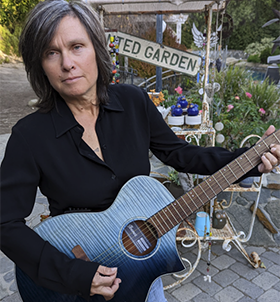 Natalie Gaza
Singer/Songwriter Natalie Gaza infuses powerful introspective lyrics with a unique folk/rock musical energy. Her multi-layered song structure and skilled guitar work deliver a memorable listener experience. Natalie has played a wide variety of venues including the beautiful Memorial Opera House in Valparaiso, Indiana, historic Roberts Hall in Lynn Haven, Florida and the iconic House of Blues in Chicago, Illinois. Her CD 'Constant Mercy' was included in John King's Top 15 Albums in NWI Entertainer Magazine with select tracks highlighted on WXRT in Chicago, IL, WLIP Guaranteed Raw Radio in Kenosha, WI and WVLP in Valparaiso, IN.
---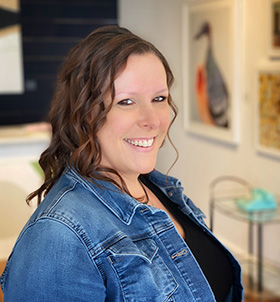 Nikki Gauthier
Nikki Gauthier came to music early in life taking piano lessons at her grandma's side. While she loved to perform in her family's living room, Nikki didn't seek the spotlight, opting to play the piano instead for her high school's choir. She didn't embrace the stage until 2017, when, early in her forties, she performed at a local open mic. Nikki's performance credits now include Southwest Michigan Symphony Orchestra's RESPECT concert, Krasl Art Fair Block Party, The Livery, Box Factory for the Arts, Benton Harbor Art Hop and BHAA's Arts in the Park series, along with our own Acorn stage.
---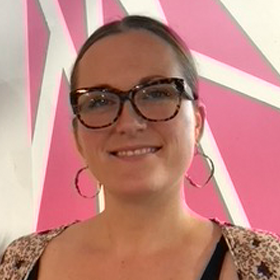 Meredith George
Meredith George has been performing in and around the SWMI area for the past 9 years. Originally hailing from Annapolis, Maryland, Meredith moved here in 2013 with her husband, Jason and cat, Bones. After not performing for several years, she found her way back on stage through The Livery's Open Stage in the Benton Harbor Arts District. Through this community of supportive artists and friends she found an outlet for her musical passions. You can see her in musical theater, rock and jazz tribute shows, but mainly performing in the local trio The Backups.
---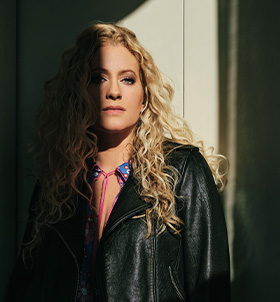 Abbie Thomas
Influenced by an eclectic blend, from The Beatles and Karen Carpenter, to Lauryn Hill and John Mayer, soulful singer songwriter Abbie Thomas mixes pop melodies with honest, life-inspired lyrics. Abbie got her start as a singer-songwriting finalist at The Acorn in June of 2019 where she earned a fan in judge and Grammy winner, Jim Peterik. Thomas is now building a resume as an opening act for nationally touring artists (ex. Girl Named Tom, Laine Hardy, Cathy Richardson of Jefferson Starship, to name a few), as well as booking festival slots with her full band.
---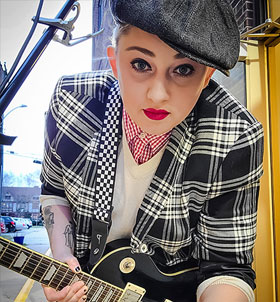 Kyla Webb
Kyla Webb proudly hails from Northwest Indiana. She has been performing full time for the past few decades in everything from circus to theater to burlesque to cabaret. She's a singer and songwriter and front woman for the band Skirt, a ska fun rock band based out of Michigan City. Skirt can be found regularly performing around the area.
---
RESERVED SEATING DONATION option includes a $25 tax-deductible donation to The Acorn and guarantees you a seat with optimal sightlines. $25 Donation per ticket holder in your group.