An Acorn Evening with Terri Hemmert: Hosted by Janet Davies
Saturday, Mar. 05 | 8:00pm ET
(7:00pm CT)
In the inaugural event of our new series – "An Acorn Evening with…" – Janet Davies will serve as the guide for a fascinating conversation with radio great Terri Hemmert.
About Featured Guest:
Terri Hemmert has been at WXRT for over 45 years. Starting as overnight announcer and Public Affairs Director in 1973, Terri became the first female morning drive personality in Chicago in 1981. In 2002 she became host of Breakfast with The Beatles, 8 to 10AM on Sundays. Prior to joining WXRT, Hemmert was an air personality at WCMF in Rochester, NY and also served as program coordinator for WGLD (currently WVAZ) in Chicago.
She has served on the Board of Directors of the Peace Museum, Facets Multimedia and other not-for-profit groups. She teaches the History of Rock and Soul in the broadcasting department of Columbia College Chicago, where she has taught for over 40 years, and was an advisor at the student radio station, WCRX. She has volunteered with the Inner City Teaching Corps, Latin School of Chicago, and other schools, teaching classes on the Roots of Rap, Women in Music, Classical Music's influence on Rock and Soul and other musical topics. Terri works on music education programs with the Chicago Symphony Orchestra and hosts The Classic Encounter Series. She serves on the advisory board of WRSE-FM (the Elmhurst College student radio station.) She was also a volunteer with the AIDS Pastoral Care Network for 10 years and is an active current member at St. Clement Catholic Church. She was inducted into the National Radio Hall of Fame in 2010. Hemmert has hosted Chicago's Fest for Beatles Fans for over 40 years. In her spare time, she loves writing about life and music on her public Facebook page, reading, listening to music, being aunt to countless kids, and visiting her family in Ohio.
Terri Hemmert resides in Chicago and is a graduate of Elmhurst College with a Bachelor of Arts in Speech. In 2017, she received an honorary doctorate from Elmhurst, so it's OK, but not mandatory to address her as Dr. Hemmert.
About the Host:
Janet Davies was the entertainment reporter for Chicago's ABC 7 for over 30 years. She was also the host and executive producer of 190 North, a multiple Emmy award winning Chicago-based entertainment and lifestyle program. Janet has received numerous awards, including 18 Emmy awards for hosting, producing, writing, and reporting.
---
Anyone entering the theater will be required to show proof of vaccination against COVID-19 or proof of a negative COVID-19 test within 72 hours prior to entry. In addition, all who enter the theater will be required to wear masks. Click here to learn more about Acorn Covid-19 Policy.
---
RESERVED SEATING DONATION option includes a $25 tax-deductible donation to The Acorn and guarantees you a seat with optimal sightlines. $25 Donation per ticket holder in your group.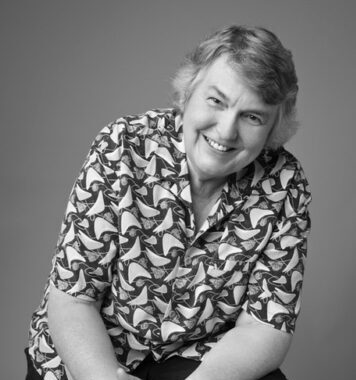 Box Office opens at 4:00pm ET
Starts 8:00pm, doors open 7:00pm