Marrakesh Express
Saturday, Nov. 05 | 8:00pm ET
(7:00pm CT)
Marrakesh Express is "the" premier Midwest CSNY tribute. "Suite/Judy Blue Eyes," "Helpless," "Southern Cross," "Our House," "Carry On" and so much more. They do not imitate as much as capture the spirit of these iconic artists. They are an organic, real band, with their own distinct personalities that shine through in their rapport with the audience. Their harmonies are gorgeous. They're great people -- fun and energetic. They are the most original tribute band you'll ever see.
A band dedicated to tributing CSNY is extremely rare due to the difficulty in replicating the 3- and 4-part vocal harmonies that made the group international superstars. Marrakesh Express excels at reproducing their complex songs and cascading, layered harmonies. The band takes the audience back to the late 1960s with musicians who bring an authentic hippie vibe and visual to the stage.
---
Click here to learn more about Acorn Covid-19 Policy.
---
RESERVED SEATING DONATION option includes a $25 tax-deductible donation to The Acorn and guarantees you a seat with optimal sightlines. $25 Donation per ticket holder in your group.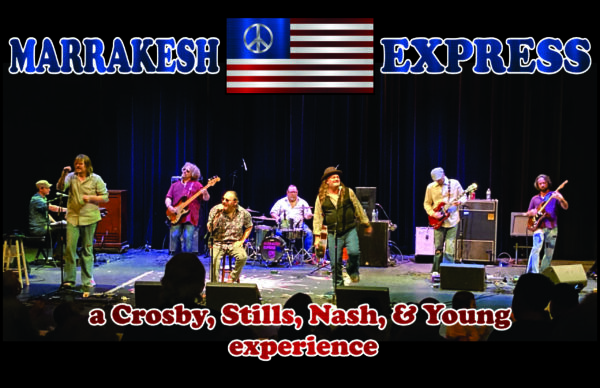 Box Office opens at 4:00pm ET
Starts 8:00pm, doors open 7:00pm