"Louder Than Love" - The Greatest Untold Story in Rock & Roll History
Friday, Feb. 11 | 8:00pm ET
(7:00pm CT)
While the West Coast was groovin' to the sounds of the "Summer of Love" in 1967, Detroit was pumping out a hard-driving, gritty, raw sound that was "Louder Than Love" and The Grande Ballroom stood as the epicenter of it all. Serving as the starting point for bands such as MC5, Iggy & The Stooges, Ted Nugent & The Amboy Dukes, The Grande Ballroom not only influenced local Detroit musicians but inspired bands from all over the U.S. and Great Britain. Legendary acts like Led Zeppelin, Cream, B.B. King, Janis Joplin, Pink Floyd, and The Who graced The Grande main stage on a regular basis.
Louder Than Love is the story of the hallowed halls that started it all, the greatest untold story in Rock & Roll history as revealed by the musicians, artists, and people that lived it and helped create The Grande's legend.
Talkback following the film screening with director Tony D'Annunzio, moderated by Peter Carey.

Join us for a special VIP pre-show Event!
You'll enjoy access to the theater at 6pm ET (5pm CT) for light bites and cocktails, along with the opportunity to take in Gary Grimshaw's iconic artwork and participate in a Meet & Greet with John Sauve and director Tony D'Annunzio.
---
Anyone entering the theater will be required to show proof of vaccination against COVID-19 or proof of a negative COVID-19 test within 72 hours prior to entry. In addition, all who enter the theater will be required to wear masks. Click here to learn more about Acorn Covid-19 Policy.
---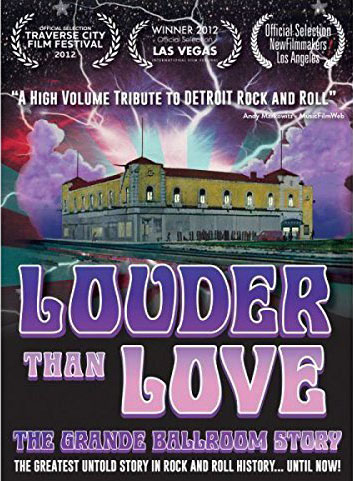 Box Office opens at 4:00pm ET
Starts 8:00pm, doors open 7:00pm