Edie! Las Vegas Showgirl: UNLEASHED
Sunday, Mar. 06 | 4:00pm ET
(3:00pm CT)
What does life hold for a queen who has performed over 5,600 shows in a Cirque du Soleil show that sadly closed permanently during Covid?
"UNLEASHED!" tackles "what's next?" as Edie takes a look back at what lead her from her hometown of Portland, Oregon to the bright lights of New York City, and eventually to Las Vegas, the Entertainment Capital of the World. The show is a high-energy, high-kickin' semi-autobiographical look at a performer's career through song, stories, comedy, videos, and lots of dance!
It's part tribute to those who have inspired her. Liza. Ann Reinking. Barbra Streisand. It's also a celebration of a career that led a young dancer to a professional ballet career with 5 companies to a tap company in NYC to her Broadway debut in the ThreePenny Opera at Studio 54 to the host of Cirque du Soleil's Zumanity for 13 years, and all the gigs along the way.
About the Artist:
EDIE is best known from Cirque du Soleil's hit show ZUMANITY where she starred as the emcee, the "Mistress of Sensuality," at the NY-NY Hotel & Casino in Las Vegas. During her 13 year run, EDIE performed over 5,600 shows for over 6 million people.
EDIE began her professional dance career at the age of 17 with Ballet Oregon. For the next eleven years she danced with Pacific Northwest Ballet, Ballet Chicago, and Pennsylvania Ballet before moving to New York to pursue musical theater. EDIE quickly became a fixture in New York City where she racked up a bevy of awards including Best Drag Queen (HX Award), Best Dance Artist and Entertainer of the Year (Glammy Award). She starred in her autobiographical, off-Broadway show "LEGS!," performed on the MTV Video Music Awards, appeared on "Sex and the City," was featured at Wigstock and Broadway Bares, and made her Broadway debut alongside Cyndi Lauper and Alan Cumming in the Tony-nominated revival of "The ThreePenny Opera" at Studio 54.
The San Francisco Chronicle "strongly advises seeing the incredible EDIE whose talent and legs go on forever." EDIE currently stars in "Faaabulous! The Show," where she serves as host/performer/creator/producer in the only live singing drag show in Las Vegas every Friday at Notoriety Live!
---
Anyone entering the theater will be required to show proof of vaccination against COVID-19 or proof of a negative COVID-19 test within 72 hours prior to entry. In addition, all who enter the theater will be required to wear masks. Click here to learn more about Acorn Covid-19 Policy.
---
RESERVED SEATING DONATION option includes a $25 tax-deductible donation to The Acorn and guarantees you a seat with optimal sightlines. $25 Donation per ticket holder in your group.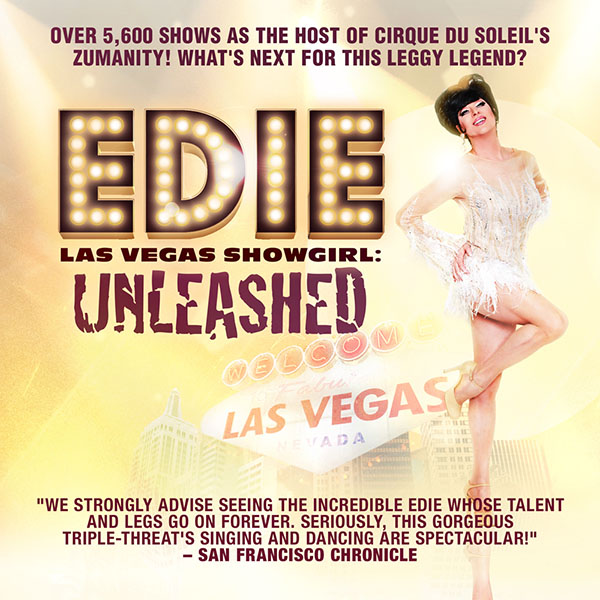 Box Office opens at 2:00pm ET
Starts 4:00pm, doors open 3:00pm