Bluegrass In The Country feat. The Eric Lambert Eclectic Bluegrass Band w/ opener Strings Beyond Description
Saturday, Jul. 31 | 7:00pm ET
(6:00pm CT)
Come out for an energizing and inspiring Acorn Anywhere! double bill under the stars on a gorgeous country estate near Hesston (1000 N), IN, to experience two incredible bluegrass bands. Eric Lambert's Eclectic Bluegrass Band, earthy and improvisational, teams with refreshingly original Strings Beyond Description - -a perfect pairing.
Joyful and quick-tempoed, Eric Lambert, a three-time Chicago Music Award winner and Strings and Sol Festival guitar champ, with master mandolinist Josh McPartland and vocalist Char head up an all-star night of entertainment. Strings Beyond Description, six performers blending guitars, mandolin, bass and melodica, balances originals and Bluegrass standards to guarantee a great time for everyone.
---
All COVID-19 safety requirements will be followed in accordance with Indiana state regulations.
Every ticket purchased to an Acorn Anywhere! event helps us bridge the gap till we can be fully operational again. Thank you!
---
About the Artists: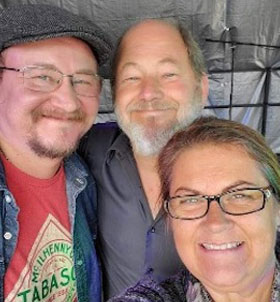 Eric Lambert's Eclectic Bluegrass Band
Eric Lambert's Eclectic Bluegrass Band is a Chicagoland group that plays a wide variety of popular music in a bluegrass style. The group consists of three-time Chicago Music Award winner and Strings and Sol festival guitar champ Eric Lambert, master mandolin picker Josh McPartland and vocalist extraordinaire Char. These ingredients produce a performance that is fun and musically exciting. Eric's new CD, "Beating The Odds," will be available on Woodpicker Music in the spring of 2021.
---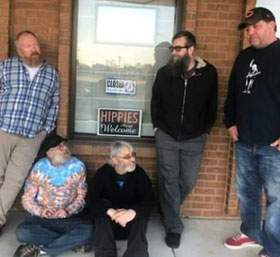 Strings Beyond Description
A Strings Beyond Description performance draws a balance of original songs and Bluegrass standards. Their originality of sound and subject matter is the refreshing difference that sets them apart from others in the Bluegrass realm.
Comprised of Troy Creech (banjo), Mike Regnier (Mandolin), Wes Carlson (Guitar), Buster Francis (Bass), Mark Baldwin ( Guitar), and Joe Pawlus (melodica), the energy manifested at their live shows guarantees a good time for all.
---
This is a BYO event! Bring your own beverages, snacks and chairs. THIS EVENT IS RAIN OR SHINE.
RESERVED SEATING option includes a $25 tax-deductible donation to The Acorn and guarantees you a seat near the stage with optimal sight lines. $25 Donation per ticket holder in your group.
The Acorn is a 501 (c)(3) nonprofit organization. Your donations help us to continue to operate and offer wonderful programming to the community.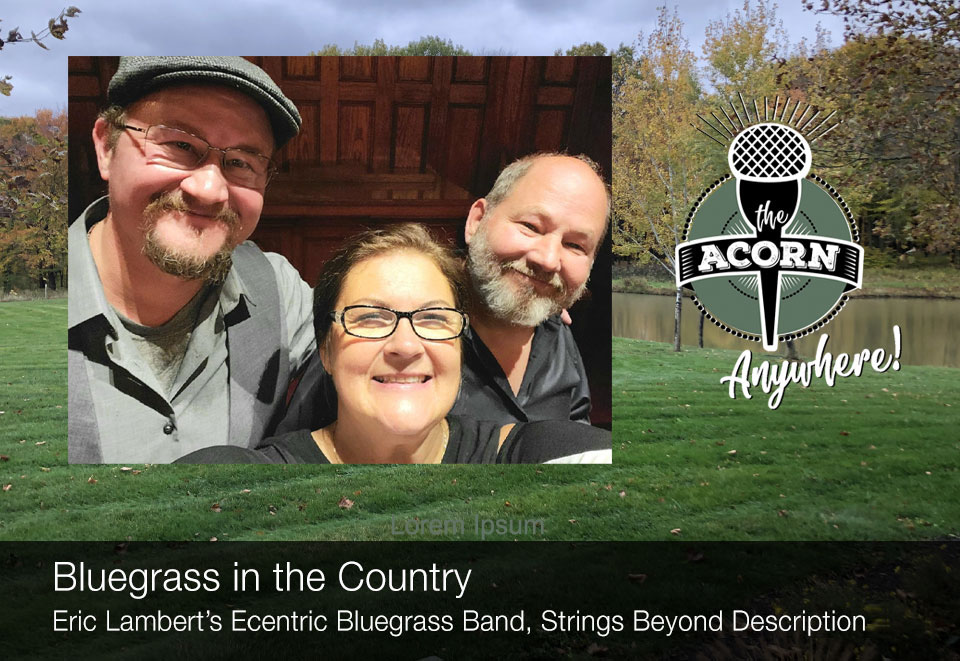 Location: Kennedy Whalen Farm
Get Directions
Starts 7:00pm, doors open 6:00pm