Acorn Homegrown Fall Fest
Saturday, Oct. 24 | 3:30pm ET
(2:30pm CT)
Blues
Local/Regional
Singer-Songwriter
A wonderful gathering of music in the vibrant foliage of Michigan closes our outdoor season, as we present Acorn Homegrown Fall Fest on a beautiful farm in the Three Oaks area!
Featured at the festival is Tim Menard, Morse & Wagner, Jake Borowski, Doug Harsch, Rachel Drew, Les Ragels, Emma Hamel and special guest Anne Harris with Ernie Hendrickson.
Tim Menard

Singer-songwriter and multi-instrumentalist Tim Menard has been entertaining audiences throughout America for more than four decades. Tim's musical proficiency, introspective songs, smoky tenor voice and variety of bands make him a musician to be reckoned with.

Morse & Wagner

Taylor Morse and Jamie Wagner are an acoustic/electric songwriter team who play their own original music. Morse & Wagner are both independent songwriters and each bring their own style and creativity to the project. The team is based in Chicago who have been writing, composing and performing their original music at many of the local music venues. Morse and Wagner have hosted the Open Mic at Three Oaks Acorn Theatre in the past.

Doug Harsch

Doug Harsch is a singer/songwriter in the time-honored tradition--writing and singing songs with a heart covered in the dust of life with a sound that invokes the grand American story. His smart, fun, hand-clapping, foot-stomping songs are full of both the joy and grit that life brings with it.

Rachel Drew

Rachel Drew grew up in a musical household on the north side of Chicago. She entered the Chicago music scene in 2015, having already written hundreds of songs, and has quickly become a highly sought after performer.

Emma Hamel

Emma Hamel was the winner of the 2018 Acorn Sing Songwriter Competition.

Jake Borowski

Les Ragels

Les Ragels is the duo of Jeremy Jacobsen and Mark Anderson.

Jeremy has performed throughout the United States, Canada, Europe and Japan. Touring as the one man band "The Lonesome Organist" He performed at the 2002 David Bowie curated Meltdown Festival at Royal Festival Hall in London and at the 2002 Shellac curated ATP festival. Also as a session player, he has recorded with Five Style, Euphone, Jon Spencer Blues Explosion, Via Tania, Red Red Meat, Man Or Astro Man, Barbez. Additionally, he has composed music for Redmoon Theater and The Chicago Complaints Choir.

Mark Anderson writes roots rock and folk songs about everyday life focusing on the fantastical and mundane. Mark writes all songs for his band project Bunkertown who play throughout the NW Indiana and Chicago live venue circuit. Mark is also a celebrated illustrator who has had many illustrated books published.

Anne Harris with Ernie Hendrickson

Anne Harris' sonic signature is steeped in myriad American Roots traditions from Blues, folk, and gospel to country and rock. She has spent the last 10 years touring internationally as a blues musician.

"Once you have witnessed Anne Harris play the violin, you aren't likely to forget the experience any time soon… She inhabits the music, or maybe the music inhabits her, but it is impossible not to be drawn under her spell".
-BluesWax

Chicago based Americana/Folk/Rock guitarist and singer-songwriter Ernie Hendrickson spent a great deal of time honing his skills in Nashville. His deeply personal songs recall influences from Tom Petty to Tom Snider, but his sound and vision are truly singular and ring with intensity, revelation, and aching honesty.
This is a BYO Event - Bring your own chair or blanket. Bring your own snacks and beverages. Like our Acorn Anywhere events, space is limited and tickets will sell out quickly!
All COVID safety requirements will be followed including wearing masks when moving about and 6 foot social distancing.
For an additional donation of $25, we will reserve a premium seating area for you. The Acorn is a 501c3 non profit. Donations are fully tax deductible.
RAIN DATE: Sunday October 25th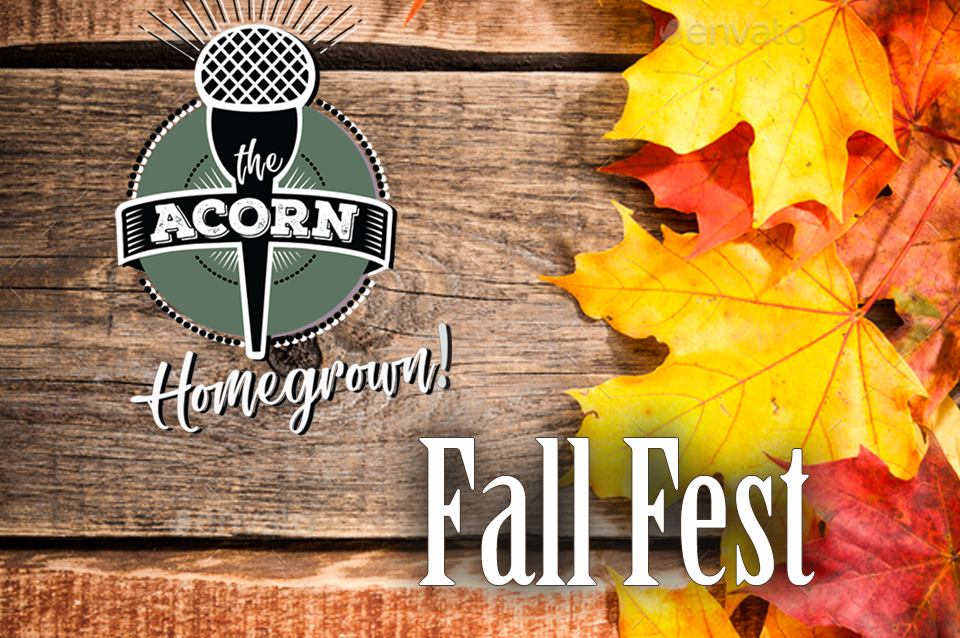 Location to be revealed
Starts 3:30pm, doors open 2:30pm