2021 Acorn Singer Songwriter Competition Finals
Friday, Jul. 16 | 7:30pm ET
(6:30pm CT)
Competitions
Singer-Songwriter
IMPORTANT: Due to weather concerns and for the safety of our patrons and artists, we've decided to move the show inside, from the Buchanan Commons to the Acorn in Three Oaks.
Perennial Acorn fan-favorite Singer Songwriter Competition Finals returns for its ninth consecutive year. Tickets are only $10. Limited capacity. Get yours now!
Get tickets
Download Program
Watch LIVE and VOTE!
Voting is open after the last performance.
Limit of one vote per device.
---
The Top Six!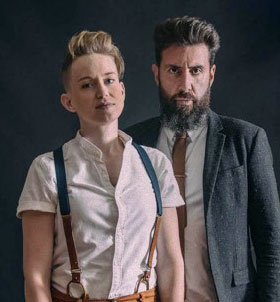 Almond&Olive
Chicago duo Almond&Olive have been writing music together for 6 years, creating inspiring songs that span the folk and Americana genres while also incorporating the duo's timeless vocals and distinct songwriting. A&O's voices sound made for each other and guide their vulnerable storytelling through odysseys of hope, love, and loss. In 2021, Almond&Olive appeared on NBC's The Voice.
---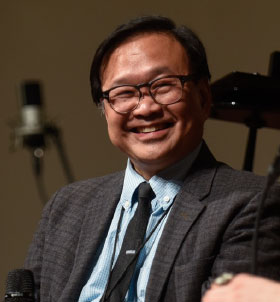 Michael Ching
Michael Ching is a well-known composer and conductor who also enjoys songwriting and occasionally performing as a singer songwriter. His opera, SPEED DATING TONIGHT!, has had over a hundred productions since its 2013 premiere, including a dozen, mostly virtual, during the COVID-19 shutdown.  He has been writing music since he was a teen and writing his own lyrics for thirty years. Michael's favorite non-classical songwriters are Darrell Scott, Jimmy Webb, and George Gershwin. He lives in Ames, Iowa and his daughter, Lucy, just graduated from Michigan State.
---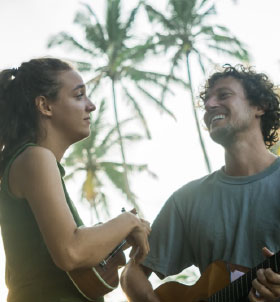 Scott & Lila
Scott & Lila (Scott Hildebrand and Lila Despoix) are an acoustic duo. Scott is from Chicago and Lila is from Paris. They met busking in the streets of Berlin, Germany in 2019. Since then, they have written and recorded an album and performed all over Germany, France, Italy, Sri Lanka and the USA. Their feel-good music warms the hearts of listeners, and fuses Indie-Folk, Blues and Jazz with a fresh modern twist.
---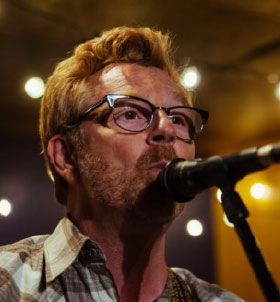 Doug Harsch
Doug Harsch is a singer/songwriter in the time-honored tradition--writing and singing songs with a heart covered in the dust of life with a sound that invokes the grand American story. His smart, fun, hand-clapping, foot-stomping songs are full of both the joy and grit that life brings with it. This South Bend, Indiana-based troubadour has been playing a brand of music--a stew of folk, blues, bluegrass and rock--that he affectionately calls "Rockin' Americana Folk" around the Michiana area for the last seven years.

---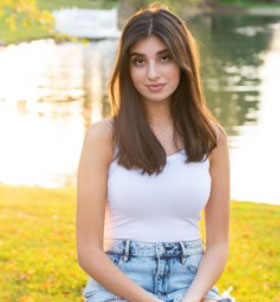 Isabella Pouya
Isabella Pouya is from Granger, Indiana and has been writing songs since she was 6 years old. She writes songs about real-world issues. Her dream is to raise awareness and empower people around the world through her music. She has been interviewed twice by local networks (WSBY and WNIT) and performed numerous times at the LOGAN Center and Hannah and Friends.
---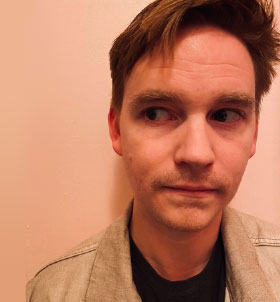 Will Fancher
Will Fancher is a musician and songwriter from Chicago by way of Boston and Nashville. His songs have appeared on stage at The Second City, The Annoyance, and Laugh Out Loud Theater

---
The final vote and ultimate champion is audience choice, so be prepared to be dazzled, choose a favorite and cast your vote.
2021 Judges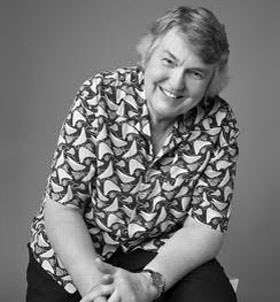 Renowned XRT radio personality Terri Hemmert joins this year's Singer Songwriter Competition judges!
Terri Hemmert
Terri has been at WXRT for over 45 years. Starting as overnight announcer and Public Affairs Director in 1973, Terri became the first female morning drive radio personality in Chicago in 1981. In 2002 she became host of Breakfast with The Beatles, 8 to 10AM on Sundays. Prior to joining WXRT, Hemmert was an air personality at WCMF in Rochester, NY and also served as program coordinator for WGLD (currently WVAZ) in Chicago.
---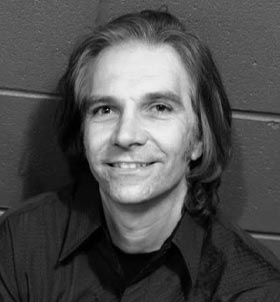 Mark Moore
Mark Moore is a signed Songwriter/Producer for NOMA Music in Los Angeles and studio owner. He is also a sideman/session bass player and currently a member of the touring band for the iconic 60's group Jay and The Americans. Mark has shared the stage with a who's who of popular music ranging from Bob Weir (The Grateful Dead), Narada Michael Walden (Jeff Beck, Weather Report), Chuck Leavell (The Allman Brothers, Eric Clapton, The Rolling Stones), Bonnie Hayes (Bonnie Raitt), Kevin Hayes (The Robert Cray Band), Jimmy Dillon (Bob Dylan, Clarence Clemons, Sting) and Ozzie Ahlers (Van Morrison, Jerry Garcia, Craig Chaquico), Bruce Hastell (Badfinger) and smooth jazz artists Bryan Lubeck and Johannes Linstead among others.

---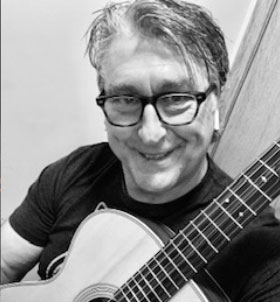 Frank Sintich
Frank has been an Acorn Board member since 2016. He was attracted to The Acorn's connection to the community and live music and began producing shows before being elected to the board. He has spent over 30 years playing and writing music in bands throughout the Chicago area and Midwest. He studied guitar jazz improvisation at Sherwood Music Conservatory. Frank is currently writing, recording and producing original music for an upcoming Broadway musical.

---
All COVID-19 safety requirements will be followed in accordance with Michigan state regulations. Every ticket purchased helps us bridge the gap till we can be fully operational again. Thank you!
---
$50 VIP Reserved Seating Ticket Donation guarantees optimal reserved seating near the stage and helps support The Acorn. Very limited availability. 100% tax deductible.
Event Sponsor: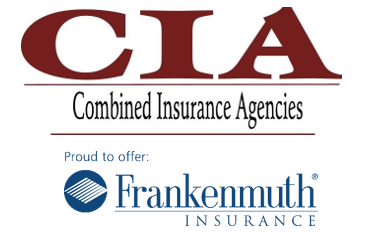 .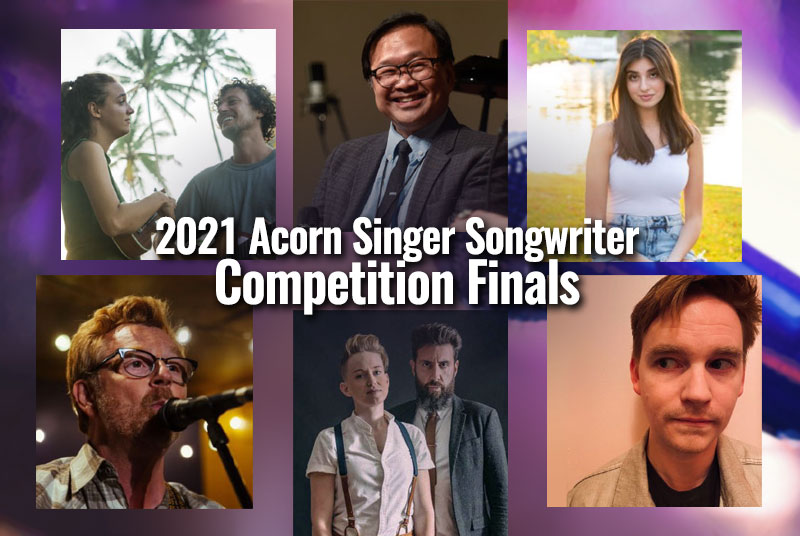 NEW LOCATION: The Acorn in Three Oaks, MI
Starts 7:30pm, doors open 6:30pm