The Great American Songbook featuring The Dean Allrick trio w/special guest, Livia Gazzolo
Saturday, May. 22 | 7:00pm ET
(6:00pm CT)
Join us for our first outdoor Acorn Anywhere! event of the season, featuring the music of The Dean Allrick Trio, with special guest, the luminous performer and local favorite, Livia Gazzolo. Enjoy beloved jazz standards in the intimate Allan Boyd Memorial Gazebo Garden of The New Troy Community Center. Bring lawn chairs, beverages and snacks and experience the perfect evening.
In addition to a great evening of music, Classic Catering is treating everyone to their famous Strawberry Shortcake dessert!
---
All COVID-19 safety requirements will be followed in accordance with Michigan state regulations. This event will take place, rain or shine. Every ticket purchased helps us bridge the gap till we can be fully operational again. Thank you!
---
About the Artist(s):
The Dean Allrick Trio
Jazz drummer Chuck Hartzell began performing with local jazz musicians at a very early age. His love of jazz and steady solid rhythm quickly advanced his reputation, and he became the 'first call' choice  of many seasoned local band leaders.  Chuck has been performing for more than 45 years with local jazz groups.
Tim King was musically educated at St. Joseph High School in Southwest Michigan, Lake Michigan College, University of Michigan and on-the-road touring with a variety of bands.  He has a great ear and plays tenor saxophone and upright bass.
Dean Allrick started playing the keys around the age of six. His first keyboard experience was with a funky four-octave electric chord organ. After a year of advancing through standards and literature, he moved on to the piano to expand as a musician.  His interest in The Great American Songbook and Jazz has led Dean to perform across Southwest Michigan at various locations.
---
Livia Gazzolo
Livia Gazzolo is a jazz singer mostly inspired by Ella Fitzgerald, Sarah Vaughn, and Chet Baker. She is currently working to integrate jazz, improvisation, and Kurdish music. She has been producing and performing in a monthly cabaret-like variety show called, 'The Mouse House,' "when the cat's away," in Chicago for the past two years. She has performed around Chicago at esteemed venues such as Soho House, Hotel Zachary, The Up Room on the rooftop of The Robey Hotel, Sea and Olive, and Bordeaux Wine Lounge, as well as other notable locations, This past summer, Livia performed outside at Cafe Gulistan in Harbert, Michigan every Thursday with her piano accompanist and long-time mentor, David Lahm. For this concert, Livia will be partnering with Reynaldo Certain, an accomplished classical, flamenco and bossa nova guitar player who performs around Chicago in jazz bars including The Green Mill and Andy's Jazz Club. 
---
The Allan Boyd Memorial Gazebo Garden, New Troy Community Center
With its expansive views of the woods and Weesaw Township Park, The Allen Boyd Memorial Gazebo Garden may be rented by the hour, half-day or full-day. Rentals may include access to the Community Center's kitchen, bathrooms, and other indoor facilities. For information, contact Friends of New Troy Rental Committee Chair Victoria Petroff at 269-200-7271.
This is a BYO event! Bring your own beverages, snacks and chairs.
RESERVED SEATING option includes a $25 tax-deductible donation to The Acorn and guarantees you a seat near the stage with optimal sight lines. $25 Donation per ticket holder in your group. BRING YOUR OWN CHAIR.
The Acorn is a 501 (c)(3) nonprofit organization. Your donations help us to continue to operate and offer wonderful programming to the community.
Sold Out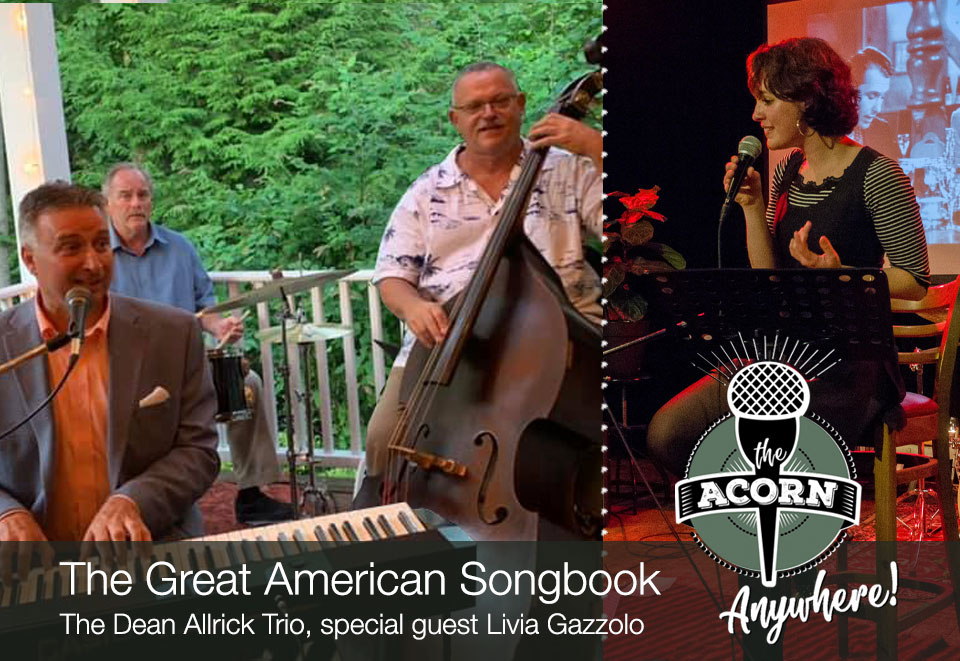 BYO chairs, snacks, beverages
Starts 7:00pm, doors open 6:00pm