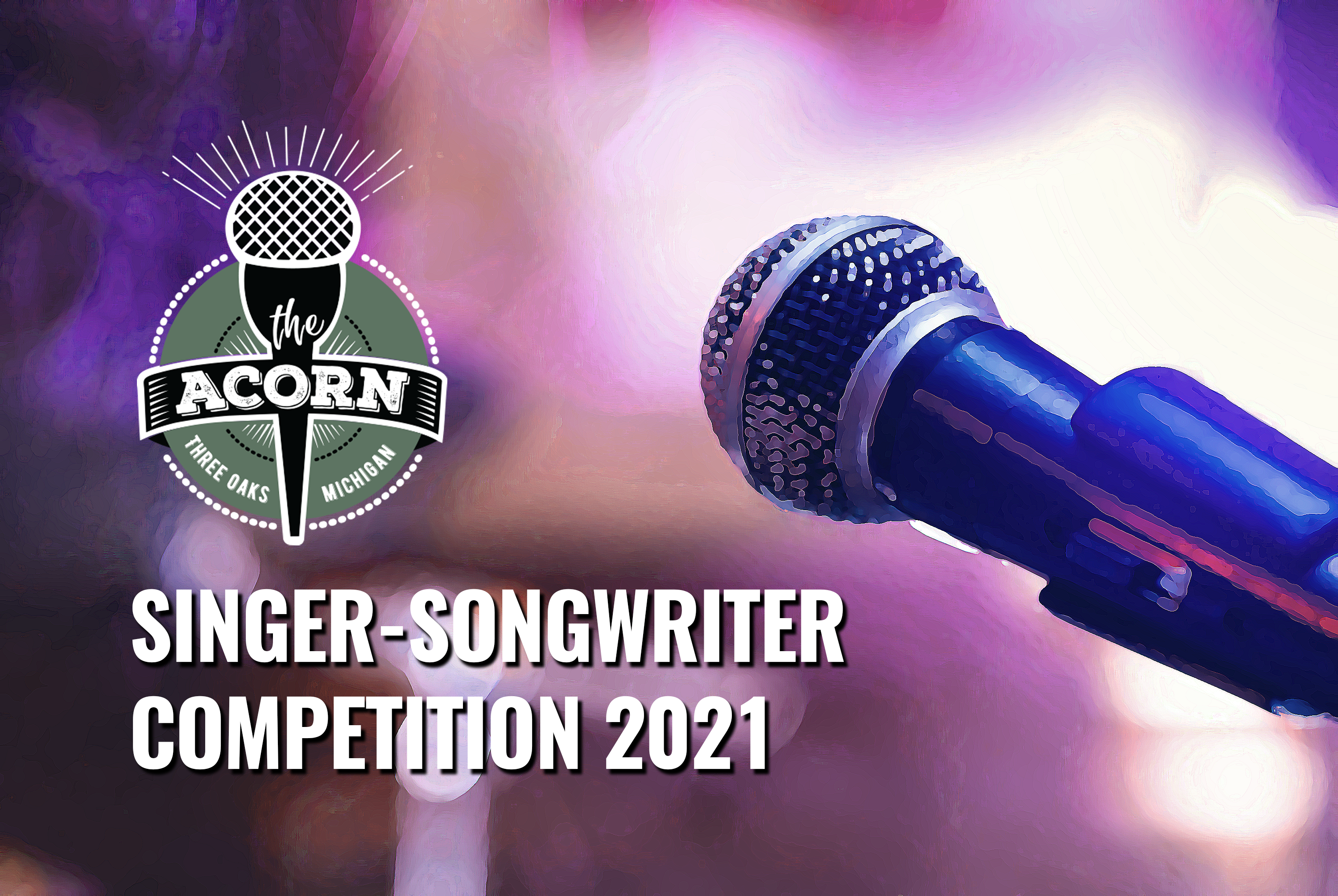 We are excited to present The Acorn's 9th annual Singer Songwriter Competition! We can't wait to present our finalists on Thursday, July 15th. Selected from a pool of over 100 submissions, these 6 artists are among the most talented performers and original songwriters in the greater Southwest Michigan/Northern Indiana/Chicagoland area and beyond! For competition information, please read through our FAQ sheet.
To participate in The Acorn's 2021 Singer Songwriter Competition, please follow our guidelines listed below:
Singer Songwriter Competition Entry Guidelines 2021
Important Dates
Tuesday, June 1st @ 11 PM ET. Submission Deadline (any entries after the deadline will not be considered)
Tuesday, June 15th. Notification to Finalists
Friday, July 16th. Finals. Check in for finalists TBD. Event start time is 7 PM ET / 6 PM CT
Submission Fees
Payment
Preferred - Online (credit card) Acorn Singer Songwriter Competition
By check: Make check payable to The Acorn and mail to The Acorn, P.O. Box 395, Three Oaks, MI 49128. If you are paying by check, please include a separate sheet with the name of the participant, email, song titles and a phone number where you can be reached. Once we receive the check, you will receive a confirmation via email.
Video entries only.
Each song must have accompanying lyric sheets with song title and songwriter's name on each song.
Video performances should be as close to "live" as possible.
Video and audio quality need to be good enough for judges to conduct informed evaluations. Make sure we can see you and hear you!
Video format options: mp4 download, smartphone video, YouTube link, or Vimeo link. If your file size is too big, we recommend you upload to Google Drive
Submissions can include up to 3 people.
Preferred format for video and lyric sheet entries is to paste links in the online entry form. (Use links from a cloud such as Dropbox, Box or Google Drive. We accept YouTube links for performance videos as well. Please do NOT copy/paste your lyrics into the Google Form.)
How It Works
6 semi-finalists are chosen from the pool of submissions. Those 6 semi-finalists compete at the Singer Songwriter Finals, Friday July 16th, 8 PM ET, in front of of three prestigious judges and Acorn patrons.
During the first round, each finalist plays their winning entry. The panel then narrows down to 3 Top Finalists.
The top 3 picks from the first round perform a second original song of their choosing. The audience votes on the winner and runner-up.

Prizes
First place $1000 Second place $250 Third place $100
All finalists will also receive an audio recording of their performance at The Acorn.
Finalists are considered for other Acorn shows and recommended for other area events.

Contest Rules
Submit 3 songs.
Entrants can have up to 3 people performing in their group.
Travel to The Acorn is the responsibility of the performers.
Previous 1st place winners in The Acorn Singer Songwriter Competition are not eligible to compete for five years.

Questions? Email songwriter@acornlive.org